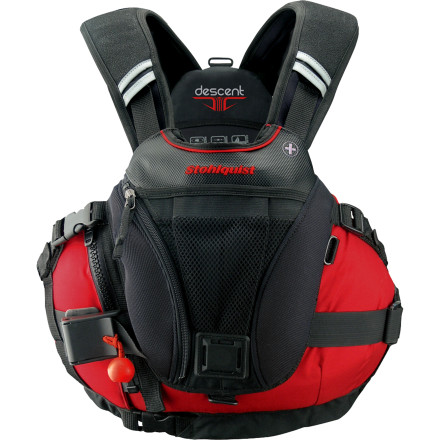 Colors

Community Images
Description
All the bells and whistles.
Paddlers who need top-grade performance—from serious river rats to professional first responders—choose the Stohlquist Descent Personal Flotation Device. This PFD works for Type V strong swimmers and uses its excellent fit and performance to aid you in high-pressure situations. Rescue-compatible with a quick-release belt and tow tether, the Descent excels when you're pushing your limits.
Wrapture shaped torso utilizes articulated foam and convex interior seams to provide a close but comfortable fit
Low-cut, offset front-zip entry adds to low profile
Cross-cinch harness and Grip-Loc non-slip neoprene panel on the interior eliminate annoying ride-up and subsequent chafing
Textured panels and stiffeners as well as contoured padding protect your shoulders during portages
Free-floating suspended shoulders stretch as you move
Stainless steel anchor points allow for crotch harness attachment
Pockets include easy-access garage on top, hands-free expandable mesh beverage pocket, high-capacity main front pocket
3M reflective accents enhance your visibility
Awesome
Familiarity:

I've put it through the wringer
When mine dies I will replace it with another. I like it way more than the Astral green jacket, which I will return. As a rafter it is noticeably lower profile which I like and the pocket is well placed and adequately sized as is the beverage holder. I can fit my flip line, caribiner, and sunglasses and still have a little room for snacks or smokes without the pocket bulging. My only complaint is that the location of the knife holder is awkward if you use the beverage holder often and have a longer straight blade [the bear claw fits great at that spot]. Fortunately my NRS pilot knife fits perfectly on the shoulder strap and is out of the way; I actually like the placement better. If you're a rafter [I can't speak for kayakers] looking for a type V jacket and on the fence go with this one.
Great Vest!... But
Familiarity:

I've used it once or twice and have initial impressions
I've borrowed one of my friends on many occasions but I just bought my very own from Backcountry for this kayaking season. I've always been really happy with my friends. It's defiantly designed with whitewater in mind and at least in my opinion, they are the standard for anyone that is competing or looking to compete in any whitewater competitions. My only complaint is that there is not enough room for a women's bust! A good tight sports bra is necessary to keep your ladies from being smashed out to the sides... And still it's not the most comfortable. Maybe there is not enough women whitewater kayakers to warrant a different version. After all we are making due with the Descent, and you can make it work for you it just takes some adjusting an appropriate bra choose and you can be reasonable comfortable in the bust. But all and all we can make due, it just seems like all to often us women have to make due with what there is. But an amazing product all the same.
I purchased my PFD in April and a month ago the coil zipper for the storage pocket came off the fabric. Is there anything that can be done before returning it?
Best Answer
Unfortunately we only have a 30 day return policy on used items. We suggest contacting the company and see if they can help you out with a replacement or if they can fix it.
not the best, the PFD is in a heat sealed package from Stohlquist, but you can see the quick release belt.
The image of the Mango version does not show the quick release belt. Does it or does it not come with the belt?
Best Answer
The mango color does come with the belt. Not sure why it's not pictured but I checked out inventory and they did have the belt. I've included a photo just above your question.
Very Good
Familiarity:

I've put it through the wringer
Fits really well, front pouch could be a bit bigger and the pouch zipper is poor quality.
I absolutely love this jacket. It?s very low profile so it?s easy to move around in and is very comfortable. I also love some of the touches Stohlquist added in like the padded shoulder straps. It makes carrying a kayak much more comfortable. The front pocket is also huge and can carry one of the Add a Buoys if you want a little more flotation as well as any other items like rescue gear, keys, phone, chapstick, sunblock, etc. There is also a little space in the back of the jacket where you can fit a 1 liter bladder. All you need to do is slide it in between the back panel and fabric, secure it, run the tube under the shoulder strap padding to the front and your set. It?s very similar to the Aquavest 300 Astral use to make. The O ring is also held in center of the jacket by some Velcro so your tow tether doesn?t slide around or hand loose away from your body. . It even has a mesh pocket in the front for a beverage! The only thing I wish it had is a pocket for a static tow tether like Astral does, but that?s not a deal breaker by any means. The placement for the lash tab is also in kind of a bad spot. It could be a little more out of the way like on the shoulder strap.
Hey can i check what is the actual weight...
Hey can i check what is the actual weight of the stohlquist descent pfd?
Best Answer
The PFD is around 2.5lbs in weight.
Great rescue vest - few changes needed
Familiarity:

I've put it through the wringer
This is an awesome rescue vest. Purchased for use in a swift water rescue course. Good floatation, great all-day comfortable fit, nicely adjustable.

A few things I would change: the front mesh pocket (while great for beverage holding) is setup as a sort or scoop and is more or less useless without being able to be zipped or closed or secured. Next: location of the knife clip is awful. Lost my co-pilot knife on the first strainer drill (you pull yourself up and over a log in the river), also, imagine trying to pull yourself back into a raft with a knife there to catch (same story with that mesh pocket). The knife is now zip-tied to a shoulder strap. The zippered pocket is awesome and big enough to keep prusiks and pullies.
I am trying to decide between this jacket...
I am trying to decide between this jacket and the Astral Aquavest. Any opinions on one or the other and why? Thanks
Best Answer
They are both great jackets, but it really comes down to the fit on your body. The Descent is easier to put on because you don't have to climb into the vest. The Stohlquist fit is different and can be more comfortable out of the box due to the construction using an ergonomic Wrapture shaped torso construction. The foam contours to the natural shape of your body without the tight and restrictive feeling of conventional flat-foam construction.