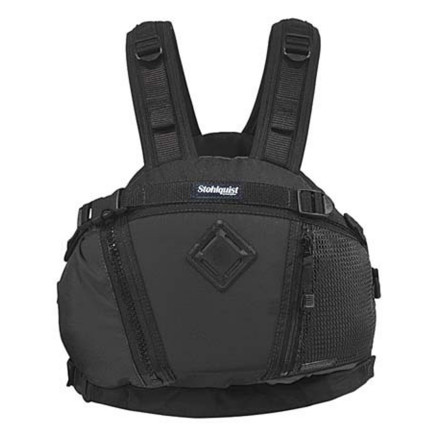 Community Images
Description
This Brik ensures you don't sink like one.
When you toss yourself into churning swirls of thundering whitewater for fun, the Stohlquist Brik Personal Flotation Device keeps you afloat if it comes time to bail. This innovative vest features a diagonal cinching system, seven different adjustments, and internal Gripp-Loc non-slip panels to ensure the vest doesn't ride up. The tough 500D Cordura shell holds up to gritty river boulders, and neoprene straps and side panels allow for full movement. The zippered mesh pocket holds your whistle and knife.
Brik
Familiarity:

I've used it several times
Fairly new to kayaking, an experienced kayaker told me to buy Stohlquist. Spoke with backcountry rep they directed me to the brik PFD. Bought one for myself and one for my 13 yr old son. Been on the river 3x times a week for the past month. The fit is very comfortable, more so once I'm seated in the kayak. Great to paddle with, does not get in the way of my paddle motion. Been in the water several times and the Brik worked like a charm, no worries other than to hang on to my paddle. Son likes how snug it fits but also allows free motion of his arms. Strongly Rec.

I just joined a dragon racing team and I cannot swim.....I know, I know.....heard every comment already. I need a life vest that will not restrict me but save my life if I end up in the water. I really like this vest and it will not totally cover my team shirt. I need it to keep me up in the water as I might be a little panicky the first time I might end up in the water. Determined to make this work....any comments r welcome
Any PFD in this style is made for paddling. Notice the wider openings for your arms and the narrow shoulder straps to minimize the chafing on your shoulders and neck. This is a great vest, especially because it has pockets for snacks, a cell phone, or your car keys.



I would recommend trying on the vest and jumping into some water where you feel safe enough to mess around. Its good to test your safety and emergency equipment to check out the fit and function before you actually need it. That way its all set up and your comfortable using it when you fall out of the boat.
Sick jacket
Gender:

Male

Familiarity:

I've used it several times
This life jacket looks great, has a nice comfortable fit and gets the job done!
I use it mostly to sail and kayak and it works great!
Stellar piece of equipment!
Familiarity:

I've used it once or twice and have initial impressions
Its low profile makes this thing a dream. I have had a few wet exits with this guy and wondered how it would perform the first time. No worries from that moment onward. It performed just as one would hope!
Killer Rafting PFD
Familiarity:

I've put it through the wringer
This PFD is so low profile and comfortable and cheap it can't be beat. The grip lock actually works and the range of motion it gives is unlike any other PFD. Only complaint is the really small pocket and lack of beverage holder.
Great rafting PFD.
Familiarity:

I've put it through the wringer
Low profile, stays out of the way, and the pocket and lash point are convenient. Easy to loosen and tighten while on for when you are casually floating (in the boat). I swam Hermit Rapid for fun in the Grand Canyon and the here I am so it clearly works. It was comfortable and I didn't have any spots that rubbed that couldn't be adjusted. It's comfortable and really well priced. Highly recommended! I am 5'11", 150 lbs and I went with a Medium and it was perfect.
How tall is the front panel? Got a new...
How tall is the front panel? Got a new pfd I thought was great but it's too tall in the front and pokes me in the throat. Looking for one that won't
Best Answer
Hey Vance,



I don't have an exact measurement on it, but this is a very low-profile PFD, so I'd be shocked if it hit you in the throat... I'd recommend checking out the NRS Ninja for another low-profile, no-frills PFD.
Ninja front panel is 11" which is 2" shorter than the Vapor which is 13" and the one that hits my throat. Brik looks to be even lower than the Ninja?
Yep, you got it! Holler if you need anything else-- I love talking PFDs! 800.409.4502 ext 4456 or llabar@backcountry.com
Just right
Gender:

Male

Familiarity:

I've used it several times
The Brik is my first pfd for WW and its worked great so far. Fits snug, lots of adjustability (maybe a bit too much in the shoulder's, those straps are real long), stays out of the way and the price is right. I am 6'0, 175lbs and about 40 inches around the chest. The size Large fits, but I probably could have gotten by with a medium.
I traded an old dagger transition for this vest a little over 8 years ago, and can attest to it's incredible functionality and durability to this day. I have taken it down a many rivers and (fortunately, only a couple) swims. It has held up extremely well, and I expect will for an upcoming Grand trip and years to come. Highly recommended.
I bought this PFD for my brother for his graduation. He loves it! He white water kayaks and canoes and has said nothing but great things about this. Lot's of freedom of movement in his arms, great fit that doesn't ride up or bunch. I trust this to keep him safe in the rough rivers of Maine. I got him the Medium, hes is about 5'6" and 145lbs
This PDF is great it allows freedom of motion and does not move. I use for dragon boating and could not be happier very comfortable
Looks and feels great, won't absorb water, not noticeable while hanging off pack, and kept me above water in class 3+ rapids... can't really ask for more.
The pocket is big enough for a emergency bivy and firestarter. it also fits tight enough that clipping stuff onto it doesn't cause any slumping, the grippy stuff is great for hold. Oh, and after bushwhacking through alder and devils club thickets it never ripped!
Im 6', 165 and a M fits snugly
this particular pfd is easy to use and paddle with. thumbs up! and paddles in!
This PFD gives you plenty of mobility and buoyancy. I'm happy with it!
My gear is almost exclusively Stohlquist, (X-tract PFD,Free Ryde top, Mooners II pants, Caveman boots)and I have had no complaints, to the contrary, I have been exceedingly pleased with their performance. So when I saw a whitewater PFD for under 80 bucks delivered, I jumped on it. As with all safety gear, I hope to never need it. If I do however, I feel better with a proven performer having my life in their hands.
what is the size range for a small &...
what is the size range for a small & medium?
Here is a full sizing chart. Hope this helps!
Small for 32" - 36" chest
Medium for 36" - 40" chest
Large for 40" - 44" chest
XLarge for 44" - 48" chest
i havent taken this one out yet but i have put it on and there is no restriction of arm movement. i got the mango color and it is bright. cant wait to go try it out at jackson university next weekend
what makes this a whitewater-specific PFD?...
what makes this a whitewater-specific PFD? I'm looking for a low-profile touring PFD, is there any reason this wouldn't work for touring? thanks
The whitewater classification is because of the additional features that keep the jacket on you in churning water. Note the additional clips and 'grippy inside'. You can certainly use this for touring without problems as it has a low profile and back.
The only thing that makes this a whitewater PFD is the amount of flotation. I personally own this vest in black and have used it for the past 5 years and hundreds of days on the river including two trips down the grand canyon. It's the best one I have ever owned. I would say this would be a great choice for a touring vest. It allows free and easy movement while being extremely comfortable.
The impression I get is that touring PFDs are built for all day comfort, whereas whitewater PFDs, while maintaining relative comfort, are also focused much more on mobility and safety, meaning extra features that ensure the vest wont ride up, extra wide arm holes, etc. That being said, I don't see why this particular PFD wouldn't work for touring. I would take a whitewater specific PFD touring, but I might not take a touring specific PFD to the creek...
Got my Stohlquist Brik yesterday and tried it out today.
I have a 39" chest and their medium size PFD is a nice snug fit for me.
It was, however, too small for my friend who was looking into buying the same thing.Think he said his chest was either 41 or 42 inches, so you might want to go with a "large" if you are his size.
The brik didn't get in my way when paddling and kept me afloat (while my friend fished me out of the water. Thx Mike).
The non-slip panels make it hard to wear the thing (because it pulls your GD hair out) -- but holds the vest in place when you really need it to.
Couldn't be happier with this PFD.