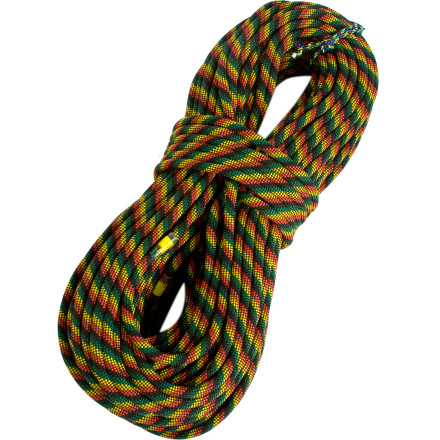 Colors
Description
For year-round climbing.
Don't limit your alpine pursuits by selecting the wrong cord. The Sterling Velocity Sharma DryCore Rope goes with you anywhere, during any season. Treated with DryCore, this projecting cord won't pick up water weight on an ice pitch; a low impact force rating of 8.8 kN means you won't explode from G-forces if a sandstone splitter spits you off.
Confidence in whipping
Familiarity:

I've put it through the wringer
Taken some big whippers on this and it is soft. A solid work horse. Will buy another when this is best up.
Great rope
Familiarity:

I've put it through the wringer
This is my 2nd 9.8 velocity. Only complaint is Sterling rope tends to kink on me. Other than that it works great and is durable.
Rad Rope
Gender:

Female

Familiarity:

I've put it through the wringer
Purchased this guy in the 80m for projecting extra long sport routes in Kalymnos and my local crags in the Bow Valley. I have climbed on it upwards of 30 times this year. I have been rewarded with a rope that still feeds through a Grigri better than many 9.8 ropes and didn't need its first chop until last week.
Sterling Ropes are amazing
Familiarity:

I've put it through the wringer
The durability and handling of sterling ropes really won me over. I have a hard time considering buying other brands of rope after experiencing some excessive wear in the first season of use with other brands. I like my ropes with dry treatment because I spend a lot of time climbing in the desert, but my main climbing partner uses a non-dry treated sterling rope and after a season rife with the heaviest use imaginable (5 days/ week), the rope is still in amazing shape.
I am buying a rope soon for general lead...
I am buying a rope soon for general lead climbing on the East Coast (VT, NH, N.NY). 2 questions:
-Would this be an appropriate rope for the job?
-Would 60 or 70 m length be best?

My only outdoor lead experience is in Southern QLD and the NSW Blue Mountains in Australia.
Best Answer
It'll work just fine. 60m is perfect for lead climbing. 70 and 80m ropes are generally for very specialized climbs on longer-than-usual pitches, which you probably won't need to do. That said, this isn't a particularly great rope. The 6 falls is quite low, even for a 9.8mm cord, and the 8.8kN fall force is pretty high. I'd recommend the Tendon Ambition 9.8 Complete Shield. 7.6kN impact force, and 9 falls. It's also cheaper than the Sterling rope.
I will look into that one. Bummer it's not on here, though. Thanks for the suggestion.
i would suggest the edelweiss curve or curve arc they are 9.8 ropes and have a 9 UIAA fall rating and are really abrasion resistant. the only downside is that they are not dry treated but unless you are belaying on a beach or in the rain (which i personally dont do) then it doesn't really matter
Are you positive that the Sterling Evolution...
Are you positive that the Sterling Evolution Velocity dry-treated series are centermarked? Another reputable distributor says "no" :(
This is critical for me as it would force me into the more expensive bi-color category. I like the color selections but need the centermark. Cheers
This might be a little late now, but for future reference some brands sell rope markers that are made to mark the midpoint of the rope. Beal makes one of them, but Beal's website has a list of rope brands that it is only to be used on, and Sterling isn't on that list.



So, this could be a more affordable option- if you buy a rope marker just make sure it's 100% safe for your rope first.