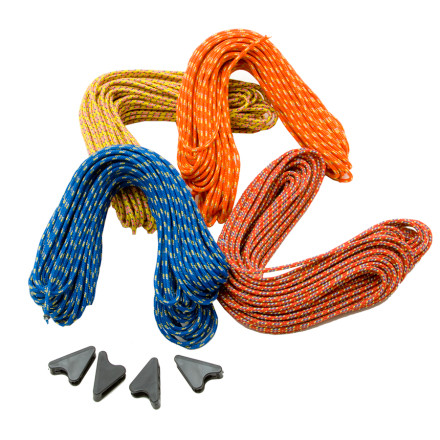 Description
A tent is only as good as its rigging, so rig yours right with the Sterling Tent GloCord and Line Locks.
Fifty feet of Stearling Tent GloCord and their Line Locks give you everything you need to properly rig your tent's guylines for a horrendous storm. This glow-in-the-dark cord also saves you from tripping over your tent when you head out for a midnight bathroom break or get ready for a pre-dawn alpine start.
can I get this coed in the orange color and if so how can I order it
Mark, Ill shoot you an email. We have to check in our warehouse to make sure we actually have the orange cord, as Kevin said it could just be the picture.



If you have anymore questions feel free to send me an email or call!



Bill Porreca

bporreca@backcountry.com

801-736-6398
Don't Be Fooled by the Photo
Familiarity:

I've put it through the wringer
While the photo shows 4 different cords, the package only comes with one cord. The 4 colors are for illustration purposes only.

Good price on good cord. And the triangular line locks are my favorite -- fast, reliable and easier to use than fumbling with a taut-line knot in cold & wet conditions.
Holding my tent in autumn soft winds
And do for two years now
Taut pitch with line locks
Cut down on the number of stakes you have to use to get a taut pitch.Also, GloCord means you won't be tripping and falling on your face during the night when you go to see a man about a dog.
How many line locs are included? Just 4...
How many line locs are included? Just 4 as pictured?
I stuff my cord in my pack for weekend to weeklong outings. Cord has so many purposes and in my opinion is as important as your knife or multi-tool. It can be used for broken string laces, emergency shelters, make-shift gearloft,, the list goes on
Is this cord reflective, or really glow...
Is this cord reflective, or really glow in the dark? I mean, do I need a flashlight to see it?
Best Answer
It has reflective strands in the jacket so yes you need a flashlight to see it but it is very very reflective
I use this stuff to hang food in bear country (always check your park's regulations). Its great because if you flash a light on this cord, you can tell if its moving or not which saves you from getting out of bed and having to try to scare a hungry bear away.
I bought these for added support. They didn't come with instructions so I had to look them up on the internet. I was used to the other style guylines. These are just as easy to use once you set them up.
What is the diameter of this cord? Is it...
What is the diameter of this cord? Is it 4mm, 3mm, etc?
Best Answer
Any listing I find elsewhere says 2.75mm.