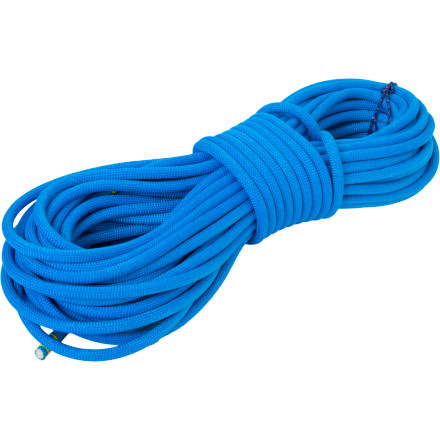 Detail Images

Community Images
The Sterling Fusion Nano AT Dry Rope is a vital tool for your alpine touring excursions. When an alpine route finds you face-to-face with a bit of vertical ice, tie in and enjoy full safety ratings comparable to other single ropes designed for full-time sport use.
Always have it in the pack!
This 30m rope is great I bought for my backcountry tours but all so use it on some local small sport routes were a 60m rope is not needed I always throw this in my pack it's a great rope all around!!
More than just AT....
Familiarity:

I've used it several times
I bought this rope for its designed purpose but quickly found it is great to have in my pack at many other times. I just used it to short rope my 9 yr old on some class 4 fun. It is light, designed well and perfectly sized to keep in your pack. Looks great too (I have the Orange). Has a good hand for a thin cord and is well controlled in most belay devices. I liked it so much I just bought its big brother....the 60M Nano for longer pitches.
Will this rope diameter work well with...
Will this rope diameter work well with petzl grigri 1?
Best Answer
Hey sonp517166,



Thanks for your question.



No, the Petzl Grigri 1 and this rope will not work well together. I would suggest buying a new Gri or finding a different rope.
Glacier rope
Familiarity:

I've used it once or twice and have initial impressions
Great 30M rope! Nice and light. Perfect on the glaciers in the NW.
great rope.
Familiarity:

I've put it through the wringer
Sterling is my go to rope. I love the 9.2s they make. super light and once you use it a few time really supple and doesnt kink.
I'm looking to make a small kit that can...
I'm looking to make a small kit that can fit in a small day pack. I was looking for a short 30m dry rope. The rope I normally use is a sterling biathlon pro in 60m. But I only use half of it on the wall I frequent. So the question is how would this rope fair on sport climbs? I was also considering the sterling slim gym but its not dry coated and seems to have the same specs like fall rating.
Best Answer
This is essentially the same as the Sterling Nano but in a 30m length for glacier and snow travel. It would work fine for sport climbing but you would have to be very careful to keep the length of pitches in mind since you are effectively limited to 15m pitches which are not really all that common. I have used ropes like this when similclimbing on easy terrain or for short rappels while skiing.
Nice and lightweight which makes it very versatile. Also the 30m length was perfect for me and my climbing partner to rope together for glacier travel and ski mountaineering.
Won't leave home without it
Sterling quality, lightweight for a single rope, and availability in 30 meter length make this perfect for taking along on backcountry hikes for unexpected rappels/self rescue. Handles nicely.
Would this 30M rope be appropriate for use...
Would this 30M rope be appropriate for use as a lead rope in the gym?
I thing you need to buy a "gym" rope...30M can do the job for start
This would work depending on how high the wall is you'd be climbing but since it's dry treated it's not really considered a "gym" rope. 30m roughly translates to roughly 98ft.
Sorry, I should have elaborated further. I'm thinking about using this rope mostly for leading in the gym (maximum length req 28M) and double duty for ski mountaineering or just having a lightweight rope in the pack for when I run across sketchy terrain and/or conditions outdoors. Thanks to everyone for the previous replies.
The length, 30m, would be okay, but I think you'd be better off with a dedicated gym climbing rope as they are meant for the abuse of repeated falls, lowering, etc.. You could probably get away with using this rope in the gym, but at the risk of wearing it out quickly.
if you're able to climb outside and have a full 60m rope, just chop the ends off after they're worn out and use that. otherwise, this would work fine.
I've owned a couple dozen climbing ropes over the past 20 years, and this is by far my favorite, especially with the belay device options that are now available to work perfectly with it (Faders Sum and Grigri 2). I abused my old Nano sport climbing for two seasons and it wore as well as any rope I've had. The hand is perfect and the impact soft. I'm not sure why Sterling doesn't use this same weave on more of their ropes. My only caveat is that I weight about 125lbs, and I have seen two Nano's sheathed by climbers in the 175-200lb range on sport routes where the rope ran over an edge that I have never seen do damage to any other rope. I use this AT model as a regular lead rope for short sport routes, and it is the bomb!
Best Answer
Awesome tacos! Just kidding it stands for "Alpine Touring".
Sexy little beast of a rope
I used this rope in conjunction with a 7.8mm Sterling Photon for glacier travel and ski mountaineering in Antarctica and loved it. Both ropes are fantastic by themselves, but used together you get a huge range of flexibility. You can lead vertical ice/rock with the Nano, cross glaciers and rappel with it. The sheath has a beautiful "hand" to it and it flows easily over snow and through carabiners, yet also ties nice, tight knots. The Nano is a lightweight, but full strength rope. About the only thing you shouldn't do with it is "work" routes or take repeated falls in quick succession, but as a ski mountaineering rope, it is perfect.
I keep this rope in my pack incase I come across sketchy terrain. Sterling makes great ropes and the price is reasonable as well.
How many meters is this rope?
How many meters is this rope?
, ☃bcs_badge_alumni_label☃