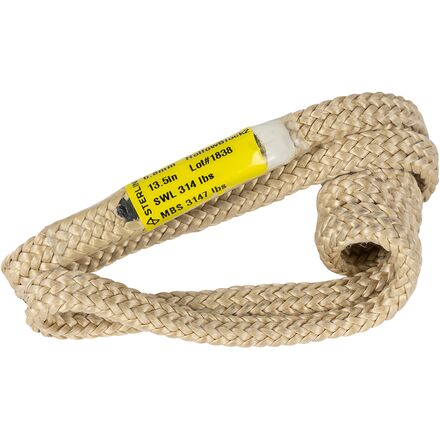 Colors

Detail Images

Community Images
Description
Simplify.
Built from Sterling's RIT 900 cord, the Hollow Block 6.8mm x 13.5in is designed to function as a pre-sewn prusik or climb heist. Made with aramid fiber and sewn with Sterling's proprietary sewing pattern, this ultra-strong cord is designed to provide excellent griping power on climbing ropes with diameters of 7mm or larger.
Great Prussik Loop
Familiarity:

I've put it through the wringer
The 19" loop is the perfect length for a Prusik. I use it all the time to back up my rappel, and it works really well with my 10.0 mm rope.
Really grippy, maybe too grippy
Familiarity:

I've used it once or twice and have initial impressions
I always use a prussik as a backup on my rappels, so I was excited to buy a dedicated piece of gear for that purpose. I ordered the 13" version, but I think I would have preferred the 19"; I should have measured my existing prussiks before ordering.
The hollow block is definitely burly, and the bar tacks are strong - I never doubts its strength. It's also relatively easy to work with when wrapping the rope, although, again, I think I would have preferred the 19" version.
The first time using it, I was rappelling on my 10.2mm rope, which I've had for a few years (it's slightly fuzzy, not too bad). I set the hollow block up as a prussik (rather than some other friction hitch), and I found it difficult to keep moving as I rappelled. I think this was a combination if it being too short, which kept the rope too close to the brake position, and too grippy, which made it difficult to slide smoothly.
The second time I used it, it was on my friends 10.0 rope, which was less used. It was a lot more manageable this time around, and slid smoothly. However, neither time did it slide as nicely as my simple prussik made from 6mm accessory cord.
All in all, I'll try using it some more (maybe it will "break in"), but my first instincts were to just go back to the cord I normally use.
Love the this piece of hollow block. I have the 19. i use it mainly as it is intended but the extra length does allow for some versatility. The Prusik is a simple concept that can save your life. If you are not using one, you should reconsider.
Are you currently out of the 13.5 in?

yes we are currently out of the 13.5 inch size, but it is on order so we should be getting more in.
Is this the 13.5" or the 19"? The description says 13.5", the style/size dropdown says 19".
You can choose either size, in the drop down menu.



If it's not giving you both options, there is either a technically difficulty, or we have sold out of one size. At this moment, we have plenty of both sizes.



Questions? Reach me directly at:



Emily Jenson

Expert Gearhead

ejenson@backcountry.com

801.746.7587
I just ordered two13.5 in hollowblocks, but got two 19 in which I did not want; do you have 13.5 inch length hollowblocks?
Best Answer
Emily handed this problem swiftly and with professionalism. She called me and included the 13.5 inch hollowblocks in a pending order I had for a Sterling rope. What a great company!
Best friction hitch loop on the market
Familiarity:

I've used it several times
It bites anything, feels bomber, and bundles up well to stash on your harness, since it's a "hollow" weave with a bar tack instead of a bulky fisherman's knot. I got the 13.5" as a rappel back-up, which is a hair long if you do three wraps and attach it to your leg loop. Even if you think the heat resistance is superfluous, this little guy bites better and handles better than any bit of string you might buy off a spool. My only criticism is that after a little bit of use it'll look filthy from sliding along your filthy ropes....maybe that's an additional anti-theft feature!
Awesome Product
Familiarity:

I've used it several times
I love this product. A guide let me use theirs this summer on some routes in the Tetons and they make for an excellent prusiks, but can also be used as a full strength sling. It's now a standard in my kit. There is a ton of information online about it's strength, but you only need to use it once to know how bomber it is.
Great prusik
Familiarity:

I've put it through the wringer
Stirling's RIT material grips exceptionally well, freakishly well compared to normal 6mm accessory cords.



Both lengths are too long for backing up a rap when your device is not extended away from your body with a sling of some kind... If you lift up a leg with the prusik it can come up and jam in the device... However everyone should be extending their devices when rapping anyways so this shouldn't be an issue. (You can turn a quad length sling into a handy combo rap extension + 2 attachment point lanyard to greatly speed up multipitch raps.)



This material makes an excellent rescue loop. I have not tried to use it with prusik minding pullies however. High strength makes it also double as a runner if needed for extending protection.



Really, this stuff is awesome. I hope Stirling goes on to make some other similar products sing this material or ones inspired by it.
Safest autoblock, period.
Familiarity:

I've put it through the wringer
Want supreme confidence when rappelling? The hollow blocks grabs any diameter cord amazingly well. It also slides easily and doesn't seize, something I've experienced with icy prusiks.



Three wraps is all you need, but you can easily add more with the longer version. Amazing design, absolutely perfect, as far as I'm concerned a MUST HAVE. I always have mine.
Great addition
Familiarity:

I've put it through the wringer
Very helpful as autoblock. Comes in handy a lot. Ive used it to take the weight of my rope when soloing and I needed a minute before continuing. I cant even begin to list all the things you can do with a piece like this. I am always glad I have it, I highly recommend.
Highly Recommend
Familiarity:

I've put it through the wringer
I agree completely with previous reviewers; these things are GREAT! I use them exclusively for autoblocks during rappels and klemheists when rigging leveraged haul systems (think rescue) and other types of backups. They function well for prusiks too, it's just not a knot I use often (prefer klemheist). Work very well for canyoneering and last a long time. Yes, a piece of 6mm tech/accessory cord with a dbl-fishermans does the same thing...this is just too easy, light and cheap not to own. Plus you get the added heat benefits of using aramid for your backups. just get one and try it.
Strong and Grippy
Familiarity:

I've put it through the wringer
It's nice that this cord will withstand high heat, however, my main concern with a prusik cord like this one is how well it grips. This cord clearly grips well and is strong. You can rely on it when you're rapping off very steep or overhanging rock. I recommend this over any other prusik cord.
Heat resistent
Gender:

Male

Familiarity:

I've used it several times
The main advantage of this prusik over others is that the aramid (Kevlar?) material is highly heat resistant. This allows you to run rope through it very fast and not worry that the heat has damaged the strength of the cord.

I believe Sterling's specs indicate that it will withstand over 900 degreed F (probably why its called the RIT 900).



Plus its light, handles well, and grips well.
Grabs Anything
Gender:

Male

Familiarity:

I've put it through the wringer
I take this thing everywhere; I bought 2 more to replace the one I have had for the last 3 years. I bring it on every climbing trip while guiding and for my personal adventures. It wraps and grabs any rope of any diameter. Rappelling with double 10.5mm, it grabs and can still be managed with one hand; Simul-rappelling on a 9.5mm, it grabs w/ only 3 wraps and still gives you lots of control.



NOTE: When using a "third-hand," it is safer to extend your ATC (with nylon not pure spectra) and put the autoblock on your belay loop with a locker.
How UV-stable is this aramid, compared to...
How UV-stable is this aramid, compared to nylon?
Good question. Aramid is very UV sensitive and degrades fast unless coatings are applied. I suspect it is a UV resistant manufacture.