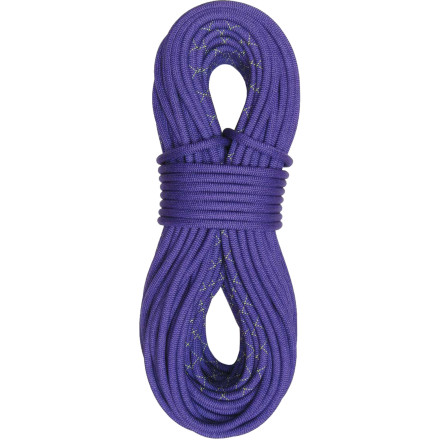 The Sterling Fusion Nano Bicolor Dry Single Rope glides through 'biners as easily as you glide through your projects. Even if you struggle with the occasional redpoint (don't we all?), this bicolor cord keeps you comfortable even after succumbing to gravity thanks to 32% of dynamic elongation and an impact force rating of 8.4kN.
Dry treatment prevents the Fusion Nano from absorbing water weight during alpine climbs
Bi-color pattern helps ensure safety
What do you think about this product?
Have questions about this product?
Good rope for long days
Familiarity:

I've put it through the wringer
Received this rope as a gift and honestly hated it at first. The line was so tight that it did not absorb any rope spin, instead it instantly spun up into coils and knots.

I'm not sure if the rope got broken in and became a bit softer or if all the spins have finally worked themselves out, but I no longer have that problem.
Now, this is my go-to line for long approaches and all day epics. It's lasting very well through 2 years of rock climbing, occasional canyoneering, water and rappelling.

The reason for the 4 star review is the terrible, fake and absolutely half-assed bi-color pattern. It is literally 1 strand of green that ends midway on the rope. Because it ends in the middle, it is getting very worn out and fuzzy right around the middle. The single strand is also not very bright and pretty difficult to see at night.

Overall: fantastic for a free rope, but if I was to buy my own, I would go BlueWater with a real bicolor pattern all the way!
HELPPPP. I am new to climbing. I would...
HELPPPP. I am new to climbing. I would like to buy my first rope for Ice Climbing. I will lead and setup top rope. I want a 70m light weight rope and I was thinking of getting 9.2-9.5 rope. Can anyone pleaseeeeeee help me out on suggestions of what will work for me? thank you
Sterling makes great ropes, and this one would work just fine for ice climbing. Really, any dry rope would do the job. Keep in mind that the thinner you go, the less durable the rope is. If you're going to be doing a lot of top roping, you might want to go for something a bit thicker. Additionally, the thinner rope can be a little more difficult to handle with gloves/mittens on - not a deal breaker, but something to keep in mind!