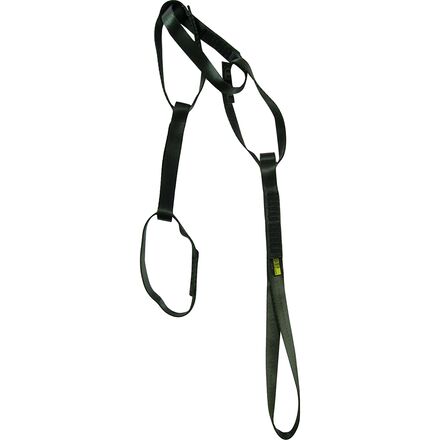 Detail Images

Community Images
Description
The new sling in town.
Out with your old, tired slings and in with the new Sterling Chain Reactor Canyon Sling. Whether you're rigged in to belay a heavier climber or just scrambling around up top setting up anchors, this sling is force-rated to over 22 kN so you can feel good about clipping in.
Share your thoughts
What do you think of the
Sterling
Chain Reactor Canyon Sling
? Share a...
Never felt better about time on anchors
Familiarity:

I've used it several times
I bought this as my backup PAS, and I love it. It's easily adjustable and overall ideal for setting anchors or cleaning sport routes.
Exactly what I was looking for
Excellent PAS, especially for the price. Like others have said, I use it mostly for cleaning sport routes, and it's exactly what I was looking for.
Great PAS for sport cleaning!
Familiarity:

I've used it several times
I use this mostly for cleaning sport routes, and it is FANTASTIC. For the price, I bought my climbing partner one as a gift.
Great PAS at a great price!
Awesome personal anchor system, I use it exclusively for climbing, and way cheaper than the alternatives
Great Personal Anchor System
Familiarity:

I've put it through the wringer
These are perfect for sport climbing.
Clip your self into the chains at the top to set up a top rope anchor or a rappel.
These Chain Reactor slings will be attached to my harness for good, that is, until its time to replace it.

Edit: I just purchased a second one of these slings so my girlfriend and I can climb bolted multi pitches.
Please know what you're doing with these slings. Always have your weight on them to make sure you don't shockload the sling, which could potentially make it fail.
I use these to clip into the bolts at the belay station until I build an anchor and can back myself up with the climbing rope

Be safe!

Awesome PAS
Familiarity:

I've used it several times
The individual loops give you the versatility of a Daisy Chain, without the potential problem of Daisy Chain failure. It also makes coiling for short storage easier than with a DC. And the price is right for this guy too. One of the best prices, for an awesome piece of gear, that does the job great. What's not to love?
What is the difference between this and...
What is the difference between this and the Sterling Chain Reactor Pro Canyon Sling? The pro is a dollar more.
Best Answer
Kevin,

The Pro has a double tether on the loop that connects to your harness. If you look at the image of each on the product pages you will see that the standard Sterling Chain Reactor Canyon Sling only has a single connection loop.
Prefect personal anchor
Familiarity:

I've put it through the wringer
Sterling has earned the right to have me as a fan with this piece. I've trusted this sling since the minute I pulled it out of its shipping box. Doesn't matter what I'm doing this sling is always on my harness. Highly recommend.
Too bulky for my taste
Familiarity:

I've used it several times
Nylon is the safest PAS material, but I found this thing to be just a little too bulky.
Despite old timers hating on the idea of a PAS, I love them. Great for anything from hanging on gear anchors to cleaning draws at the top of a sport route. Having all the loops make it very easy to transition around if need be at the anchors without coming off and the simplicity is hard to beat. Plus, I've had mine for over a year and other than some dirt it looks brand new.
Best safety sling I used.
I have had a few safety slings over the years, but this is my favorite.
Hi all, there is some conflicting information...
Hi all, there is some conflicting information posted about this sling. It says in the prose description of the product that it is rated to "over 14kN"; while on the right side, under the technical info of the product, it says 22kN. Which is it?!?
Hey Patrick, these are rated to 14 kN. I dont know why in tech specs it says 22 kN.
Sterling slings and runner are awesome in the sense that they don't snag or attract dirt. I have bee using my sling for about a year now and it still look 95% new. Get it! It's a solid necessary piece for any climber.
Great Personal Anchor for Canyoneering!
I bought the chain reactor personal Anchor for use while canyoneering it is always nice and a good idea to be able to easily anchor yourself into an anchor while working near the edge of a rappel setting up the rope, getting ready to rappel, watching the person before you rappel, or while taking pictures or video so you don't fall off and die! It is very nice to be able to easily adjust the length of the chain to suit your needs :)
I bought this for sport climbing and first considered the metolius one but found this cheaper. Its made out of nylon and its very sleek and stylish. Sterling makes great products!! If your considering buying a daisy chain before you buy the metolius, check this Guy out!!
I use this for Canyoneering all the time. I like it because it is a full strength slings and can be used for so many things. I use it extend my repelling device for use with an auto bloc. It is great for passing knots on extreme long repels. It is great for just clipping into awkward anchors.