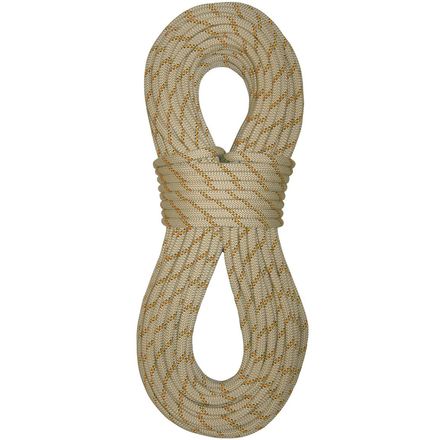 Description
It's not a trip without at least one long rappel.
Thanks to completely static construction and abrasion-resistant materials, the Sterling Canyon Tech Rope withstands seasons of slot canyons and caving trips. This 9mm rope won't weigh down your pack the way your partner's tugboat cable does, yet it still handles all the rigors of the steep.
Static construction eliminates sawing over edges to increase cut resistance
Durable Technora sheath has high heat resistance so it better handles the heat generated when you descend rapidly
The 9mm thickness means this rope packs well for hiking portions of the canyon
Green tracer woven into the sheath to increase visibility
Technora... More like CHUCKNORA
Gender:

Male

Familiarity:

I've used it several times
This rope is great. I'm planning on this being my workhorse rope. I'm debating about cutting it into 2x100 or some variation. Why you ask? Because this thing takes a beating. I feel Like I would get more use our of it in shorter lengths. However cutting Technora will require a wrap or something at the cut ends. Technora does not melt like Nylon or Polyester. The Technora sheath is part of the Aramrid/ Kevlar family. The Nylon core is coated to help with water but if you are constantly in wet canyon I would consider the Canyon IV with the polypropylene core.



If your looking for a rope that can take a beating (or give one) like Chuck does, this is the rope for you.
This rope has now been through several canyons with larger groups using it. While it is definitely in need of a cleaning, it remains free of abrasions or any other issues. It does have a very slight stretch to it that is noticeable on raps over 100ft, but much less than ropes used by my buddies.
No, only the core is hydroponically treated, but not the outside so technically not a Dry-Rope...