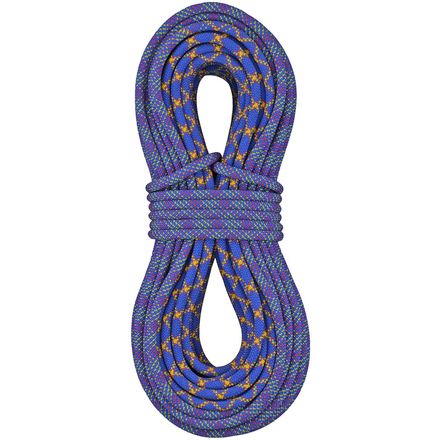 Colors

Videos

Community Images
Description
Make your time in the vertical world easier and safer.
The dual-pattern sheath on the Sterling Marathon Pro 10.1mm Rope makes the line's center point stick out like a sore thumb and saves you tons of time on climbs and descents. Quick identification of the center point ensures both ends are equal when you're making the fifth rappel in a row, and lets you know if you have enough rope to lower your partner off the 15-bolt sport route he just sent. You'll love the easy rope management provided by the dual-pattern the next time you're re-stacking line at a hanging belay. The Sterling Marathon Pro is also extremely easy to clip thanks to its 10.1mm diameter, and its light weight of 63g/m won't weight down your pack when you head out on another alpine approach.
Great rope... just check the length
When I first opened the bag and flaked the rope I noticed the center mark/pattern switch was off. I thought it was maybe a meter off but to my surprise, after measuring four times, my 70m rope is actually over 75m with the extra all on one side. I am certainly not complaining about the extra length, it's definitely going to be handy when it needs to be cut. I just hope their isn't someone out there 5m off or short.

Otherwise, I've only used it twice but so far I'm very happy.
always tied up, never let me down
Familiarity:

I've put it through the wringer
My Marathon Pro rope has been great for years of outdoor lead climbing. It's lighter than any other 10.1mm rope and is as supple as any 9.8mm. The 9.8 Sterling Velocity is only lighter by 1g per meter, and the extra durability from the 10.1 is totally worth it.



Get the dry coated sheath for that extra longevity since the Marathon Pro 10.1 doesn't get fat, AND it can take tons of heinous falls with a lighter impact force and great catch. My favorite rope! Can't go wrong with Sterling Marathon Pro 10.1!
This was my first rope and I couldn't be happier with it. Despite being 10.1mm, it is very supple and works well with a gri gri II. It's perfect for sport, trad and top roping. You won't regret the investment!
Is the Pro Blue 60M Bi-pattern?
A little delayed, but yep blue is a bi-color pattern. In fact the three colors we have are all bi-color, Blue, Bi-Digital, and Orange.
Does the rope come with a bag or no?
Whats the difference between the Bi-Digital and the Digital Camo? They look the same.
Digital Camo is one color pattern and the Bi-Digital has a new pattern once you reach the middle of the rope.


Jared D.

Expert Gearhead

800.409.4502 ext 4055

jdowns@backcountry.com
Solid Rope.
Familiarity:

I've put it through the wringer
I purchased the 70M Green variant of this earlier in the year. Absolutely love this rope. It's a favorite among my climbing partners...but that might be more a case of them not wanting wear on their ropes. Mooches.



Bi-Pattern:

I love the fact that it's Bi-Patterned. It is super handy, we were in Maple and from the belay station on the route you lose sight of the climber completely. By watching the bi-pattern I was able to figure out that she had gotten slightly off route.



My main complaint about the bi-pattern is that both sides are predominantly green. So with some wear and tear the rope turns dark and it's slightly harder to tell the difference. Not a major problem, but if the sides were drastically different colors, that'd make it easier.



70M:

The 70M rope has been so much better and more handy than any of the 60M's. 70M all the way.



Diameter:

It's a 10.1 dia, can't go wrong there. It's thick enough that it'll take a good amount of abuse, but thin enough that it's not a pain. This rope didn't swell at all with use. A bunch of friends have mentioned their ropes swelling a tad, but I haven't noted anything with this one.



Stretch:

So far, this has been great and incredibly durable. I've only had the rope for about 5-months but it's not showing any signs of wear.



Sheath:

When I bought this, there were a few snags in the sheath and I'm curious about the durability of it. Nothing to return the rope over, but something to note.



Jared D.

Gearhead

800.409.4502 ext 4055
Great rope. Don't get Digital Camo.
Really love this rope. The handling is great, and the durability is admirable.



The Digital Camo coloring, however, is not great. The difference between the two patterns is pretty subtle -- thereby kind of ruining the point of the bipattern (i.e., easy to find midpoint for setting up a rappel). And the problem only gets worse after the rope gets dirty.



We have a Sterling 9.8 bipattern where you can *feel* the midpoint very easily, but with this rope's dry treatment, the whole thing feels pretty smooth -- midpoint included.



Anyway, overall, a fantastic rope. Just really wish we'd gotten the green bipattern.
Love it
Familiarity:

I've used it several times
Great rope just recommend getting a color pattern that is not digital camo; very hard to determine midpoint.
In the tech specs, it says: "Dry Treatment:...
In the tech specs, it says: "Dry Treatment: [DRY] yes, [STD] no". Does this rope have a dry sheath and/or a dry core? What Sterling technology is used; DryCoat and/or DryCore?


Best Answer
This rope has both DryCore and DryCoat
Couldn't be happier!
Familiarity:

I've used it several times
I have climbed on this rope several times now in the unpredictable Montana weather and I can say that it has stood up to the test very well. Last weekend I was climbing with a large group of friends and everyone fell in love with this rope. The rope proved to be very durable and perfect for sport climbing. I would highly recommend this rope to friend.
Great all around rope
Familiarity:

I've put it through the wringer
This rope is a great! Durable, but still very pliable. Strong but still light enough to use on harder projects. I have the 70M and its great for long multis/bigwall. I'v climbed on a lot of different rope brands and sterling is by far my favorite! Worth the money.
Sterling gets ya there!!
Familiarity:

I've put it through the wringer
Me and Gabriel topping out The Nose at Looking Glass, NC. Was a awesome New Year's climb. Sterling was the rope of choice that day. The dry 70m was terrific for the frozen/wet rock and rappel, while the the bi-color always comes in super handy. Gabriel bought this from BackCountry on sale for a great price. We use this constantly for working a hard project or a big multi-pitch climb. Great rope Sterling!
I love this rope!
Familiarity:

I've put it through the wringer
I have owned mine for two years now, and put it through a lot of abuse. Super durable and easy to use. This rope feels better in your hand than any other, quite a noticeable difference. I went for the biathlon weave. This makes finding the middle flawless. Lightweight for it's size, has proven to be a real workhorse!
The Anaconda: #1 Rock Rope on the Market
I think this may be the best rock rope on the market. My buddies and I have dubbed it the Anaconda because of it's green color and pattern. The pattern makes the half-way mark 100% clear. The easy, flexible handle of this rope makes it feel like a 9.8mm, while protecting and lasting as a 10.1 mm should. Is it more expensive? Yes. If you don't care about having the perfect piece of gear for your pursuits...fine. Get a cheaper rope. I did that in the past and I still climbed. I just didn't enjoy it as much as I do now.
This is my third Sterling rope and I love this one just as much as the other two. It is so light to carry and the dual pattern makes rappels go much faster.