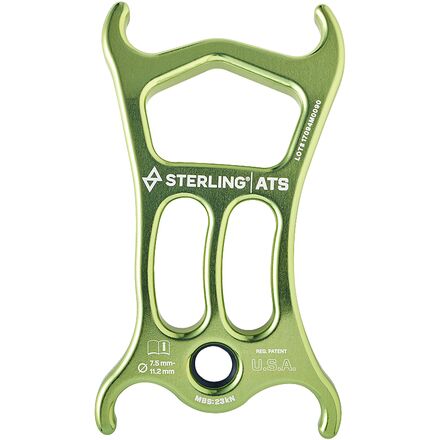 Description
Lightweight, versatile, and reliable rope control.
Ideal for climbing and canyoneering applications, the versatile Sterling ATS Belay and Rappel Device combines the smooth rope control of a figure 8 device with the security of a plate-style belay device. The ATS allows you to make both single and double rope rappels and belay a leader or follower, and it has four hyper horns which allow you to add friction or lock the rope mid-descent.

Curved frame accepts a wide range of rope diameters up to 11mm
Versatile design allows the use of single-rope and double-rope rappelling techniques
Middle slots allow the device to be used as a plate-style belay device
Four hyper horns allow you to add friction or lock off the rope mid-rappel
Heat-rated grommet helps keep the device properly oriented to prevent cross loading
Nothing else is a as good
Familiarity:

I've put it through the wringer
I've used various rappel devices and frankly this on kicks ass. This is my primary for rappelling, as control is great and can be locked of supper easy.



I've also used this for ascending as my rope capture device, auto block mode. And in a similar style for top belay on multi pitch climbing, (although it can be a little tricky to pull the rope though smoothly).
Great for Canyon-gnaring!
Familiarity:

I've used it several times
This is, with the exception of some very specialized pieces, the best canyoneering rappel device out there. Very versatile with a lot of friction options as well as the ability to be used as a stitch plate of belaying or rescue situations.

The durability may be an issue, especially with wet sandy ropes, also it can twist the rope a bit, but these problems are not deal breakers!
Versatile, easy to use, dependable
Familiarity:

I've used it several times
I LOVE having this device. At first, just doing single line raps with it in a similar fashion to a figure 8 or something, I thought it was cool, and that it worked great for someone my size (230 lbs) with plenty of gear. However, when I used it to practice self-rescue techniques while rapping down an overhanging, slimy, limestone waterfall, it really showed up the competition. I was able to lock off with relative ease (even with full weight on the rope), rig an ascending system, rig the ATS in auto-lock mode (even with a double rope rap!!!), and ascend safely. The simplicity of this device really makes the difference for me in terms of trusting it. It is easy to practice with and very well thought out.

I've heard some complaints about bulkiness. I keep this permanently extended from my belay loop while in the canyon, and when it's clipped to my furthest forward gear loop while also being suspended by the extension sling (hopefully that makes sense), it rides right along my harness waistbelt. The horns definitely like to catch things, but I'm willing to deal with that.
This is the device you are looking for
Familiarity:

I've used it several times
The honest truth is you will find lovers of any device for a variety of reasons. Any person may tell you that the ATC, ATS or Pirana are the best. Choose the device that works for you and that you feel comfortable with.

That being said ...the ATS is the best! I held out for a while because we were fine using the various devices we already had. After finally securing two of these for my wife and I, we both agreed that the ATS was probably our most favorite upgrade and purchased piece of canyoneering gear.

Works like a figure 8 but the horns allow for so many more options to add friction including on the fly during a rap. The design also gives added features beyond what the Pirana can offer. Flip it around to add or lessen friction for either left or right handers, a quick on the fly lock off and has rubber bushing to keep in place during water removals but does not require the proprietary Attache like the Pirana.

The ability to add friction on the fly is great for long raps where you gain speed past half way point of rope as well as for sloped raps that turn into vertical overhangs midway.

Awesome awesome piece. Buying another set tonight. Only possible downside for some might be that it is big and jingles a little while hiking. Some people prefer to move it to a side loop in-between raps.
A must-have for your canyon rack!
Familiarity:

I've put it through the wringer
Simple, reliable, versatile. The secure lock-off capabilities and variable friction modes make self rescues and assisted rescues much simpler. It pairs nicely with 9 mm ropes or thinner. FYI, you'll need a round-shaft biner to fit the main attachment point (e.g. Petzl Attache).



I first came across this device by taking a canyon rescue course with the ATS team (inventors of the device). They're a great crew- very passionate about what they do, and they happen to know what makes a good rappel/rescue device! This is my favorite rappel device, by far.
Love the ATS!
Familiarity:

I've put it through the wringer
This is my favorite rappel device because it can easily be configured so many ways to provide the correct amount of friction for the situation. It's also easy to add friction on the fly, or even just to temporarily slow down, because it fits easily widthwise in your hand (unlike the Pirahna). I agree with everything 6IXGUN says below, noting that for double strand, turning it sideways and treating it like an ATC seems to work best rather than using it in 8-mode. Our group most often uses Sterling C-IV (9mm) and CanyonFire (8.3mm) and these work very smoothly with it.
Love it !!
Familiarity:

I've put it through the wringer
I have used the ATC, Rescue 8, Pirhana, and Totem- they all work and work well, but for 8 and 9 mm ropes this one stands out.



I am a bigger guy (6'2 185 #) 8mm + a skinny device can spell trouble especially if one is not super experienced. I like the ATS because it gives me plenty of options for various situations - wet / dry, skinny rope, fat rope, it can also be configured as a belay device, auto block, and releasable block. Very versatile, it has become my favorite I keep several on hand on every trip.



Great features: set up for various friction modes depending on rope and conditions, add friction on the fly (very easily), lock off without tying Munter Mules or other more complex knots.



Cautions: this device is thinner and wears more quickly than an 8 or most of the other devices - its imperative that you keep an eye on the wear - if its more than 33% I'd chuck it (that's me). Skinny 8mm, sandy and wet ropes will eat it up a lot faster. That said, it does last a long time and I would not worry too much.



If you are rappelling down a double rope, it gets very slow beyond 9mm, lightweights may even have to feed rope so be careful. I would definitely say this device works better with 8mm and 9mm ropes on single strand.


Excellent Device
Familiarity:

I've used it several times
I recently used this device while canyoneering in Zion NP, and I can confidently say I have found my new canyoneering rappel device. I love the various friction and lock off options. It gave me lots of options on single or double rope.
I was trying this out at the gym when a newbie climber on the wall next to me looked down and froze. The staff had no luck talking her down. I was able to lock off, clip her harness to mine, and rappel down slowly enough to keep her calm. The Sterling ATS is not only a lifesaver, but also a girlfriend finder.