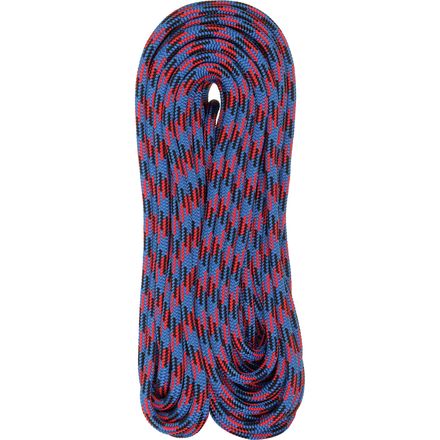 Colors

Videos

Community Images
Description
Accessorize and climb-o-rize.
Need to equalize that anchor before sending junior up on top-rope? Grab your handy Sterling 6mm Accessory Cord. Force-rated up to 8.8 kN, this lightweight little string carries its weight and then some, so you can set up safe and functional anchors for a family day at the crag.
Available in assorted colors in 2-7mm diameters and 50ft lengths.
good cord
Familiarity:

I've put it through the wringer
Good for building anchors, v-threads and what not.
You can tie knots in it and hang stuff from it.
A width for every need
Familiarity:

I've put it through the wringer
I've picked up hundreds of feet of this over the years in all different sizes. It's great for just about anything. I've used it for everything from; kayak bow and anchor lines to guy lines to strapping down gear on the top of my truck, to stabilizing my tomato cages and everything in between. Accessory cord is one of those things that is beneficial to have just lying around all the time, you're going to need it for something or other sooner or later... probably sooner.

Be advised, out of all the times I have ordered this, only once have I gotten it in the color that is pictured. Never comes in a bad color, just something to note.

Matthew Pizza
Expert Gearhead
mpizza@backcountry.com
801.736.5363
Perfect for whatever you need
Familiarity:

I've used it several times
I got the 7mm stuff to make a cordalette and for building anchors (as well as random other uses) and it's perfect, but the other sizes I'm sure would be equally great for other applications. It seems really strong (and I'm going to go ahead and trust the ratings here and say that it is) while also being easy and smooth to work with. It seems pretty durable too, although only time will really tell, but with so many different sizes to choose from, this cord is really pretty great for an almost unlimited amount of applications. Go ahead and get some.
Solid for prusiks and cordelette
Familiarity:

I've put it through the wringer
Has been my go to and has always been easy to knot and easy to unknot. Highly recommend. 6mm is perfect.
Great cord
Familiarity:

I've used it several times
Mine was blue and white and not ninja black, so I have no issues with color.

I got the 7mm x 50ft and cut it in half with a hot knife. Sterling's 7mm is rated to be a little stronger than other brands, which is why I chose it. It handles well, knots well, and unties easily. No complaints here!
I'd like to use 5 mm chord to "resling" some lightly used 10 year old Friends and BD Camalots. I realize some would advocate getting factory reslinging - but any reason I can't use 5mm or 6mm Chord with fishermans Knots? Also same for threading chocks - 5mm chord?
Not to say you can't, but manufacturers often have good reasons for doing things the way they do. Take this link as an example.

http://blackdiamondequipment.com/en/experience-story?cid=qc-labreslinging-camalots-and-c3s
Tacticool but not helpful
Familiarity:

I returned this product before using it
I knew the colors would be random, but my particular cord is ninja survivalist matte black. Unless you're mil/leo, this color is highly impractical. I'm going to have to return it and buy a cord with color choices. Or maybe their customer service can exchange it for anything but black.
Great workability
Familiarity:

I've put it through the wringer
7mm makes great anchors. Never tested in icy/wet conditions, but for general purpose use it's not stiff like the other many alternatives out there. Since it's so soft, I'm not sure how it will hold up in terms of durability but it's plenty stiff enough to undo knots.
From storing my rack to using as Prusik's. Love this stuff.



Jared D.

Expert Gearhead

800.409.4502 ext 4055

jdowns@backcountry.com
Great for prusiks
Familiarity:

I've put it through the wringer
6mm accessory cord is the smallest typically rated for life safety applications, so I never use anything below that (excepting Kevlar, spectra, dyneema, etc tech cords).



6mm is just about perfect for prusik use on typical 9.8mm dynamic climbing rope. I typically keep a very small loop on my harness at all times for rap backup or rescue use.



Since 6mm cord is small enough to not be too heavy or bulky it is also great to use as a chalk bag belt or nut tool wrap/tether. Lots of small ideas like that so that you can always have some spare cord with you in a pinch.



7mm works well for cordellette/equallette use. 20ft is generally the recommendation I have seen. I take a bit more in case I need to leave some behind to beef up an anchor or whatever.



I have bought a great deal of this before, likely to buy more in the future.
Great for Top Rope Anchors
Familiarity:

I've used it once or twice and have initial impressions
I help run a high school outdoors club. I am just starting to use this cordelette for setting up top rope climbing anchors. The 7 mm works well and the 50 feet gives me plenty of real estate to tie off on multiple points. I am already thinking of getting a second one so I can set up multiple climbs. I really like it so far.
Here is a nifty, quick and easy way to use your cordelette that I found. Enjoy.



https://www.youtube.com/watch?v=qF4A85CPr8c
Cordelette and Cornice Cutter
Familiarity:

I've used it several times
I use the 6 and 7mm for making cordelette's and the 4mm for a bomber cornice cutter that I keep in my backcountry ski pack. Ratings have been discussed in detail below. make sure to check those out to get the correct size for your needed purpose.
Accessories
Familiarity:

I've used it once or twice and have initial impressions
Here's my rule of thumb for cordelette and prusik, of course always use your own best judgment depending on the situation. For single point attachments always use climbing rope and 24kn anchors. But for multipoint anchors, unless you're top-roping from an overhanging tree trunk, you will need at least three other anchor points to feel safe. With an equalized load at 3 anchor points use 8knx3 aggregate and that is why checking the specs, Sterling accessory cord 6-7mm is more than adequate for cordelette with multiple anchors. For use as prusik just keep in mind that your harness is still tied to the rope and that by keeping your pro reasonably taut there shouldn't be any problem even if the prusik slips on 5mm cord. But if you are weighing in at over 200lbs use whatever you feel comfortable with and if 7mm prusik is too slippery or stretchy, in that case 8mm might be the way to go.
Good multipurpose cord
Familiarity:

I've used it once or twice and have initial impressions
I used the 6mm cord for making a prusik and it worked well. No complaints. Seems like good, strong cord that I can use for a variety of things.