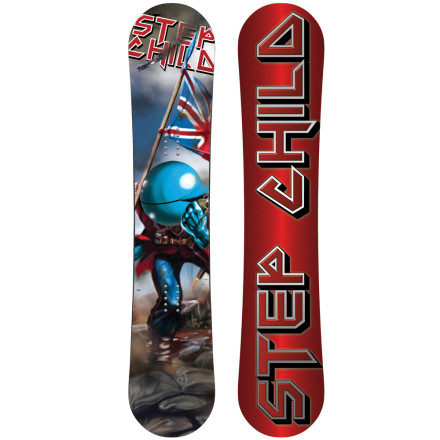 For park riders on a budget, the Stepchild Latchkey Snowboard is like finding a twenty in your pocket when payday is still two days out and there's nothing left in the fridge but some moldy cheese. The soft, forgiving flex helps you lock into rails and ride away from not-so-perfect landings without getting spanked. The traditional camber profile hooks up plenty of pop for boosting tables, and also keeps your edges gripping when you're shredding the rest of the mountain.
Traditional camber offers excellent pop off jumps and edge control at higher speeds
Diamond-shaped fiberglass Armadillo Plate reinforces high-stress binding zones
Armorcore uses a poplar wood/composite blend that's directly injected with glue for multi-season durability
Yuppers. And with traditional camber it allows you to ride it almost everywhere. If you want a stirctly 'park deck' tho, look at the Jib Stick
so i'm not sure if this is the fault of the board or my bindings, but i have ride bindings and the screws are definitely too long. I'm gonna just grind em down i guess.also the nose of the board started to delaminate after a few runs. Also I cracked the sidewall and core, causing the base to peel off the edge. I did that on two separate occasions. i'll be sending it back and i'll try one more time.edit:i got a replacement for the delamming board, and the new one seems up to the task so far. Nice and soft and fun and i like the reg camber for cruising groomers. I've had Ride and K2 bindings on it so far and both came with screws that were too long. I went to a shop and had them grind down my screws until they no longer bottomed out. the stepchild rep told me union and burton screws should be the right size but i haven't checked it out myself.

edit #2:
i just broke the board again in the same way- sidewall, core, bent edge, separating base. i brought it to a shop and the guy had just fixed another board with the same damage and said it was due to a hard landing or nose or tail heavy landing and the board just cracks right next to the binding. looks like this thing really isnt very durable. if it's a park board it should be able to stand up to a few flat landings.