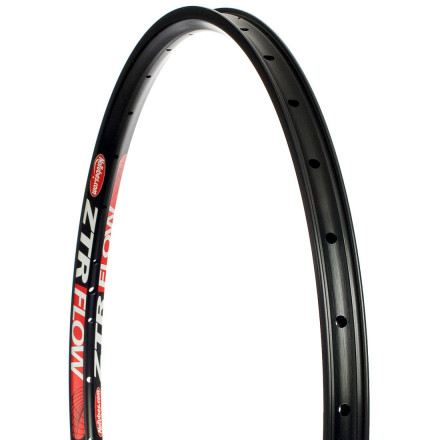 Stan is the man. He's consistently finding ways to keep our weight down -- well not our weight, but our bike's rotational weight which could quite possibly be more important. The Stan's No Tubes ZTR Flow Rim is no different, filling a void in his product line for an all-mountain, heavy duty trail rim that can easily cross over to slalom, mountain cross or super-D courses. Finished in the standard black ano, the ZTR Flow rim tips the scales at just 470g (26 inch) or 520g (29 inch). It uses their internal arch design to provide extreme lateral stiffness.
The 6061 aluminum Stan's No Tubes ZTR Flow Rim is drilled for 32 spokes with no eyelets. The rim's width is 28mm. The effective rim diameter (ERD) is 536mm (26 inch) or 600 (29 inch). The ZTR Flow rim is for disc brake systems only. If you want to stay superlight, use the small 5g valve stem and Stan's yellow spoke tape. If you want to use the heavier-duty 38g rim strip, it is best to enlarge the inner cavity valve hole to 3/8" -- and once this is done, the 5g valve stem will no longer work. The rim works with or without tubes. Maximum tire pressure for 2.0" or larger tires is 40psi, 2.3"+ (38psi), and 2.7" (35psi). Choose 26 or 29 inch rim.
Share your thoughts
What do you think of the
Stan's NoTubes
ZTR Flow Rim
? Share a...