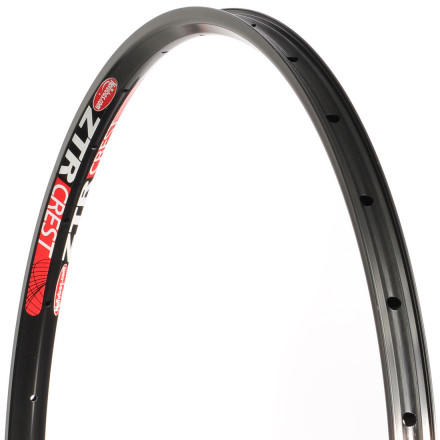 As Stan's No Tubes continues to improve their BST, or bead socket technology, their rim weights continue to plummet. Do the two factors go hand in hand? Stan's says they do. As they trim the fat from the outer portion of the rim -- the sidewall and bead hook, they can add material as needed to the wall thickness to make the ZTR Crest tough enough for racing, yet 50 or so grams lighter than the ZTR 355.
The ZTR Crest is made for cross-country riding and racing (and honestly, best for areas that have less rocky trails), and the overall rim weight underscores the intended usage. However, the inside rim width is 21mm which makes the Crest a great rim if you like to run a bigger tire on your XC bike. Maybe you have a hardtail, or a singlespeed and some extra tire volume is what you're after. The 21mm width allows any tire, not just bigger tires, to have straighter sidewalls, a larger volume for more comfort, and a greater footprint for more traction.
BST means that the rim itself has shorter sidewalls. This makes them stronger, more ding resistant, and lighter. The inside of the rim is perfectly matched to the bead seat diameter of a 26" tire. This makes the tubeless seal a good one, though the tires will be a very tight fit on the rim. In our experience, a set of thin but flat levers works best for installing/removing the tires. To make them tubeless you'll use Stan's yellow tubeless tape and one of their tubeless valve stems or one cut from an old inner tube. Stan's BST tubeless system creates tubeless seals that burp less, leaving you with more air inside your tire and not on your mind.
Stan's ZTR Crest Rim is anodized Black or powdercoated White with red decals. It's available in 28 and 32 hole spoke drillings. The rim joint is pinned, welded, and machined for a true sidewall. They will work with or without tubes. If you're the type that builds your own wheels, you'll need to know that they have a 540mm ERD. The actual weight is 340g.