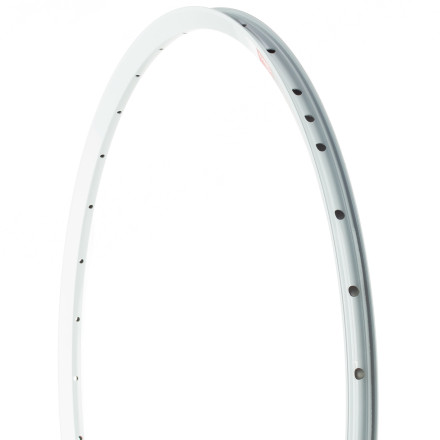 The Stan's No Tubes ZTR 355 Disc Rim is a lightweight rim option for 26" wheeled bikes. At about 355g, it saves valuable rotational weight. The design takes advantage of both disc and tubeless technology to build a rim that is strong, thanks to a triangulated shape that holds the tire firmly, thanks to re-thinking what it takes for a rim to hold a tire. It's hard to say that hooked interior sidewalls are "tired" but it's hard not to re-think the way the tire is held when we have the technology to build just about everything with greater precision and tighter tolerances. Tire beads are extremely similar tire-to-tire, and barely vary, so making a rim that mates perfectly with that bead is easy, and in so doing, makes the tire-rim connection tighter and stronger. The interior curve of the rim wall does this very thing, having a curve that is the inverse of the bead, so the two fit like a well-designed ball-and-socket. The tight fit makes running low pressure tubed or tubeless easy, and the short rim wall means that both pinch flats and "burping" is less common.
The Stan's No Tubes ZTR 355 Disc Rim is crafted from 6061 aluminum and is drilled for 32 spokes -- no eyelets. The rim's width is 24.4mm. The effective rim diameter (ERD) is 540mm. If you want to stay superlight, use the small 5g valve stem and Stan's yellow spoke tape. If you want to use the heavier-duty 38g rim strip, it is best to enlarge the inner cavity valve hole to 3/8" -- and once this is done, the 5g valve stem will no longer work. The rim works with and without tubes. Maximum tire pressure for 2.2" or larger tires is 40psi, 2.0" (43psi), 1.5" (50psi), 1.0" (55psi). 355g.
Share your thoughts
What do you think of the
Stan's NoTubes
ZTR 355 Disc Rim
? Share a...