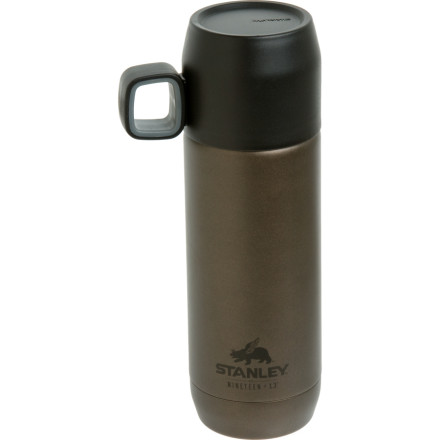 Detail Images
You take your coffee black —no cream, no sugar, and you definitely don't want any BPA's, hydrocarbons, or other mystery environmental hazards added. The Stanley Vacuum Bottle keeps your drink hot for hours on end without added petrochemicals. No liners, no coatings; just good old-fashioned stainless steel. The compact 16oz size is small enough to toss into a day pack or smuggle into a movie.
I'm a Chemical Engineering student stuck in his senior year that has to pull many all nighters. Without my warm coffee in my Stanley Vacuum Bottle I don't think I would have survived last semester. With that being said I have never had it leak on me and I have drank warm coffee from it 12 hours after filling it. It was not steaming hot but still warm. The cup/lid holds 4 ounces of fluid as it can be filled 4 times before the bottle is empty. The elk design is also pretty rad!
Keeps things both cool and hot; handles ice-cold chocolate milk just as well as it handles piping hot coffee. Just make sure you actually close the seal all the way, or the temperature controls won't work. It can stand up to the elements, within reason, and has served me well thus far.
knowing this is sitting in my pack during a long backcountry tour is oddly very comforting. My tea stays nice and warm for hours and the lid is a handy cup.
I like the build and feel of this thermos but it isn't all that great at keeping things warm for any kind of extended periods. I get about 3 hours if I preheat it - otherwise 2 hours if it is sitting out at room temp. To keep anything hot beyond, preheat it according to Stanley's instructions, and wrap it up in something.
Other than that, I like the size & the weight is good, the cuppy lid is built to last and the two I have are entirely leak proof. If you need to keep something hot for a couple hours this is a great way to go at a decent price.
Hot coffee == Good climbing day
I love this mug. It's just the right size: small enough that I never think twice about tossing it in my pack, but still able to carry enough coffee to satisfy. On the (very) rare day I don't finish it all by the time we're heading home from a day of climbing, the coffee's still warm.

Since it's stainless steel, it doesn't retain flavors either: I've forgotten about it more than once in the back of my truck and let the coffee fester for over a month. A quick wash and I'm drinking coffee or tea out of it again with no foul taste, unlike when I poured a bottle of wine into my Nalgene.

I put it through the ringer too; this mug has been dropped from ridiculous heights and there's not even a dent. Great all around bottle.
I love this bottle. It keeps my coffee steaming hot for around 6 hours. (not that it ever lasts that long) This was the perfect compliment for my Stanley mug that I have. Now I have my first and second cup the exact way I love it when I leave in the morning. This bottle is the one I use for a warm up, or to throw into my backpack for a non-leaky coffee that I don't have to hold in my hands.

Glorious.