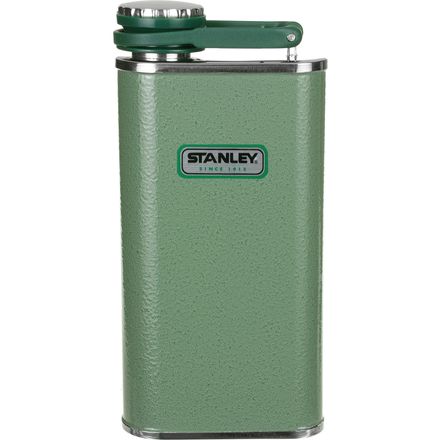 Colors

Detail Images

Community Images
Description
Proven to make camping more funner-er.
The inside of the Stanley 8oz Classic Flask is odorless and tasteless, so you don't need to hesitate before pouring in your 18-year single malt.
Wide mouth opening for smoother flow, easier cleaning, and fool-proof filling

Rust-proof finish and stainless steel construction ensure the life of the product

Engraveable base lets you make this flask a customized gift

Bombproof
Gender:

Female

Familiarity:

I've put it through the wringer
Durable, classy, simple.

Doesn't get much better than this for sneakin' a nip o whisk every now and then on a cold, cold day.

This makes an awesome gift. It will also impress your buds.
Durable Wide mouth flask
Familiarity:

I've used it several times
Dimensions are 6 x 3 x 1 inches in case you were wondering. Seems to be made very well and does not leak. Also the cap stays attached when it's unscrewed so you wont have to worry about losing it. The wider mouth make for easy pouring and filling too.
Compact and infinitely packable
Familiarity:

I've used it several times
Food grade stainless steal is wonderfully versatile, and this particular item doesn't have the draw backs of weight. There are of course the typical liquid applications of a flask that this works wonderfully for. I myself purchased the 8 oz Stanley Flask for olive oil. A little olive oil and a bottle of spices (inquire in regards to the GSI Spice Missile) are well worth the few ounces they may cost you. Especially if you're cooking for a group on a 5 day backpacking venture. The compact design makes it easy to pack away without fear of leaking. With that said this vessel would be superb for one looking to carry a small quantity of chlorine bleach (unscented and dye free) for water purification. 1/4 teaspoon will purify a gallon of water.
I loved it until...
Familiarity:

I've put it through the wringer
This is a flask that gets the job done, kind of.

I have purchased this as a gift for a few people now and finally bought one myself. It is functional, heavy-duty, and great for, well, carrying booze. I'm starting out with the con, because it is a deal breaker.

Con:
-The rubber gasket in the lid falls out super easy. This has happened on 3 Stanley flasks that I know of. Once the rubber is gone, be prepared to have a backpack full of whisky. This is a huge drawback and leaves a leaky, unreliable flask.

Pros:
-The attached lid. Any lid not attached will be lost, at least for me.
-The navy color. I've given the classic green color as a gift, but beware, it does blend in with the grass.
-Durability.


What would I do without you
Familiarity:

I've put it through the wringer
We went on our annual (February) golf trip and it not nearly as warm as we had hoped. Ok, it was freezing. How happy was my foursome when I reached into my bag and pulled out my Stanley flask. The best way to warm up is from the inside out. Love the larger opening.
Classic Flask
Familiarity:

I've put it through the wringer
Bought quite a few of these as gifts and they were a big hit! Great size , wide mouth perfect for pouring and sipping. Great for any occasion.
so good, i bought it again
I bought this flask many moons ago, and we shared some excellent adventures together. Sadly, we became separated during a trip to Zion (all signs point to the church group camping near us as the primary suspects.) When faced with the decision of which flask to buy next, it was hardly a decision at all because this is the only one I will ever really want or need. Key features include:

- Wide mouth (no funnel needed)

- Easier to clean than most

- Holds enough to share

- Plastic thing keeps the lid attached (has not broken)

- Classy burgundy color

- You should buy this flask
Bring on the fun!
Familiarity:

I've used it once or twice and have initial impressions
While cheering on friends at a mountain bike race, we decided to spice things up! I didn't have to worry about a metal taste or smell. Would make a great gift!
Drank It Up
Familiarity:

I've put it through the wringer
I received one of these rad flasks as a gift and I'm totally diggin' it. I've had no troubles with it thus far; well, except for this one time... Somehow, I got talked into letting one my coworkers borrow it for a weekend of snowshoeing, and it came back reeeeeaking of peppermint. Blargh! It took a handful of washes and soakings overnight to finally get the foul nasty out. My guess is, the peppermint somehow reacted with the plastic cap, thus taking on the odor. Anyhow, it did leave after the said soakings.



Out of the dozens and dozens of times using it myself, I've never had this problem. So quite possibly, it was a freak result?!



Depending on what your drank of choice is, try to get this thing cleaned out as soon as you can and you'll be a happy camper.






Another classic Stanley product
Familiarity:

I've used it once or twice and have initial impressions
While I wish that this came in the classic Greenstone color (my fault for delaying the order...) I love this flask. Wide mouth, attached cap to prevent it from running away, and overall a great fit for a pack.



Obviously, consumption should be monitored for celebrating at the top of a summit, or at base camp - but that goes without saying!
Why trust anything else but Stanley???
Familiarity:

I've used it several times
I also have Stanley stainless steel coffee mug & water bottle for backpacking/ski touring. They have been built bomber for a 101 years. I would rather pay a little more for a Stanley flask vs. a cheaper one because I know it'll hold up.



Last thing I want to have so-so flask backpacking in the Teton/Yellowstone region have a slight leak (I've seen it happen with cheaper flasks) & whisky scent gets over your tent, sleeping bag or anything else. That is a smell bears like. I don't know about you, but I don't want to be a enchilada for a bear in my sleeping and/or tent at night.
I received this as a gift for christmas, and have been using it steadily (but not too steadily) since then. The wider mouth is soooo much better for sippin' and pourin'. I don't love the plastic cap attachment--seems like it will be the first thing to go, but it's shown no signs of wear yet. Use it camping, backpacking, traveling, cold-weather dog walking and occasionally out on the town. It's low-profile enough to fit in a small jacket pocket, but still holds enough to make friends. Overall, couldn't imagine a much better whiskey pouch.
Recently received, was hoping the skull...
Recently received, was hoping the skull logo would be on it. Were these self done?
Howdy Keith,



Not sure what you meant by 'self done'.

If there is an issue with the product you received, give us a call or chat in and we can help you get everything sorted out!
Best Answer
Lexi, I think what Keith means is that he expected his to have the skull logo on it (as shown in one of the pics) and since it didn't he wondered whether it had been customized at home by the owner.
An awesome, durable flask for most uses with one small downside: the cap feels flimsy, as does the holder for it. Have't broken it yet, but doesn't have the lasting feel it should.
I love it.
Familiarity:

I've used it several times
I use it to carry mouthwash with me.
Pros: didn't leak, incredibly easy to pour liquor into (no funnel necessary)

Cons: O-ring inside the plastic cap popped out almost every time I opened it. Cap is plastic, cap holder is plastic.
What makes this flask so great is that the mouth is wide enough where you can actually take a nice swill of whiskey out of it while easily putting whiskey back into it without a funnel.. Most flasks have tiny openings which make it incredibly hard to get whiskey it and super slow to get whiskey out, pretty much failing their entire purpose of existence.