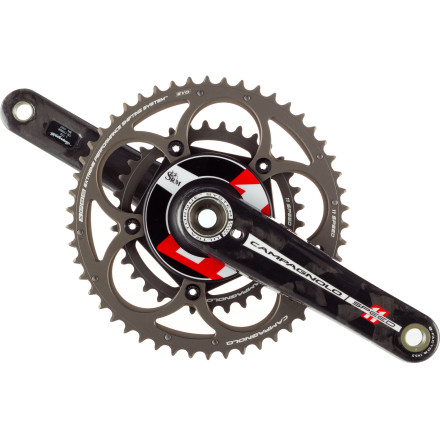 The engineers at SRM have worked side by side with the Campagnolo Design Team to create one of the most powerful and precise power meters in existence. For the Campagnolo Power Meter, SRM incorporated extensive feedback from Omega Pharma-Lotto riders to produce the highest expressed accuracy of any top-tier crankset and fused it with the inimitable design of Campagnolo's Ultra-Torque. With such flawless design and engineering, it's easy to see why this remains Campagnolo's only power meter.
For the Campagnolo Power Meter, SRM improved the design of the strain gauges, resulting in SRM's best accuracy-to-weight ratio to date. The power meter features eight strain gauges, a system of sensors that detect resistance and vary their output according to applied force. The strain gauges then convert this data into electrical resistance that can be measured. The improvements SRM made to this system have resulted in a power meter that has nearly doubled the system accuracy of its greatest competitor, the G3 PowerTrap. The Campagnolo Ultra-Torque power meter expresses an accuracy of +/- 1.5% between 30 and 255 rpm with a wattage range between 0 and 4096 watts. In addition, the Ultra-Torque Wireless power meter weighs in at around 780g with cranks, power meter, CULT bearings, and XPSS chainrings — which is considerably lighter than most power measurement systems. SRM's power meter system also features an extended battery life (roughly 1400 hours) and comes with a three-year warranty from the manufacturer.
Not only is the Ultra-Torque Power Meter the most advanced power meter out there, it's also combined with Campagnolo's most sophisticated crankset. The crankset features the exclusive Hirth Joint Coupling System axle, which reduces the lateral dimensions of the crankset and gives the Ultra-Torque system the best U and Q factors of any crankset at 147.mm. The crank arms have self-centering/self-aligning frontal teeth and internal Semi-axels, and each arm is connected to a "portion" of the axle that interlocks seamlessly with each other. This design allows Campagnolo to boost the rigidity of the axle and increase Q factor for optimal knee position by placing the CULT bearings on the outside of the bottom bracket shell. With the Ultra-Torque PowerMeter you still get the 135mm BCD XPSS chainrings (with the enhanced eight up-shift sectors and 2 down-shift sectors), and the crankset keeps Campy's lowest friction bearing ever — the CULT bearing system, which boasts that you'll gain 3.5 watts per pedal stroke in respect to the average energy loss from bearing friction. The proprietary CULT bearings are ceramic housed in Cronitect races, and come with a thermochemical surface treatment to reduce bearing wear.
Operates wirelessly with ANT+ Sport
Compatible with PowerControl 7, PowerControl VI, Garmin Edge 800, and Garmin Edge 500 CPUs.
Available in crank arm lengths 170mm, 172.5mm, and 175mm in compact and standard versions.