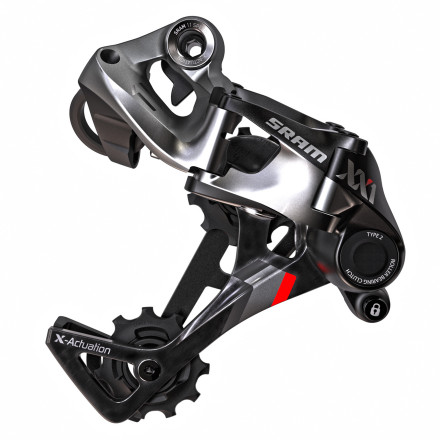 Community Images
When you view anything within the technological realm, it quickly becomes clear that a system is only as good as components that comprise it. And with the new SRAM XX1 group, this ideology becomes transparent, with each piece engineered to perform flawlessly both individually or as a collective. Leaving no room for debate, the X-Horizon Rear Derailleur embodies this design principle. Reinventing clutch technology and parallelogram design, the XX1 X-Horizon Rear Derailleur is creating a new path in mountain bike component technology.
XX1's parallelogram design isn't new to derailleur technology, but a horizontal parallelogram design is, and this feature plays a major role in what sets the XX1 X-Horizon Rear Derailleur apart from its competitors. Unlike a typical derailleur, the X-Horizon derailleur knuckle only moves side-to-side -- not up-and-down. This limits the movement to the horizontal axis, making ghost shifting nonexistent. Looking at the derailleur pulley wheels, you'll notice the offset of the upper-pulley. Unusual in design, the upper-pulley provides a constant chain gap through all of the gear ratios.
With the combination of the X-sync chainring, pulley wheels, and a Roller Bearing Clutch, a chain guide isn't needed with XX1. Your chain is tensioned with the derailleur and locked in place with the pulleys and chainring. This system prevents chain drop in all-mountain scenarios. Also, combining the Roller Bearing Clutch and parallelogram design means that you'll never get chain slap -- saving your chain stay from looking like the marmots got to it. Taking a step even further, SRAM even made the derailleur to withstand repeated hits while you're navigating through a rock garden in order to eliminate the chance of throwing the chain. SRAM has gone as far to say that you have a better chance of dropping your chain with a front derailleur than you do with an X-Horizon rear derailleur and X-sync chainring.
The Cage Lock technology on the X-Horizon derailleur adds convenience to your bike maintenance. While installing a new chain, swapping tires, or changing a flat on the trail, you can lock your derailleur in place for easy adjustments. Just push the cage forward to create some slack, and lock it into place while you work on your bike. No extra tools are required to make this happen, making trail emergencies where you need to remove your wheel a simple fix.
The SRAM XX1 X-Horizon Rear Derailleur is available in the color Grey/black and has an approximate weight of 220g. Please note that it's not compatible with a double or triple crank. In fact, it is only compatible with the XX1 shifter and cassette.
COmp Cyclist Customer Service Rocks
Familiarity:

I've put it through the wringer
I bought a brand new bike and busted the rear derailleur and CC team stood behind it and sent me one of these babies! I love these guys! They are the best...
Unanswered Question
SRAM XX1 X-Horizon Rear Derailleur can be...
SRAM XX1 X-Horizon Rear Derailleur can be driven by SRAM RED 22 DoubleTap Hydraulic Shifters? I'd like to change my handlebar type with trekking bike
Crisp and buttery
Familiarity:

I've put it through the wringer
The Sram XX1 Rear Derailleur is flawless - well, as long as it's installed and adjusted right, like any derailleur.

The shifting feels very positive and crisp under your hand - it's easy to shift, but you can feel that instant, powerful response.

As you move into a lower or higher gear, the transitions feels smooth, as in barely noticeable. Maybe that's due to the purely horizontal plane this derailleur moves in, but it feels like it glides from cog to cog better than any other system I've used.

Lastly, the Cage Lockout button makes life pretty easy - any time you need to take your rear wheel off or put on a new chain, the lockout holds the derailleur in position.
Hit or Miss
Familiarity:

I've put it through the wringer
So I've sent plenty of time racing bikes with the XX1 system. I've found that you either have a good one or a not so good one. Mine is not so good. I knocks when the rear suspension is active and on a $12K I'd expect it to be quiet. The system is great for sure, and it's always nice to drop a full pound off a race bike, but it better be quiet.
highly engineered
Familiarity:

I've put it through the wringer
the XX1 is an awesome drive train system and Sram has done an excellent job engineering each piece of equipment involved. The rear derailleur is very nice and the locking clutch system makes it extremely easy to remove the rear wheel. Light weight too and durable. Highly recommended.
Perfect Derailleur
Familiarity:

I've put it through the wringer
I just upgraded to XX1 and my initial impressions were great! This derailleur is very well thought out. It virtually eliminates chain slap on descents and even in Moab where I expect to throw my chain it held true and smooth. The locking clutch on the derailleur is awesome as well. It makes it incredibly easy to take off and put on the rear wheel. This derailleur/ the full upgrade saved me a lot of weight even though I'm not a weight wienie. Overall I am very impressed with this derailleur and the full XX1 system. If you have any questions about XX1 drive train feel free to give me a call.

Here is my contact information: My direct line 801.736.6396 ex. 4389. Feel free call to me anytime, I'm always happy to talk about bikes or gear or the weather. Whatever works! I'm here Mon, Tues and Friday 1:30-10pm MST and Saturday 9-5:30 as well as Sunday 10-7. I look forward to speaking with you.


Nearly perfect
Gender:

Male

Familiarity:

I've put it through the wringer
this derailleur is impressive; my only complaint is that it is sometimes hesitant to shift to smaller rings. my LBS and i have swapped turns tinkering with it, and i think we have it about dialed it, but it was a little more finicky and 10 speeds. That being said, it may just be a little learning curve and totally my fault.



Now the good parts: it's shifts to bigger rings before you're even done pushing the trigger, you can make it through all 11 rings with two big shifts, the clutch is baller, only a little chain slap on super rough decents, never dropper a chain, and the cage lock is really nice when working on the bike (easier that a normal derailleur without a lock).
I made the switch to XX1 this year (2013) and I am in love, I have been a long time X.0 user and have always thought the SRAM solution was unbeatable. But getting rid of the front derailleur and having such a wide range of gearing options in just 11 gears is absolute perfection. I can't imagine ever going back to the old system.
XX1 is butter smooooth
Gender:

Male

Familiarity:

I've put it through the wringer
I have used the system now for 2 wet central VA months . Mostly short climbs with technical single track, and it has performed flawlessly . The only complaint I have is that it is not quite as smooth on the 11 tooth . I also changed out the 32 ring for a 38 .I have been riding ss for years now , so I thought I cloud push the bigger ring and it is right where it needs to be .I think the 32 that comes with it is too small .It is set up on my Kona Ti 29er hardtail