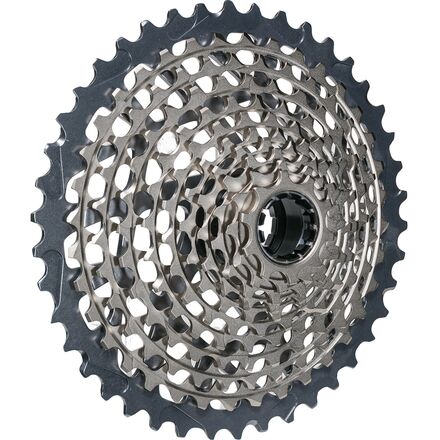 Colors

Detail Images

Community Images
Description
Race-ready one-by.
At this point, you've likely "made the leap," to swipe SRAM's marketing parlance. Whether you modified a 10-speed cassette with a One-Up-style expansion cog, or adopted early and wore out your first cassette, the SRAM XX1 X-DOME Cassette is the pinnacle of one-by technology. By trading freehub bodies for drivers, SRAM was able to put a tiny, 10-tooth cog on the end to balance out the monster, 42-tooth cog on the low end. This ensures that the balance of granny grinding to flat-out-flying is maintained.
Aluminum cogs and carrier
SRAM XD Driver-compatible
Only compatible with SRAM 11-speed mountain derailleurs
Great Cassette!
Familiarity:

I've put it through the wringer
The 10 by 42 teeth make a huge difference over the competition. Great design I haven't had any issues. This is my second setup I tried switching to the competitions but was not impressed.
Very Happy!
Familiarity:

I've used it several times
Got this to convert to the 1X11 set up. Very happy with the ratio and the change. No noise or creaking and the chain is happy.
Very cool, Gear Range is Adequate
Familiarity:

I've put it through the wringer
Perfectly adequate range for straight MTBing, but you''ll miss a bit on the top end of the range with a 32-tooth chainring. So don't expect to keep up with a fast group on the road. Also, beware you get the right tool with adequate inside clearance if you have a 12mm thru axle, and torque to spec, else you will get nasty creaking.
SRAM XX1 - CHAPTER 4: CROSS COUNTRY
By SRAM MTB
SRAM XX1 - CHAPTER 3: SCHWEINFURT
By SRAM MTB
SRAM XX1 - CHAPTER 2: ENDURO
By SRAM MTB
SRAM XX1 - CHAPTER 1: DEVELOPMENT
By SRAM MTB. Cool if you want to know the back story of XX1.
SRAM XX1 first ride and longterm test
By Mountain Bike Rider (MBR) magazine. This really is just a SRAM marketing video. It is a fun watch and there is some interesting information about the groupset.
The gearing was well thought out. I rarely run out of gears. The 1x11 set up feel super efficient and I feel like I am always riding in the sweet spot. I love not needing to shift up front to keep moving forward.
Love it
Familiarity:

I've put it through the wringer
This cassette is beautiful, all machined from the same piece of metal. It looks really good and is very light. The only thing I noticed the first few rides I took on it is that I felt like I was missing some gear ratios that I was used to. I ride with a 32 tooth chain ring up front and on long climbs I felt like I was in too hard or too easy of a gear. Now I am used to it and my legs have adapted so I know the ratios better and love it once again. Don't be discouraged if you aren't instantly faster. Once you adapt to it will come. If you have any questions about the XX1, I would be happy to talk to you about it.

Here is my contact information: My direct line 801.736.6396 ex. 4389. Feel free call to me anytime, I?m always happy to talk about bikes or gear or the weather. Whatever works! I?m here Mon, Tues and Friday 1:30-10pm MST and Saturday 9-5:30 as well as Sunday 10-7. I look forward to speaking with you.
Sexy Machining, Maybe Gen 1 Issues
Gender:

Male

Familiarity:

I've put it through the wringer
When you look at this cassette, it is amazing. I beleive the 10 smallest rings are made out of one chunk of alluminum, and the big ring is attached. Though maybe all 11 are the same piece. I have an enduro/all mountain/freeride style, and the gearing on this is schweet. i've never felt like i needed a bigger or smaller ring. if you were riding cross country, you'd want a bigger ring than the stock 32 up front.



After the derailleur is dialed in, shifting is NEARLY flawless, though normally it really is perfect.



I recently went on a dusty, 50 mile ride. during the second half, the chain and cassette would make a creaking sound when i was climbing in the big ring. it was an exceptionally dusty ride though. I just wonder if maybe the chain is cross-loaded too much. time will tell.



currently i'm psyched on the whole system, and it suits my style perfectly.
The BEST DRIVETRAIN on the market
It is crazy how large this cassete is, it dwarfs the front chain ring, but it is truly machined perfection.



I made the switch to XX1 this year (2013) and I am in love, I have been a long time X.0 user and have always thought the SRAM solution was unbeatable. But getting rid of the front derailleur and having such a wide range of gearing options in just 11 gears is absolute perfection. I can't imagine ever going back to the old system.