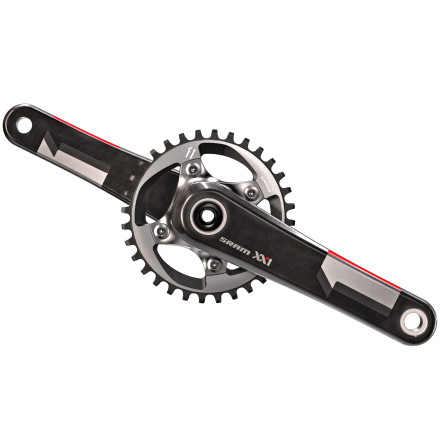 SRAM's pursuit of seamless and simple component integration shows it continually innovating the component industry -- case in point being the XX1 group. As a whole, XX1 works as an efficient machine, but individually, each component plays a vital role in making this group the trendsetter that it is. The XX1 BB30 Crankset sets itself apart from others with its game-changing design and the Zen-like simplicity that comes from running a single chainring. The functionality, Q-factor, and compatibility offered by XX1 make it the standout component in the new SRAM arsenal.
Carbon arms have been mated to a redesigned aluminum spider for a lightweight crank arm that doesn't require a finessing of parts to make an optimal single-ring setup. The X-SYNC chainring is designed for maximum chain control, with each tooth being CNC-machined to support the chain's inner and outer links. The machining process provides a variable thickness from tooth-to-tooth, so the chain and chainring essentially lock together as you pedal. However, the locking of the two doesn't inhibit pedal efficiency, and it eliminates the commonplace ailments associated with running a single ring upfront. What we love most is the liberation from chain guides in order to keep the chain in place on rugged, chain-slapping trails. SRAM even goes as far as to say that you have a better chance of dropping your chain with a front derailleur than you do with the XX1 crank and chain combo.
The new chainring's 76 bolt circle diameter sets it apart from others in the SRAM catalog. This diameter emanated from a functionality standpoint, not as an afterthought of the new, universal spider shape. Its design makes it simple to remove the chainring for maintenance or ratio changes. Gone are the days of finagling the chainring off the spider -- just unscrew the bolts, move the chainring off, and have the replacement on in minutes. Even better, SRAM has created six different chainring sizes that are compatible with the XX1 spider. Now, you can dial-in your range to match the trail, beforehand or on-the-fly.
And though the XX1 crank is designed to work optimally in tandem with the XX1 group, you can use the crank and a 10 speed chain to enjoy the benefits of running a single-speed or one-by-10 setup.
This BB30 specific crank has a 156 Q-factor to accommodate those who prefer a narrower tread. The SRAM XX1 BB30 Crankset comes with Black crank arms, a Silver spider, and a Silver chainring. It's available in 170 and 175mm crank arm lengths.
Hi I have 2010 Specialized epic 29er...
Hi

I have 2010 Specialized epic 29er carbon.

Does this will fit to my bike? size M
Best Answer
I believe your bike is a standard threaded BB which means this BB30 crank will not fit into it. You need to look at part #SRM0544. This should fit your frame you will need to get a SRAM GXP Bottom bracket as well. I hope this helps and if you need any more help with questions please contact me directly at ececala@backcountry.com



Regards,

Enrico
Will this fit on the Yeti SB-66? And which...
Will this fit on the Yeti SB-66? And which BB fits as well. Bike frame is 2013 Size M
Best Answer
Hi there:



It looks like for a Yeti SB 66 2013 you would want a GXP 168 compatible crank/bottom bracket. We do have a SRAM XX1 GXP crankset 168 on our site. If you have any more questions in regards to this or anything else I can help you out with please feel free to contact me directly at slukas@backcountry.com



-Sarah
Does this come with a bottom bracket
Does this come with a bottom bracket
Hi Bill-



The SRAM XX1 BB30 Crankset comes with Black crank arms, a Silver spider, and a Silver chainring. If you are interested in the crankset with a specific bottom bracket, feel free to email me directly at slukas@backcountry.com and I can get you set up with what suits you best.



-Sarah
SRAM xx1
Gender:

Male

Familiarity:

I've put it through the wringer
Get the whole Groupo if you like light weight, superb shifting and very little if ever chain drops . The deep tooth desighn on the chain wheels keep the chain on through the rough and the horizon deraileur helps that much more. 11 speed is enough for the steep climbs and fast descents. I have this Groupo on my light weight carbon 29er XC bike but I want it on every horse in the stable!