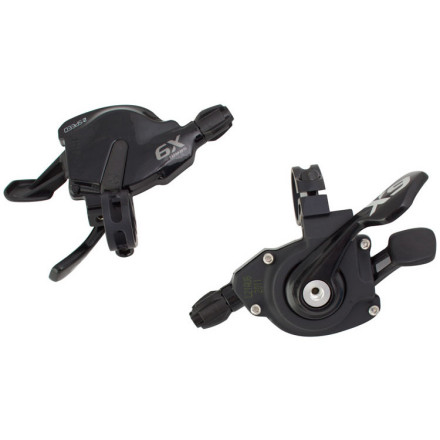 A perfect match for the 2x10 X9 derailleur, SRAM's X9 2x10 Trigger Shifters offers both durability and functionality at a price weekend worriers can afford. These shifters share the same great pull lever bearing technology that you find in the XX and X0 family. The major difference between these and X0 shifters is the X9's lever position can't be adjusted like it can on the X0, so if you've suffered a hand injury and adjustment is paramount, you might want to consider the X0.
This set is designed for a double front chain ring and ten speeds in the rear. The left shifter is specific for 10-speed double front derailleurs. Both shifters are Matchmaker-X compatible, meaning you can mount them on one clamp along with your brake levers and X-Loc remote for your fork if you have it. The benefit is that your handlebars will be less cluttered and the Matchmaker-X system saves weight over multiple clamps.
Like SRAM's top-shelf offerings, these X9 Shifters use its Exact Actuation Technology to ensure quick and precise shifts. The essence of this system is that it uses a 1:1 ratio for cable pull/derailleur movement. The result is easy setup, adjustment, and a system that is more tolerant of slight cable stretch and/or friction in the housing. Cable replacement is easy; simply open up the cable port, pull out the old cable, and thread in the new one.
The SRAM X9 2x10 Trigger Shifters have a Grey finish. It's designed to work with all SRAM MTB double front and 10-speed rear derailleurs.
Great performance, weight, and price!
Familiarity:

I've put it through the wringer
As is the case with all the rest of the X9 level components, its hard to beat for the price. You are really getting last years X0 performance for less money, especially now that they are putting the ball bearing internals in the X9.

A few grams heavier but on the trail you'd be hard to realize a difference between these and the X0's. I've been using X9 shifters for a few years, on my last couple bikes. I've had XT and SLX shifters on some of my rides and while they are nice I prefer the 1:1 actuation of the Sram units.
Solid Shifters
Familiarity:

I've put it through the wringer
I've ridden these shifters for two years and I haven't had any problems with them. They hold up to the abuse that mountain biking can dish out on a shifter. You can do multiple shifts down the cassette which is really nice in technical climbs.
weight with cables. 2x=135 gr 10x=144gr
Familiarity:

I've used it several times
total 279 grams w cables (not housing)

comes w handlebar clamp and cables.

very nice! shimano has a softer feel than sram is more of a pop.
X9 = happiness
Familiarity:

I've put it through the wringer
I love the X9 shifters you don't need a second mortgage to buy them and they shift clean, fast, and quietly (after using both XO and X9 I don't think I could tell the difference in shifting). Definitely a must!


I just bought the X9 10 speed shifters and Type 2 Rear Mech.

Wow, what a difference, the quality of the shifting is so much better, it make jumping gears a dream.


Unanswered Question
I don't understand if the x9 front derailers...
I don't understand if the x9 front derailers shifter work with both a 2 speed and a 3 speed derailer.