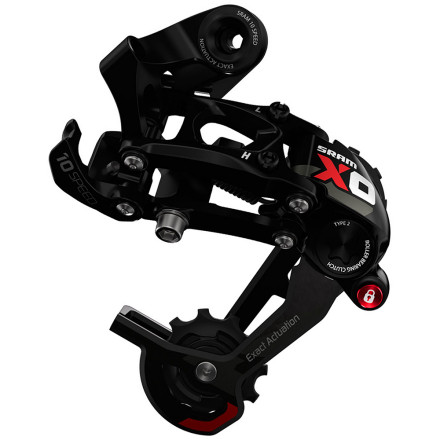 Community Images
The SRAM X0 Type 2 Rear Derailleur is the highest-end offering from SRAM to get the Type 2 treatment. It's worth looking at if you have trouble with dropped chains, but a roller-style chainguide doesn't fit with your light-and-efficient setup. SRAM incorporated a clutch mechanism into its Type 2 derailleurs to control chain tension and stabilize the rear derailleur cage; this limits chain slap and keeps the chain from derailing on technical trails.
Shimano's Shadow Plus design, which is engineered to produce a similar chain-stabilizing effect, preceded SRAM's Type 2 design in reaching the marketplace. However, Type 2 technology differs from its competition in a key way. Rather than opting for an adjustable friction band, SRAM put a Roller Bearing Clutch in their Type 2 derailleurs. The clutch comes pre-set from the factory to provide a certain amount of friction inside the derailleur cage pivot. This friction keeps the cage from bouncing up and down over rocky trails and de-tensioning the chain. Because it's pre-set at the factory, SRAM's Type 2 clutch can't be disengaged or adjusted like Shimano's Shadow Plus mechanism. That being said, the Type 2 clutch is self-lubricating, and there are no external moving parts, so unlike the Shadow Plus system, it's designed to be maintenance-free. The Type 2 mechanism adds about 30 grams to the weight of a standard X0 rear derailleur.
A unique feature of the Type 2 system is that its Cage Lock technology allows you, with the push of a button, to lock the derailleur cage in an extended position. While it may not be a game changer, this is a nice feature that allows for easier-than-ever rear wheel installation. There's no need to worry if you accidentally leave the derailleur cage locked; it will return to normal operating position when you hit your first bump. Another benefit of the Cage Lock is that it makes chain installation a bit easier; you don't have to maintain a consistent pulling force on the cage while joining the two chain ends.
SRAM's Exact Actuation Technology facilitates consistent shifting through all gears, including the 36-tooth rear cogs being produced for 29ers. SRAM uses sealed cartridge bearings in the pulleys of the X0 Type 2 for smooth action and long-term durability. Lower-end SRAM models use bushings in place of these bearings. The outer plate of the X0 Type 2 cage is made of carbon fiber to shed weight. The SRAM X0 Type 2 Rear Derailleur comes in Black/red and in 3 cage lengths: Short, Medium, and Long. SRAM suggests the short cage for downhill use, Medium cage for 2 x 10 set-ups, and Long cage for 3 x 10 set-ups.
What will it happend if I used long cage in 2x10?, looks like you don't have any medium cage left.
It will work just fine. It's only a problem if you use a shorter cage than you're supposed to. The advantage to a medium cage over a long cage (if compatible with your setup) is that the chain will bounce less.
X9 Type 2
Familiarity:

I've put it through the wringer
Rode 40 miles non-stop. I totally missed the dropping gears through rooty sections, while searching for the gear I was bounced out of, wrecking my cadence. I totally missed the noisey derailleur, chain slap, and gear straddling. Changed my ride to faster, able to power-down and not glitch in the power stroke. Lightning fast XO shifts are beating my free hub into next shift, creating slack - I9 hubs are needed to keep up with this quick shift
SRAM X0 Type II Derailleur
By TheBikeMag
After installing and riding for about 30 miles I adjusted the cables and the XO has been flawless. I have it on a 1992 Cannondale M1000.
Really nice derailleur, very light, and shifts really well. Comes in different colors.
I used this in combo with my SRAM XX1 crankset to make a super slick 1x10 setup on my Santa Cruz Highball. This derailleur is a must because it removes chatter and shifts on a dime. Buy this, a XX1 crankset, an 11-speed chain and you have yourself a 1x10 setup that costs hundreds less than the dedicated SRAM XX1 1x11.