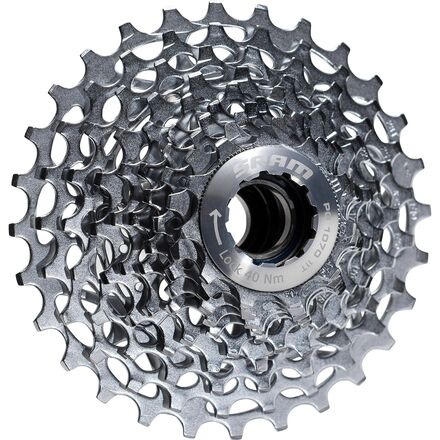 Colors
Description
Durable, lightweight solution for 10-speed drivetrains.
The SRAM PG-1070 Cassette, unlike many competitors' cassettes at this level, is made completely from steel cogs. SRAM's design wizards, however, have managed to keep the weight of the PG-1070 at just 220 grams, without resorting to Ti cogs at the larger end of the cassette, which wear faster than steel, and contribute to faster overall drivetrain wear.
The PG-1070 will fit on all nine and ten-speed Shimano and SRAM-style splined freehub bodies and is compatible with all 10-speed chains, though SRAM of course states that shifting performance will be optimal with its chains.
Variety of gear ratios
Full-steel construction for long use life
Compatible with Shimano and SRAM 10-speed drivetrains
Perfect gearing
Familiarity:

I've used it once or twice and have initial impressions
Great range of gears for 52/36 chainrings up front. Can only be outdone by an 11-speed set up. Able to keep same cassette for all types of riding in San Diego/Southern California (flattish coastal rides, 4-hour rides up/down Mt. Palomar, the 100-mile Ride- Around-The-Bear in San Bernardino Mtns, 100-mile Tour de Palm Springs, etc.). Runs quiet and smooth with awesome Shimano reliability. Needed to add 2 links to my chain to clear the upper pulley from the 28 tooth cog and having the B-screw completely turned in as far as it will go (may need to go with longer B-screw). This is on a 6800 Dura Ace rear derailleur.
Great Quality, Easy install, very quiet
Gender:

Female

Familiarity:

I've used it several times
I put this more all-mountain cassette on a more downhill oriented bike at the suggestion of a buddy that uses it on his bike. He said it would make any pedaling uphill easier, I chose the 11X32 and so far its been great. It's been on my bike a couple weeks and no complaints thus far. May upgrade at some point, but for now it is working well and weight is not a huge issue.
A change of gearing, worked out great!
Familiarity:

I've put it through the wringer
Was referred by a seasoned road bike rider to change into this cassette from what I was riding on. A little bit of changed up learning curve, but now I have great gears for climbing, and other big chain ring gears for flat riding. No problems.
Make Sure To Get The Right Cog Size
I got caught with a worn out chain that had also worn on my cassette. No bueno but will be sure not to make that mistake again and happy to be able to get a reasonably priced one here. Make sure you understand the different cog sizes and what's right for your bike!
it went on and worked smoothly without any adjustments to the DA der and was quieter than the DA cassette. Life is good.
Solid
Familiarity:

I've used it several times
Great cassette, durable, reasonably priced, and will keep running well for you for years!
Great Cassette
Familiarity:

I've put it through the wringer
This is a great product, relatively light and well built. My last one lasted me 6 years and thousands of miles of riding. I find the 11X26 is a good cassette with a compact in the front and I live in the mountains of Colorado, unless you live in a really steep hilly area like Vermont, then in that case go with an 11X28.
Unanswered Question
I have a specialized roubbaix with a 1070 Cassette, 11x32 and a Apex mid length rear derailleur. I want to go to the 1070 11x36 cassette. Will my current Apex mid length derailleur work? If not what would you suggest?
does its job
Familiarity:

I've put it through the wringer
I have no complaints on this cassette. it's been a nice upgrade from my 2012 cassette.
Have 10 speed Shimano Ultegra group. Can I use a SRAM PG-1070 12-32 cassette ? What derailleur works for this ?
Yes, for the 10 speed bicycles, this is universal.
Good Price, OK weight, good quality
Gender:

Male

Familiarity:

I gave it as a gift but have feedback to share
Certainly, the more expensive ones are better, but it is hard to justify spending more than 70 bucks on a cassette.
Unanswered Question
I have a Shimano Ultegra 11-28 rear cassette and derailleur right now. If I use the SRAM 11-32 will it work with my current rear derailleur?
upgrade by downgrading
Familiarity:

I've put it through the wringer
I had the og-1090 (11-25). It was loud.

I switched to this and i got to go up to a 12-28.

I notice no difference in weight/watts required or shifting performance. If anything this one seems better cause it is newer.
How I could use 12-36 cassette on Sram Red...
How I could use 12-36 cassette on Sram Red Rear Derailleur...

Is it impossible????
A Sram Red rear derailleur will only accept up to a 28 tooth cog, if you want to run something bigger the Sram Red WiFLi rear Derailleur will accept up to a 32 tooth cog.
I just posted this as a review instead of...
I just posted this as a review instead of a question, can the 12-32 cassette be run with the standard force or rival derailleur? Is the wi-fli type with the long cage really necessary?

Thanks,

JG
Unanswered Question
This will replace the ultegra 11-25...
This will replace the ultegra 11-25 cassette
with this cassette, which chain should I...
with this cassette, which chain should I select
any SRAM 10-spd chain would do the trick. PC-1050 is a great budget chain.
Best Answer
I have used SRAM chains and a Shimano Dura Ace chain with the 1070 cassette. I find the Dura Ace chain is quieter, but either will work fine.
Likewise, I am currently running a Wipperman & it works fine. I don't think it's any quieter...I don't think its lasting any longer than the SRAM (but I ride old-school, with no electronics or measurements xcept my wrist watch, so I don't have any mileage to report). But it shifts as good as SRAM despite the warning on the chainring that states "only use SRAM chains".
Works great!
Familiarity:

I've put it through the wringer
The PG1070 system is great! I run the 11-26 and live in mountainous area where climbing is common. Love this system and SRAM makes great cassettes. You can't go wrong with the quality............your only decision is what gear range you want!
College Budget, Professional Performance
Familiarity:

I've put it through the wringer
Sram's 70 lineup has been a staple in my stable of bikes. Between cassettes and chains, I find it to the best trio of performance, weight, and their friend money. The cassette has a noticeable weight drop from it's thrifty brother, the 50 lineup, with more peepholes and an aluminum carrier cradling the larger sprockets. Durability is dependable for many miles and the ability to pull the cassette apart allows deep cleaning after miles of neglect.