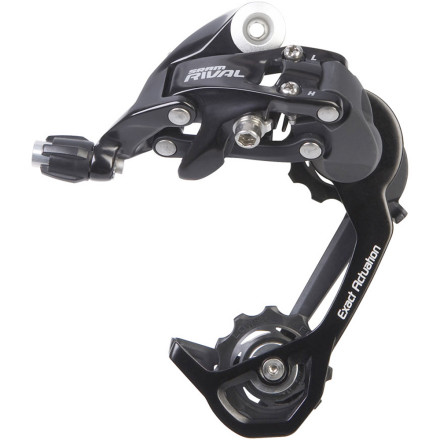 The knee-knocking shift quality of DoubleTap levers carries straight through from Red into Rival. The stout 2-spring construction with Exact Actuation technology of the Red and Force rear derailleurs is replicated in every detail in Rival. You'll feel the same quick, crisp, positive shifting you get with Red and Force. In fact, there are only two differences of note between Force and Rival -- Rival has stainless steel hardware instead of the Ti you'll find in Force. And the finish of this second-generation Rival rear derailleur is black throughout, including its fully-aluminum cage for the jockey wheels.
At 188g the Rival rear derailleur comes in at a mere 14g heavier than the Force, with a cost savings of over 25%. If you embrace technology, but prefer to keep a death grip on your wallet, this is another example of why Rival is tailor made for you.
The SRAM Rival Rear Derailleur is available with two cage length options -- Medium and Short. The Medium has a maximum 37t chain wrap capacity and can handle up to a 32t cog. The Short cage version has a 33t chain wrap capacity and can handle a 28t cog.
Exact Actuation delivers precise 3mm shifts with each click for clean, reliable shifting

Aluminum inner cage for added durability

Aluminum outer cage for reduced weight and increased stiffness

Smooth shifting...
Gender:

Male

Familiarity:

I've used it several times
Bought this as an upgrade for a friend's bike that had it's original Apex long cage. I had already replaced the cassette with a 12-25 since he did not need the 29 and 32 that came on the bike. Thought replacing the long cage with a short cage would improve shifting. And it did. The combo of the closer ratio cogs, the short cage, and the Rival engineering over the Apex has resulted in super fast and smoother shifting. And, look at the great price CC has on it-it's a no brainer!
Works well so far
Familiarity:

I've used it once or twice and have initial impressions
I purchased this to replace a SRAM Apex derailleur that came with the bike, and I had been using for the past two years. I had issues with the Apex derailleur always downshifting multiple gears when I intended to shift just one no matter how I adjusted it. Also I recently messed it up hurrying to replace a flat tire.



I decided to purchase the Rival derailleur since it was on sale for about the same price as the Apex.



The Rival derailleur was simple to install once I got the old derailleur off. I actually had to replace the hanger because it was seized to the old derailleur.



I have ridden with the new derailleur a few times and it shifts very smoothly and I have not had any issue with it shifting extra gears.
Not light, but super strong
Familiarity:

I've used it several times
If weight savings is not your ultimate goal, and you need good reliability and smooth shifting, then this unit will perform fantastically. Easy to set up, and the only weak point is the jockey wheel quality. Like all mid level equipment, the jockey wheels need to be upgraded for the ultimate in smooth spinning drivetrain. Once the jockey wheels are addressed this thing is a prime piece of kit, works well with 2014 double tap Rival, Force, and Red. The small cage handles a 28 tooth cog no problem. I was going to see if it could handle a 30 tooth cog, but that test got delayed.
A steal at this price
Familiarity:

I've put it through the wringer
Performance is great from the Rival rear derailleur. Can't quite say the same about the front, but that is another matter. At 45 beans it is a hard deal to pass up. Sram's double tap rear lever and rear derailleur combo is sweet.
Is this unit compatible with campy ergo...
Is this unit compatible with campy ergo shift levers?
Srampagnolo you ask? Apparently this is feasible. See the thread below...



http://forum.cyclingnews.com/showthread.php?t=16676
WiFli
Familiarity:

I've put it through the wringer
I love the Med which gives me a 32 out back , combine that with a compact up front and you have a great gravel grinder set up!
I would like to change from an 11-25 to...
I would like to change from an 11-25 to an 11-32 cassette. What else needs to change in my current setup? I have seen conflicting information about cage & chain length.



2010 Cervelo RS with complete SRAM Rival drive train (short cage rear derailleur).
I believe you need the medium length cage to go up to that large a rear cog. Honestly though at that size you might instead opt for a mountain bike derailleur: I have a 36 tooth pie plate on my CX bike and I use an X9 rear derailleur with road shifters up front... works like a breeze!
All you will need to go to an 11-32 cassette is the cassette itself, a medium cage derailleur and a new 10 spd chain. You can go with a SRAM mountain derailleur if you like and get capacity up to 36T, however it will slightly heavier, and slightly less smooth on the shifts.
Decent RD system
Familiarity:

I've used it several times
This systen came on my new Orca with the 11-32 rear cassette. It is easy to adjust the barrel adjuster and the system changes easily from the double taps. It is precise and works like a RD should. The adjustment screws are easily seen and marked for one to identify for adjustments. No complaints to date. I like the rear Rival over the front Rival derailleur.
What is the largest cassette I can use...
What is the largest cassette I can use with this deraileur ?
SRAM technical manual says 28 tooth max. But a Mid-cage allows for the 32 tooth, short cage a 28.
Is the short cage compatible with XO shifter and 12-26 Cassette which has 9 speed?