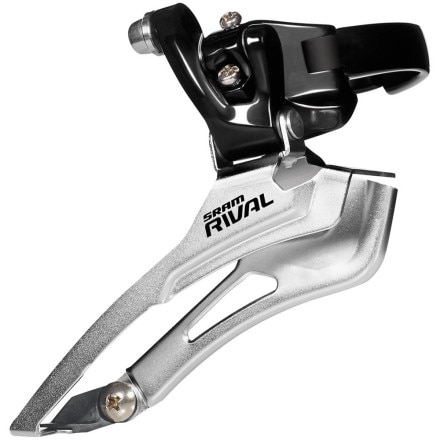 Colors
Description
Rivals on the same team.
The Rival front derailleur is built with the same outer plate design as Red and Force, allowing you to use all 10 cogs on your cassette while you're in the big chainring with minimal chain rub. You can cross-chain all day long in your big ring without having trim the front derailleur. And when you're in the small ring you need only one trim position in order to make silent use of all 10 cogs. It's identical in virtually every way to Red and Force, except that you get a high-polished aluminum finish with black highlights, and it lacks titanium hardware.
Like Red and Force, the Rival front derailleur can handle any chainring differential up to 16 teeth. This means you'll use the same derailleur for a 53/39 crankset as you will a 50/36 or 50/34. The braze-on version weighs in at 88g, while the clamp-on versions run closer to 103g. Available in braze-on, 31.8mm clamp, and 34.9mm clamp.
The actual weight of the SRAM Rival Front Derailleur: Braze-on is 89g. 31.8 is 101g. 34.9 is 101g.
SRAM actuation ratio for proper balance between upshift and downshift
Intuitive adjustments make it easy to get your shifting dialed
WiFli ZeroLoss trim for instant, precise shifting
Compatible with standard and compact rings
For use with SRAM 10-speed drivetrains
Share your thoughts
What do you think of the
SRAM Rival Front Derailleur
? Share a...
A little lacking!
Member since
Posted on
Familiarity: I've used it several times
Let me start by saying I like my SRAM Rival shifters; and RD but this FD is hard to get dialed in. I have a 11-32 rear cassette and 50-34 front crank with still some cross chaining rub going on no matter how I adjust it. I did not have these issues with my 105 system on my other Orbea bike. It shifts okay but the trim effect is also lacking in comparison to my 105 system. I can live with it but I may upgrade that FD to a Force to see if this can be corrected. Overall it works and does fine but I really think it should be able to be dialed in so no rub effect. So because of that I give this a 3 star rating. Don't get me wrong the quality is great just the dialing in to be quite a pain which I have read feedback these can be!
Does a decent job
Member since
Posted on
This FD does a decent job of downshifting however I noticed some weakness on the upshift. I sometimes had trouble with it not moving the chain correctly in that it would skip along the big ring a few times before catching. I swapped my Shimano 105 FD back onto my bike, kept the SRAM shifters and all is well again. The upshifts are back to being lightning fast and very smooth.

The SRAM Rival FD works fine however the Shimano 105 was noticeably better