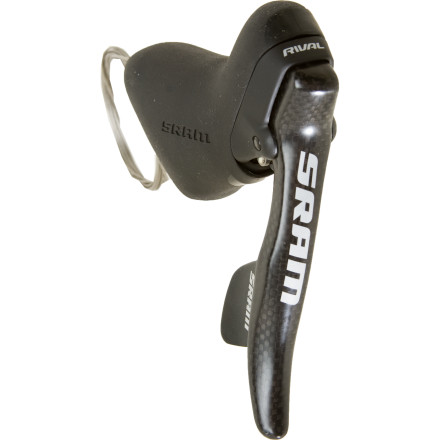 Community Images
Every bit of engineering and technology that went into the development of Red and Force DoubleTap shifting technology is present in the Rival version of the shifter. You'll experience the same mechanical simplicity, ergonomic comfort, and shifting quality. Blindfolded you can't tell the difference between Red and Rival shifting.
This second-generation Rival shifter is built with a carbon brake lever, saving 40g over the first-generation version. Other second-generation improvements include the addition of SRAM's Zero Loss shifting and the ability to trim the front derailleur. The brake lever is longer than the first generation, and the shift paddle is widened and extended. You also get added cable routing options so you can run both the brake and shifter cables along the front of your handlebar. One final improvement is the addition of SRAM's reach adjustment feature, so you can customize the lever to the size of your hands.
Please note, due to the closeout nature of this product, these shifters are only shifting with derailleur cables. Derailleur housing along with brake cable and housing will need to be purchased separately.
DoubleTap shift system uses SRAM's new ZeroLoss system to virtually eliminate cable slack from your shifts
Trim adjustments for both the big and little front chainrings for optimum chainline
Inside and outside cable routing for a clean line with any bar
Reach adjustment accommodates all hand sizes
1x10 Cross Setup
Familiarity:

I've put it through the wringer
My wife is running a right-rear paired with an s900 left lever. The carbon weave is a bit different, but they work flawlessly.
Will these work with red derailleurs ?
Will these work with red derailleurs ?
These will work with any 10 Spd SRAM road derailleur.
Best Answer
Yes, put that Frankengruppo together!
Shifting precision
Familiarity:

I've used it several times
Put these on my 1 x 10 CX bike. Shift and look great. So far the precision per shift is better than comparable Shimano levers. Highly recommended.
can I replace my apex brake and gear...
can I replace my apex brake and gear shifters with this rival shifter set ,will cables fit straight on rival set of controls


Yes, They are basically the same thing except the Rival shifters have carbon levers.
Yup... Rival and Apex controls are interchangeable.
Great shifters!
Familiarity:

I've put it through the wringer
I have this set on my Orca and they perform as they should. Crisp shifts with positive engagement of the internal pawl mechanism. The system is really simplistic and not much to say. The system unlike Shimano offers the ability to set the brake and shifter in toward the bar for shorter reach hands. But to be honest I cannot comment on how difficult this is since I use what the factory setting is. I really think you can't do much better on function; just maybe weight if you're a weight weenie.
Forget paying nearly twice as much for Red shifters for minimal weight reduction. Put that doughnut down instead son. Furthermore, contemplate the cost of replacement if you waste a lever in a crash while riding to the doughnut shop.
Trying to put a cyclo/monster cross build...
Trying to put a cyclo/monster cross build - I'm hoping to mix a sram rival or Shimano 105 with Avid BB7. Will these work?
Yes indeed. These will work fine if you get the road version of the BB7 caliper (they are silver usually where the mtn bike version is darker).
I would like to know what is 2012 real...
I would like to know what is 2012 real model? There are two different options available by pictures: one has SRAM writen on lever blade, other has RIVAL writen on lever blade. Even on SRAM website there are two options!!!
Best Answer
Marcelo,

This answer probably comes a bit late, but I just ordered these from Comp Cyc and the levers have Sram on them. Hope this helps.

Peter
First one broke after I wrecked it at a local road race and needed a replacement asap. Got the part in 4 business days and works right out of the box. Love the sram rival groupo and its great for my budget. Really like RC.com with their customer service and great prices.