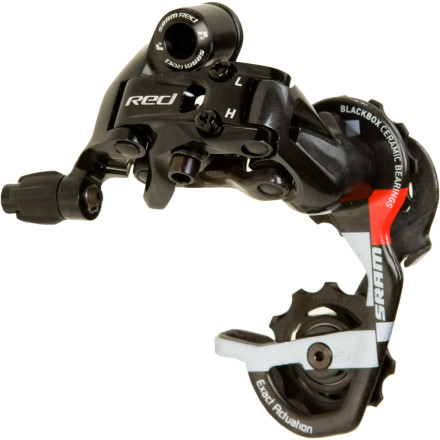 Detail Images
Those Head & Shoulders TV ads were absolutely right: You never get a second chance to make a first impression. It's why Campy Record shifts like a dream, same with Shimano Dura-Ace. 90% of a person's judgment on the quality of one gruppo over another takes place in about 5 seconds: It's the 5 seconds during which they shift it for the very first time. If there's one thing Campy and Shimano know they can't afford to screw up, it's the music made between a shift lever and a rear derailleur. It's a do-or-die proposition, which is doubtlessly why the Force rear derailleur has proven to be a sublime component. Is there anyone out there who's ridden Force and wasn't impressed by the rear shifting?
The Force rear derailleur was a revolutionary component thanks to its stout 2-spring system and its Exact Actuation technology where the derailleur pulls the same exact length of cable no matter what gear you're in. It's a simple derailleur to set up, it stays in adjustment longer, and it provides accurate shifting even if you're riding a bike with thicker-than-normal dropouts, a sluggish freehub body, a worn cassette, or with a bent derailleur hangar.
There was little to improve in terms of the function of the Force rear derailleur, so with Red SRAM's goal was to improve performance in other ways. What you get with Red is weight loss and drag reduction. They saved 20g -- nearly a full ounce -- by changing the inner link from magnesium to carbon fiber; by going from a carbon/aluminum cage to a full carbon version; and by upgrading the parallelogram spring to titanium.
From a drag reduction perspective, the Red derailleur pulleys are upgraded to SRAM's Black Box ceramic cartridge bearings. Ceramic bearings offer outrageous hardness and roundness in comparison to steel, which substantially reduces the mechanical drag of the pulleys as a whole. After aerodynamic drag, mechanical drag is the leading culprit in consuming the power you put into the pedals. It's why people are willing to pay nearly $200 for ceramic derailleur pulley upgrades for their Record and Dura-Ace rear derailleurs. Here, the upgrades come stock, and they're factory-installed.
The Red rear derailleur weighs 153g, 20g lighter than Force. It can accommodate cassette gearing as low as a 28t cog, and it has ample chain wrap capacity to handle any SRAM crankset/cassette combo -- regardless of whether you ride a standard or a compact crankset. Thanks to its use of Exact Actuation technology, it's compatible with all SRAM shift levers: Red, Force, and Rival.
What do you think about this product?
Have questions about this product?
First Purchase with Competitive cyclist
No comment about Sram Red derailleur other than it Rocks but I just wanted to say I'm happy to have found this site. Great brands and variety across the cycling genres if you will.
It's a magical little devise but in my opinion it's not fully worth it unless you have the Red front derailleur and shifters.