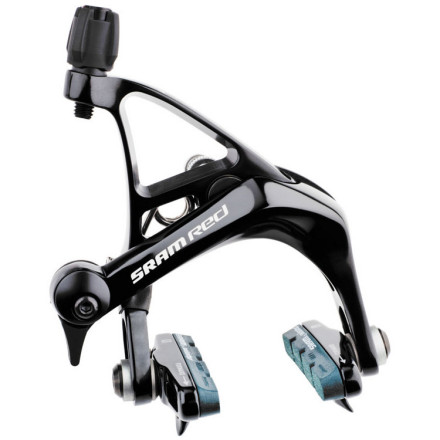 SRAM figured as long as their Red group functioned at the highest level, why not address the aesthetic? That's exactly what Red Black is all about; it's not about how it works. These Red Black Brake Calipers are exactly like their metallic Red counterparts, save for the black anodized, jewel-like polished finish.
Red Brake Calipers take their inspiration from the "skeletonized" dual-pivot design of Force. SRAM does extensive machining to Red to make them over 10% lighter than Dura-Ace, and to save you an added 10g in comparison to Force. They're ungodly light by production standards, with two nice upsides: (1) Their lightness doesn't cause them to flex in the least. Your braking power will be stout. (2) They're easy to set up, and they offer plenty of adjustability -- both in terms of spring tension and the ease with which you can center them.
With Red calipers, the combination of a dual-pivot design and a stout return spring gives you dynamic braking. Trying to avoid the final corner pile-up at your local crit? Red provides superb hard-stopping power. Trying to pick the best line through a hairpin on a descent? Red provides nuanced modulation to feather the brakes through the corner. Red Black Brake Calipers are built with cold forged aluminum arms and titanium pivot and mounting bolts to give you the right feel for the right situation.