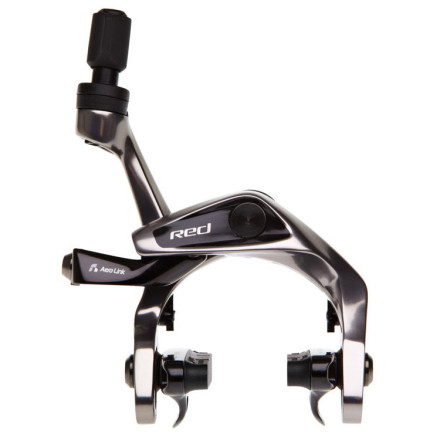 In cycling, speed is priority 1, 1A, and 1B, so brakes tend to be the red-headed stepchild of your aero-magical carbon-fiber road-wizard setup—just stick whatever on there and you'll use it when you have to. Paradoxically, though, having top-of-the-line brakes actually helps you go faster, because you can push it knowing that you'll be able to dump speed before it's too late. SRAM's Red Aero Link Brake Calipers are sleek, sexy, and powerful, so you'll be able to ride hard with the confidence that comes with knowing you'll be able to stop.
The Red Aero Link is seriously light—just 250g per pair—and aerodynamic, but don't let its size and lack of heft fool you. It can stop a runaway freight train full of elephants with its Aero Link Arm and Force Multiplier Link, a small pivot joint that's tucked behind the calipers themselves and greatly improves braking power and modulation. Since it's so efficient, the Aero Link Arm enabled SRAM to reduce the caliper's frontal area, which reduces drag so you can ride faster and with less effort. Even the barrel adjuster is designed with a shark-fin profile that cuts through the wind without slowing you down.
SRAM also took pad wear and replacement into account, with an easy-to-use quick-release lever and four-position indexed release that makes it easy to adjust the calipers to account for pad wear. The Red Aero Link has a width of 31mm, which means it will work with 28mm tires, and ships with SwissStop Rash Pro pads, so they're ready to ride right out of the box.
Cold-forged aluminum arms
Aerodynamic Aero Link Arms
Force Multiplier Link for improved stopping power
Aerodynamic barrel adjuster
Quick-release lever
Four-position indexed adjustment
Accommodates 28mm tires
SwissStop Rash Pro pads included