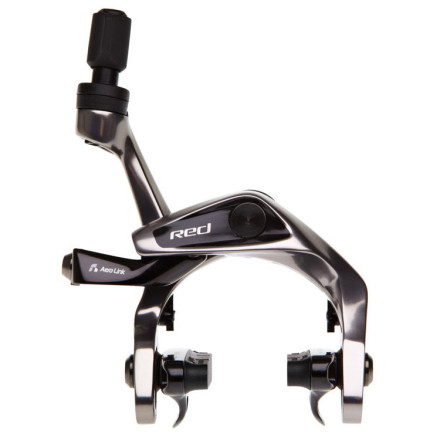 Description
Less weight and more control.
In cycling, speed is priority 1, 1A, and 1B, so brakes tend to be the red-headed stepchild of your aero-magical carbon-fiber road-wizard setup—just stick whatever on there and you'll use it when you have to. Paradoxically, though, having top-of-the-line brakes actually helps you go faster, because you can push it knowing that you'll be able to dump speed before it's too late. SRAM's Red Aero Link Brake Calipers are sleek, sexy, and powerful, so you'll be able to ride hard with the confidence that comes with knowing you'll be able to stop.
The Red Aero Link is seriously light—just 250g per pair—and aerodynamic, but don't let its size and lack of heft fool you. It can stop a runaway freight train full of elephants with its Aero Link Arm and Force Multiplier Link, a small pivot joint that's tucked behind the calipers themselves and greatly improves braking power and modulation. Since it's so efficient, the Aero Link Arm enabled SRAM to reduce the caliper's frontal area, which reduces drag so you can ride faster and with less effort. Even the barrel adjuster is designed with a shark-fin profile that cuts through the wind without slowing you down.
SRAM also took pad wear and replacement into account, with an easy-to-use quick-release lever and four-position indexed release that makes it easy to adjust the calipers to account for pad wear. The Red Aero Link has a width of 31mm, which means it will work with 28mm tires, and ships with SwissStop Rash Pro pads, so they're ready to ride right out of the box.
Cold-forged aluminum arms
Aerodynamic Aero Link Arms
Force Multiplier Link for improved stopping power
Aerodynamic barrel adjuster
Quick-release lever
Four-position indexed adjustment
Accommodates 28mm tires
SwissStop Rash Pro pads included
Unanswered Question
Does it work with a Shimano 6800 STI Shifter/Brake lever?
Unanswered Question
Do these work with red22, red20 (2012), and old apex (2010) shift kits?
Unanswered Question
Do these work with red22, red20 (2012), and old apex (2010) shift kits?
Killer Stopping Power
Familiarity:

I've put it through the wringer
I came from SRAM Force and what a difference these brakes make. Modulation is sooo much better. Very happy with the upgrade.
Is the price ($258.95) on the sram red brake calipers (aerlink) for the pair?

Thank you,

Mike Marotta
Hey Mikp,

These are sold as a pair.
These open up WIDE
Gender:

Male

Familiarity:

I've put it through the wringer
I got these because of the newer wide U shaped Zipps Firecrest 303's. These open up plenty wide to accommodate! These brakes are easy to install and adjust.



Only minor qualm is they don't come in black.. I'm sure that's in the works!
The weight says 250g ...is that for one...
The weight says 250g ...is that for one caliper or for the pair?
Best Answer
Hello wbkp1149716,



Thanks for your question.



That weight spec of 250 grams is indeed for the pair of calipers.
Looks faster standing there, stop fast too
I was skeptical that these would be any better than the brakes I already had but bought them to complete my SRAM Red group.

There are some nice features that put these one step ahead of most brakesets and certainly any produced by SRAM.

1. The brakes are spring centered like a good canti-brake, which means they can't get knocked out of center and always stay centered. (See notes on cables below)
2. They are tiny
3. They have huge stopping power, but not too much.
4.Intimidates the competition because they look fast even if you are not

Notes on setup: The length of cable is super important as the brake is spring centered a too long or short of a cable will cause the brake to push one way or another. I had to start long and trim until the spring centering worked properly and perfectly. This took some time. Also, I couldn't get yokozuna reaction brake cables to work because the cable are too stiff. I wouldn't run yokozuna brake cables on anything anyways if you have the choice.

Price, I dock this one star for the silly high price. Not even the extra engineering on these can explain why they cost as much as three sets of normal calipers (SRAM Rival).
SRAM Red Aero Brake Calipers
Gender:

Male

Familiarity:

I've used it several times
I installed these a few weeks ago to replace my 2010 SRAM Red calipers on a Focus Izalco. The installation was a breeze as the cable housing length did not have to be latered front or rear. Centering and adjusting them was a breeze. I am running Easton Carbon rims so my goal was to increase stopping power when riding with my hands up on the brake lever hoods. I would say there is at least a 20% improvement over the old SRAM Red with the cam action of the Aero when using the same amount of force. I also noted an overall weight savings of 40 grams for those weight weenies out there. I would recommend these if you are running carbon rims and need a little more braking power.