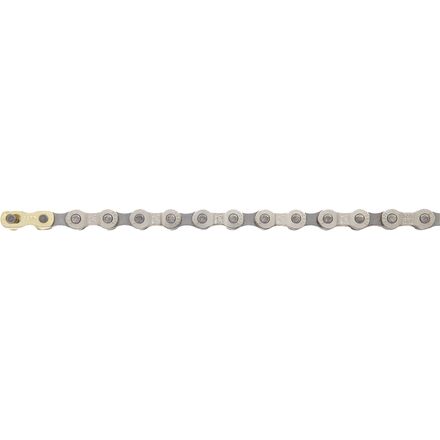 Colors
Description
High performance for 9-speed drivetrains.
Most of us still have a couple bikes kicking around with 9-speed drivetrains on them –after all, it's really only been a handful of years since it was prevalent. If your chain has worn out, replace it with the SRAM PC971 Chain. Its chrome-hardened pins and bulged outer plates make it tough and long-lasting, and it comes with SRAM's quick-connect PowerLink for easy installation.
SRAM does it right!
Familiarity:

I've put it through the wringer
This is the easiest chain to install, yet durable for the 50-mile endurance race I did in AZ.
Easy to use, bullet proof chain
Familiarity:

I've put it through the wringer
This chain was a breeze to put on, and has proven to be great quality. I have been riding on it since the start of this spring in the Wasatch. I have confidence that this chain will get me to the end of many more trails.
Does this chain work well with a Surly...
Does this chain work well with a Surly single speed cog?
NRAP1153036,



Yes, this chain would work just fine with a single speed cog such as the Surly version.
College Budget, Professional Performance
Familiarity:

I've put it through the wringer
Sram's 70 lineup has been a staple in my stable of bikes. Between cassettes and chains, I find it to the best trio of performance, weight, and their friend money. The 1070 chain seems to have a bit more nickel plating compared to the 1050 for better wear and durability in my experience. Sram's Powerlink makes installation and trailside repairs really simple, but I find myself worshiping the concept the most when taking the chain off my bike to degrease.
A very strong, durable chain. I love that I can use the powerlink to safely break the chain for removal and cleaning. I might try a 991 model if I could find it on a closeout or something, but the 971 is more than sufficient for normal use and costs about half as much. I carry two extra powerlinks and a couple extra inside links in case I have to do trail side repairs.
SRAM chains - consistently good
Always happy with SRAM chains. Glad Backcountry had a 9-speed in stock. I've always struggled though with how to disconnect the Powerlink on a chain though - usually resorted to using a chain tool the old fashioned way. Found out this week my problem - I was trying to use the pliers one the link along the line of the chain - what someone showed me is the importance of using the pliers diagonally across the link, so you push opposite corners. Easier with long nose pliers - hard to describe in words, but hopefully this makes sense...
This chain can be great. I've been buying this chain for years. Sometimes i get one that breaks more easily than others, but for the most part its a good chain.
As a good rule, when ever you start updating your drivetrain or building a new one never use an old chain. Old chains are the ghost in the machine. Recently I bought a brand new crankset and and picked up this chain as well. You could spend the extra money on the lighter 991, but you will be giving away some valuable strength. The 971 is the perfect choice for your SRAM drivetrain, strength, function and price are at there best with this chain.