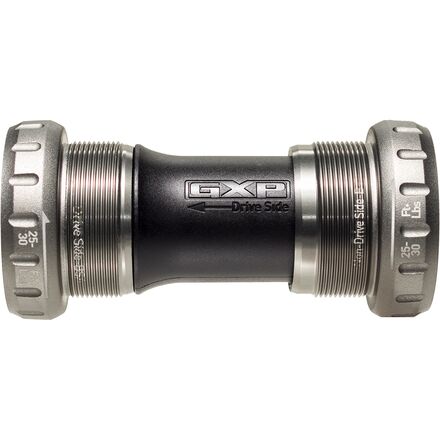 Colors

Detail Images

Community Images
Description
Truly SRAM.
If your SRAM road or Truvativ crankset needs a new bottom bracket, the SRAM GXP Team Bottom Bracket is specifically designed for that purpose. And while the SRAM GXP is compatible with all SRAM and Truvativ cranksets it is brand specific, meaning that they are only able to be installed with SRAM Cranks.
It is the same bottom bracket as used by Force and XO groups. If you're wondering why they are only SRAM compatible, well, the left side bearing has a smaller diameter so that it mates with the stepped spindle of the SRAM crank. This design ensures that the left side bearing is correctly captured between the crankarm and spindle so that the crank is properly located. At the same time, the bearing on the right side "floats" so that it only handles radial loads-minimizing drag and increasing durability.
This design allows the inner race of the left side bearing to be captured between the crankarm and the spindle, effectively locating the crank. The right side bearing "floats" on the spindle handling only radial loads as you pedal. The SRAM design optimizes bearing load, minimizes drag, and gives you durability.
The GXP Team Bottom Bracket features Dark silver anodized alloy cups. It comes in English threading only and will fit 68mm or 73mm bottom bracket shells (spacers included for 73).
Compatible with all SRAM road, Truvativ mountain cranksets
Fits 68, 73mm bottom bracket shells (comes with spacers for 73mm)
English threading
This says "needs spacers to be used as a 73mm" that is fine but the last one I bought that worked on 68/73mm (not this brand) just used a "spacer"/"washer" type thing on the threads to "shrink" a 73mm for use as a 68mm... I don't want that type of setup.... I just want a 68mm. does this one start out as a 68mm? Thanks


You'll always need a washer or a couple with this BB. I think its one with a 73 and 3 with a 68. The only time you wouldn't use one is with a E-type front derailleur which are rare these days. Refer to instruction manual for exact numbers to use and which side to use them on.
If you are using a MTB crankset on a bike with a 68mm shell, you use the included spacers. If you are using a road crankset on a 68mm shell or a MTB crankset on a 72mm shell, you won't need the spacers.
Ok, but the included instruction page for a SRAM crankset indicates that the spacers should be used for all but a 72mm shell.



I never much liked the graphic only type instructions and its a bit confusing as I did not think you should use the spacers for a road 68 shell but they seem to indicate otherwise????
It works
Familiarity:

I've put it through the wringer
Installed it this summer. Logged 3,000 uneventful miles on it. No problems. Seems to do just fine in the rain.
Smooth Character
Familiarity:

I've put it through the wringer
Only one season on this BB, but thus far it's been running as smooth as a roadie's calves. Pretty inexpensive way to keep the cranks running smooth all season.
3rd season now and it still works great!
Familiarity:

I've put it through the wringer
I've put almost 10,000 miles on this bottom bracket with my SRAM Red cranks and have not had any problems. 2x a year I will remove the BB, clean it, grease the threads, and put it back together. I don't ride in the rain very often, but I do ride through the winter when the BB is exposed all the sand and other crap.

I'm not sure how often you are supposed to replace a BB, but I can see getting another year out of this one (at least) and if I have to replace it, I know it won't hit my wallet hard at all.
Works good
Familiarity:

I've put it through the wringer
It lets my cranks spin real smooth like
Not my favorite installation or sealing setup out there, but once its installed it doesn't matter. These take a lot of abuse and keep spinning.
Does what a BB does
Familiarity:

I've used it several times
I found it kind of hard to track down a SRAM Italian BB and this one does the job great and CHEAP! No creaking or anything like that yet, I'm using for a Force Crank on a Pinarello.
Nice BB
Familiarity:

I've put it through the wringer
I've used this thing for a full season now, no creaks or squeaks! In a world where you can't buy much for under $100 this is a great component at a great price. definitely planning to give it a nice cleaning this winter and keep rockin it.
Finally Replaced
Familiarity:

I've used it several times
Finally got around to replacing my hand-me-down GXP with who knows how many miles on it, but still ran like champ. Only issue was that it made some clicking noise from time to time. But with new cranks I figured I should get a new BB and now it's super smooth and silent
Smooth and Light
Familiarity:

I've put it through the wringer
This is a great bb that's super affordable. If you aren't bound by having the most expensive parts on your bike there really isn't that any weight difference between this and the blackbox xx version. Your biggest difference is your bearings, but I have this on three of my bikes and my spouses and they are bullet proof. Never had any issues or complaints. I like the darker anodized look too.
This is my second GXP BB and it fits and spins smooth with my SRAM X9 cranks. I rode my first one the better part of a year and it still has plenty of life in it, I bought a new one to take on the great divide and I will surely put it to the test.
works great with the crank
The gxp bottom bracket is great match with the xo cranks,no problems and runs smooth
It works, makes the cranks spin, and is inexpensive and durable. Win, Win, Win.