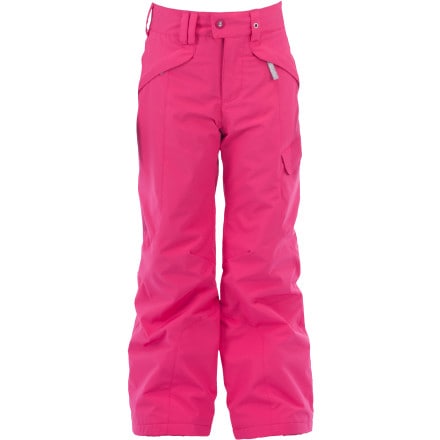 Description
A sassy snow pant that protects your little miss sassy-pants from the cold and wet.
Your little girl isn't so little anymore, and neither are the cliffs she soars off of. At least she's wearing the Spyder Girls' Vixen Pant to protect her from the weather, if not herself. This sassy pant fits her independent attitude and her body, even as she grows, thanks to Great Length cuffs. You can extend the pant an additional inch when you take out the seam, so there's always a chance your daughter will get more than one season's wear from this durable, warm pant.
The waterproof, windproof breathable shell sports fully taped seams for true weatherproof protection, regardless of whether your sweetheart is a speed demon on the slopes or a fierce fighter in the neighborhood snowball wars. The pant is lined with nylon taffeta for easy layering, assuming you can convince her that below-zero temperatures require a baselayer of more than undies. When she begs to come on the annual winter camping trip, you'll be relieved the Vixen is insulated with ThermaWeb, an ultra-fine polyester insulation that provides long-wearing warmth.
Rock 'n Roll rivets on the back pocket make this snowpant stylish, even by teenage girl standards. Inner snow gaiters with gripper elastic and cuff anchors make sure her pants and boots remain in contact, even when her feet lose contact with the earth. Zippered hand pockets give her a place to store emergency cash and root-beer flavored lip balm when she's not with you. She's no longer your little snuggle bunny, but that doesn't mean you stop trying to protect her from the cold and wet (even when she outskis you).

Xt.L (10K/10K), Spylon+ DWR
Fully taped seams
ThermaWeb polyester insulation, 60g
Inner snow gaiters with gripper elastic, cuff anchors
Internal elastic waistband adjuster