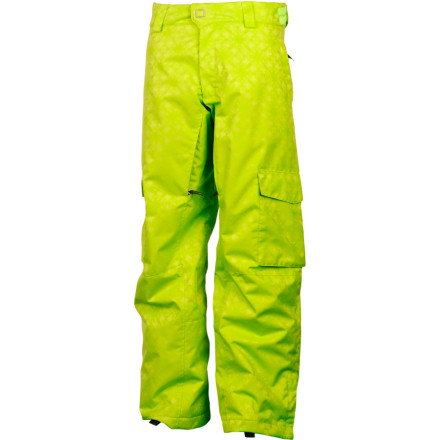 Jump into the Godfather Pant from Spyder and shred the mountain in gang-land style. The unique custom kaleidoscope print is the tuxedo of the mountain. The cargo pockets are perfect for storing munchies for the lift-ride, or you can just fill them with extra ammo. The XT.L Laminate will help keep you dry but it won't protect you from bullets, so be careful who you trust.
Snap-hem with ghetto slits keep snow from slipping up your pant leg
Reinforced low-profile cuff savers keep your cuffs durable for seasons of use
Gusseted crotch gives you plenty of room for movement in the taint area
Meshed lined inner leg vents keep you cool right where things heat up
What do you think about this product?
Have questions about this product?
For the price, these pants work well. They look cool and do a really good job. The pants have pockets and some slight insulation. They have more insulation than a pair of HH pants that I have. They are much better. Spyder is a brand that you can trust. There are more expensive pants out there but ski pants are basically just a watertight barrier. No reason to pay $400 for a pair. I bought 2 pairs in different colors. I will be wearing these for many years. I had ordered another $350 pair of pants from backcountry.com and returned them because both were of equal value. I might as well have two pairs for the price of one. I see Spyder all over the mountain. It's been around for years and will be around for many more
Will these pants run big? I'm a 32 waist...
Will these pants run big? I'm a 32 waist and I tried the Godfather pants a couple years ago and the Medium was way too big...
Yep, they will most definitely run big. I also returned my Mediums for a Small and I am kind of in between a 32-31 waist. I now have the Small sized Godfathers and I have even sinched them up a little with the adjustable velcro straps. So go a little smaller than you may think.

Other than this the only other (minor) negative I have found is that the flap for the fastener above the zipper is a little short. I am used to pants that have a longer overlapping flap. It just feels kind of "funny" when you snap it together. But this is extremely minor. I just returned from a ski vacation in Colorado and not only did I receive many compliments, the pants perform too. I was not wet while riding snow covered charilifts with Spring temperatures, and I was not cold.

So bottom line, these pants are GREAT...they perform and the look way COOL!