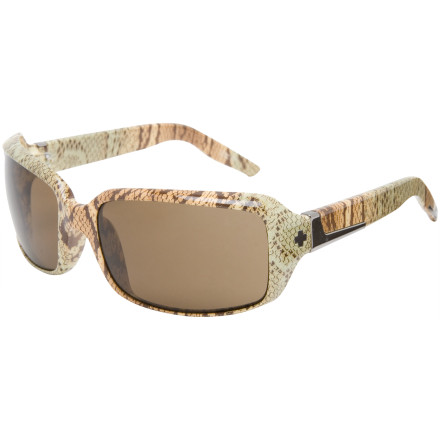 Detail Images
The Spy Zoe Sunglasses take a sassy approach to eye protection. Deceivingly sweet and simple, these shades provide full coverage so no one can see you cooking up your evil schemes. Handset metal details add designer flair.
Great product and even better service!
I bought these sunglasses for my girlfriends birthday to replace the pair she lost while launching my kite before my kiteboarding session. She absolutely loves these sunglasses and couldn't be happier. I was stoked with the service from dogfunks crew once again. You guys are my favorite company of all time to order product from and you never disappoint. Thanks for keeping my girl and me stoked and mad props to everyone at dogfunk.
Great Customer service!! I had no problem exchanging my sunglasses for news ones. SPY ZOE SUNGLASSES ROCK! Thanks Again!
I bought 2 pairs of the Zoes and while I love the way they look, the silver decorative piece on the side arms keep popping off...which shouldt happen with hundred dollar glasses! I have sent them in and Spy has been very good about fixing or fully replacing them, but it takes time to get them back (so have a backup pair of shades)and then it just happens again, so it was not just one poorly made pair, but a problem with the design.

they are also one of the heavier pair of sun glasses I own.

While I do recommend Spy for their excellent product backing, I dont recommend this particular style.
I got a pair about 6 months ago and I always wear them when i go out. They're a great transition from goggles to glasses, and they fit amazingly well.
yeah yeah i feel you wishin' you had these glasses on instead of your fred meyer 15dollar johns-HA HA
really i feel like i got the deal of the century on these spy's- I love them and i get nuthin but compliments-spy's are always a good investment in function... & style of course.& thanks for stlyin' me out.
, ☃bcs_badge_alumni_label☃
Like them a lot
I bought these Zoe Sunglasses as a birthday present for my friend, and of course I had to take them from her and try them out! They were awesome. I like them because they are not TOO huge and look really good on. My friend looks so hot in them that her husband is scared when she goes out that guys will hit on her because of them! Super cute!
I love these glasses... they are a bit smaller than the Dynasty's but still have the larger look. Very comfortable fit. I like how the tortoise ones have very dark lenses.
I love these glasses. They fit my face perfectly and are just big enough to be stylish but not ridiculous.