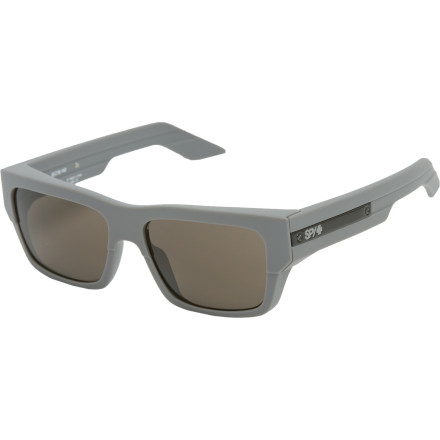 Detail Images
Part tighty-whitey-wearing risky business and part Miami Vice, the Spy Tice Sunglasses bring an old school look into the 21st century. Spy gave these retro-inspired shades its polycarbonate lenses for crystal-clear vision in just about any condition, while the burly frame stands up to long nights in the club and fist fights in the alley. The triple-barrel hinges add more beef to your brisket, and total UV protection keeps your peepers from frying in the sun.
These glasses have awesome style appeal, and I was pretty happy when they showed up on my doorstep. They are just as thick as they look in the picture and the heavier weight is definitely a little different from what seems to be in right now. In terms of functional use, you develop peripheral blind spots when you put them on because of the thickness of the temples. Nonetheless, the Tice gives you full coverage and sun protection.



Unfortunately my pair was doomed when they crashed to a concrete floor shattering the frame. It seems the perceived thickness and weight didn't contribute too much to resilience.


Do all of the Bronze len glasses come with...
Do all of the Bronze len glasses come with Gold Mirror tint?
I'm afraid the bronze lenses are not mirrored - it's more of a classic look!
wear 'em into hipster battle
With its narrow periphery, and chunky profile, while I do agree that the Tice is not exactly a "performance-oriented" frame, what it lacks in finesse and subtlety, it more than makes up for as a totally bomber, aggressive, and retro redux. Timeless silhouette, with an unmistakeable Spy twist. Very sick.

* not super wide, but I'll deal - one of my favorite designs from Spy
downs:
Mine broke easily-the hinge came out of the socket. Scratch super easy
Do not fit on a long face, or wide
side arms make it so you can't have a side view/ feel like a horse and their vision guides.

ups:
look cool
good view and sun blockage in lens