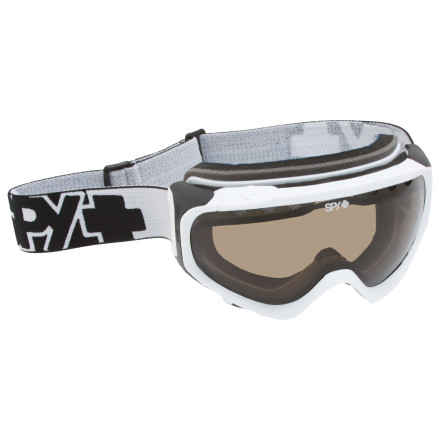 Detail Images

Community Images
Slap on the Spy Soldier Goggles and scout a safe route through snow-man's land. The Soldier delivers a flexible fit and fog-free vision so you can unleash the badness with crystal-clear vision. Spy's Scoop ventilation and Gemini dual-lens technology eliminate lens fogging so you can spot the drop zone even in the gnarliest weather. Anti-fog and anti-scratch coating keep you glued to your mission, and total UV protection saves your eyes for life after the force. Triple-layer foam and moisture-wicking fleece feel so good against your face, you may end up wearing these goggles off the base.
I have the "Bright Idea" colored ones and they're so dope. They look awesome, the lense never fogs up for more than a second, and they fit my helmet pretty well. They're durable too, I got em last season and they're still going strong, even the elastic band is in good condition. The reason they don't get 5 stars, is they don't have any special features but for the price, they're a great deal. Definitely reccomended.
Unanswered Question
What is the difference between persimmon...
What is the difference between persimmon and persimmon contact lens?
Will the contact persimmon be good for...
Will the contact persimmon be good for low/ flat light? I am in need of some low light goggles that will also fit my helmet (despite almost all mfgs. saying their goggles are helmet compatible, I have issues with goggles fitting my helmet)
Lenses are pretty scratch resistant and never fog on me during use, even whem I'm wearing my face mask (when positioned properly). Persimmion is a decent lens and the Acid Pills color is wicked. Frames aren't enormous, but they give you surprisingly good peripherals when worn. Strap never slips and the layer of silicone on the strap is great!

The tri-foam is mega plush and feels so soft and comfortable against your skin. I've never had an issue with the bridge of my nose, cheeks, or forehead getting sore or cold with these on. The goggle is softer and molds right to the shape of my face. Venting is solid and my face is never cold either. I normally use them with contacts, but my glasses even fit inside them if I'm being lazy or spur of the moment (smaller frames).

4 stars only since I know there are better goggles out there.
The Spy Soldier is a great looking google and will have you looking fly from the big mountains to the park.
As always Spy slays it when it comes to lenses and the Spy Soldier does just that. Bottom line is the optical clarity of these lenses is off the wall!
I have a small to medium face and found the Spy Soldier fits great.
The Spy Soldier is solid, I could not be happier shredding with these Goggles as my windows to the Mountains. BTW, I have never had a problem with the Soldiers fogging up. Think snow!
constantly fogged up, small size goggles
are these comfortable and have good...
are these comfortable and have good peripherals?
You have good peripheral on these. I have 2 pairs myself, but just because I love the fit on my face. You have greater peripheral on the Omegas, but I did not like them as they foged and froze over on me. But the Soldier has been my go-to goggle for 5 years now. Venting is awesome, fit is comfy, and over all just a great goggle
are the white ones dope or the black...
are the white ones dope or the black ones...dont say both lol
Hey,

Considering the black ones are sold out, go white.
can you see your eyes through the bronze...
can you see your eyes through the bronze silver mirror lense?
if you can which lenses can u not see the eyes?
The Silver Mirror will be the most reflective of the ones available. The point of a reflective mirror is to block sunlight and protect the eyes on sunny days, not for hiding your eyes.
Are all the Soldier lenses Carl Zeiss...
Are all the Soldier lenses Carl Zeiss lenses? I see "Optics by Carl Zeiss Vision" on every closeup of the Soldier as well as the replacement lens section... However when I ordered another pair, (I already own the "Gemini" lens) I received another Gemini lens with the "new" goggles. Can someone please explain which lenses I will receive if I decide to order again? I am hoping it is the CZ lens and it will actually say it not only on the box... but on the lens itself. Thanks!

BTW these goggles are some of the best goggles I have ever used. Worth every penny!
All Soldiers from the 2010/11 season forwars are Carl Zeiss.
Got these goggles for the boyfriend for christmas and he was so stoked! They look great, he wore them up on mount hood last weekend and said they felt and functioned awesomely! Only thing is the lens is definately best for sunnier days.
These goggles are NOT sweet. They are WAY worse than my last pair of goggles, which cost $25 at Costco. They fog up -bad- and scratch easily. I wore them twice and already the lenses have several small scratches on them. Worst of all, they fog up really easily. Yesterday was an awesome powder day, my best day of the season so far. But I spent the entire day fighting the fog on these goggles. By the afternoon I gave up and skied without them, even though it was dumping and I kept getting snow in my eyes. At first I thought maybe it was the conditions but none of my friends were having issues. So despite the awesome deal I got on these gogs from Backcountry, back they go.
I love the goggles. They fit nicely with my Giro helmet and the gold mirror lens works good for me on almost all days. They are comfy for all day wear and I like the fit on my face. Sometimes I find goggles put too much pressure on my nose, but these don't. I give them four stars because I have had some fogging problems, but only on a couple days.