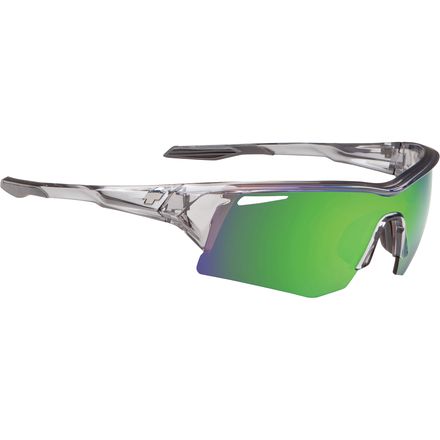 Colors

Detail Images

Videos
Description
Sport and lifestyle got together and made the Screw.
Scared to rock a pair of performance shades? Don't be, the Spy Screw Sunglasses are here to drive a nail (or a screw) through the stereotypes and inhibitions that come with wanting a fog-free, face-hugging, and yes—stylish—pair of sunglasses for dominating any sport you're pursuing.
Features Spy's Scoop ventilation: a patented design incorporated in the lens and frame to keep your vision fog-free in hot pursuits
Hytrel rubber nose and temple pads keep the Screw from slipping even when you're at your sweatiest
From the trail to the club—interchangeable lenses are easily swappable to adapt to time of day and activity (don't club in them, really)
100% UV protection helps reduce fatigue and blocks damaging rays … and ray guns
7-Base radial lens curvature provides a face-hugging wrap to keep the Screw on your face while you're getting after it
Impact-resistant polycarbonate lens keep your eyes safe from projectile rocks, tree limbs and bugs—ewww!
Great glasses
Familiarity:

I've put it through the wringer

Fit:

True to size
I picked up a pair of the Red Framed versions of these to match my mostly red team kit and they're a great compliment. The lenses that came with them are a red iridescent color that I was afraid might be too dark overall in anything other than bright sunlight, but I was happily quite wrong.

Overall, the glasses feel great and fit very well. I have a slim long face and a lot of "sport" style glasses can look goofy on me. These actually look pretty great. The only gripe that I have is that the plastic that makes up the frame feels a little 1980s oakley knock-off to me. If they were to improve the plastics, it'd be a 5+ Star for sure. The build quality overall is good, the lenses are easy to remove but secure, and the glasses simply don't move once they're in place.

My old glasses (perf bike brand) would slip down my face with the first hint of sweat and the ear pieces simply wouldn't let you wear them over the helmet straps. These don't move and very easily accommodate being slipped over the helmet straps. Also, once they go on, you forget you're wearing glasses. They're extremely light (2 grams lighter than my son's Oakley Radar Locks), and they fit very close to the face. While riding in the pouring rain yesterday, my eyes stayed clean and never once got hit with rain or road spray. They only fogged up when I hit a prolonged stop at a light and even then, they quickly unfogged as soon as I started moving again.

The lenses - the color looks like it might be weird to look through, but it's not. At first use, they actually seem to clarify things a bit. Transitioning from dark to light and back is easy. They're a good balance of tint that means you can use them in all but the darkest conditions.

I don't regret my decision to choose these over the pricier Oakleys and would happily do it again. My only gripes - again, the plastic seems a little cheap; they don't come with any extra lenses; there's no case, only a small cloth bag. In all, great though.
Fits great!
Familiarity:

I've put it through the wringer
The reason why this pair of sunglasses works so well is because it fits nicely and docent slid off your face. It also looks great both on and off the bike and functions nicely. Spy's happy lens also make for an improved vision quality.
What are the measurements?


Measurements:



Temple Length: 123 mm

Frame Width: 150 mm

Lens Height: 44 mm

Lens Width: 75 mm

Bridge: 14 mm


These freaking rock
Gender:

Male

Familiarity:

I've put it through the wringer
Ask anyone I know, I use these sunglasses all the time. I am a cyclist and nordic skier and these glasses are perfect for both activities.



They are light weight, comfortable, have a great lens coverage, and the scoop ventilation works...really well. I've always had problems with glasses fogging up when skiing but the scoop vents keep that from happening.



Interchangeable lense are key for these. When racing 'cross I would switch back and depending on light conditions/weather. Clear lenses for rainy/muddy conditions and the darker lenses for sunny days.



Highly recommend these, give em a shot and you wont be disappointed.
I have a pair of Oakley radars, Ryders, and Uvex. I bought these because a friend liked his a lot. These glasses are super comfortable. Ever bit as good as the Oakleys I own. I'll stick to these Spy's from now on because they are cheaper than the Oakley radars and ever bit as good.

I have the same pair Pro rider Matthew Busche is wearing in this picture.
Excellent Customer Service!
So I was looking for some new sunglasses for the summer cycling season. After looking through Oakley, Smith and what have you, I settled for a pair of the Spy Screw. I based this decision on cost / value, exclusivity, and prior ownership of Spy products which I still own today.

The lens quality / optical clarity is superb but not quite as good as Oakley, so keep that in mind but you'd have to be extremely detail oriented to tell the difference. The margin of difference is little to none. I have the Matt Busche edition so the spectra lens does an extremely good job of blocking out sunlight in extreme light conditions (think early to mid afternoon.)

The frame itself is extremely light weight and the Hytrel rubber on the temple and nose piece doesn't slip off even when you're working up a sweat. I love that air flows past the lens and it scoops air through the side vents of the frame so this does live up to it's fog free claim. Realistically, however, if you're stopped, yeah, it'll fog up, but even $300+ Oakley's do this. The moment you get going, the fog disappears within a matter of seconds.

One note - I'm Asian so the original nose piece did not fit me very well. I e-mailed Spy's customer service to see if there was a larger/Asian-fit nose piece and to my surprise, they simply sent to to me - free of charge! How's that for customer service?! For Oakley, you'd have to buy an Asian-fit frame and most of them are gaudy and in the $300 range anyway (way to push the stereotype, Oakley.)

My only gripes - the Screw does not have a polarized option. Would be awesome if they did! If you're looking for a polarized performance pair of sunglasses from Spy, I would suggest the Spy Alpha which comes in a polarized option and looks similar to the Screw. That and the quality of the frame is nowhere near as good as Oakley but hey, unfortunately, you get what you pay for. This does the job for me and I'm happy.