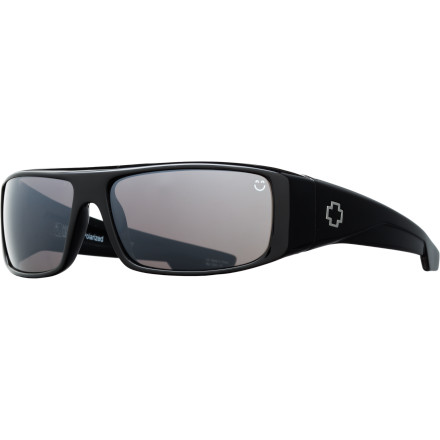 Colors
Description
Tough as sunglasses get.
The Spy Logan Polarized Sunglasses pack a bold look that lets everyone know you're not to be messed with. Wide temples and subtle hinges add to the intensity while the Logan Sunglasses' high-quality polarized lenses help you see the world with total clarity. These Spy sunglasses feel right at home whether you take them to a skate park or you're cruising through town in a Ferrari.
What are the measurements?


Measurements:



Temple Length: 121.5 mm

Frame Width: 134.5 mm

Lens Height: 36 mm

Lens Width: 60 mm

Bridge: 14 mm


These are killer glasses! I really like how even thou they stil close to my face my eyelashes don't rub on the inside of the lenses. Also the tortoise bronze finish is awesome; these are popular sunglasses and at least u can stand out a little with this finish cuz everyone has the black frames
The wife just got me these (shiny blk/grey) for Father's day and I love them!
Sunglasses had started to become another fashion item that made me feel older than the kids wearing them (I am 37), so I had been reverting to styles I have always worn, or went for functionality only. These Spy-Logans are pretty hip for an old guy starting to feel the generational gap growing...with out screaming I am trying to hard! Very nice!
i bought the Logan's and at the tip of the...
i bought the Logan's and at the tip of the arm in very small leading it says china. Did i get the real thing?
, ☃bcs_badge_alumni_label☃
If you bought them from D.F they are the real thing. D.F does not do knock offs, we count vouch for anybody else though.
These shades are amazing!!! They fit great, tight enough to stay on when playing a sport ( beach volleyball, bocce ball, paddle ball, Texas hold'em, cleaning pools, life), but not tight enough to hurt! Oh the ladies love them! Great purchase!!