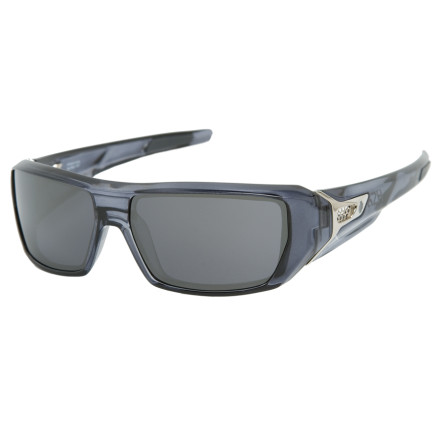 Detail Images

Community Images
When you're a gear head who likes to look good, try the tech-ed out Spy HSX Sunglasses with fat style.. Spy threw in its ventilated scoop technology to keep these frames fog-free when you work up a sweat. The Toric Arc lens technology offers a lens that follows the natural shape of your eye for distortion-free sight. Bombproof Grilamid frames stay tough when you put them under stress. The Spy HSX's hytrel temple tips make these shades comfortable to wear all day.
What does the polarized look like?
What does the polarized look like?
Hey Mando,

The polarized will look the same. Only difference is the polarized lens.
First of all, let me say I do like the glasses. They remind me of the Oakley gascan, maybe a bit better looking. Unfortunately I have the same problem as with the gascan, they are tight around the temples, to the point of being uncomfortable after 20 minutes.

I guess they are just not made for wide noggins. So reluctantly I had to return them.
The Spy HSX sunglasses look great and fit great. The Toric Arc Lenses provide a great view of the world and I would recommend this pair of shades to anybody that wants style and function at a great price!
they fit great and look nice. you can see perfectly through them and they are really comfortable.
Best things since Shrek Macaroni
I bought these because I needed some sport shades. I have a bigger head than most and they fit fine. I hate Oak's because my eyelashes hit the lenses. These sit the right way on my face. I was kinda pissed they didn't come with a sticker.