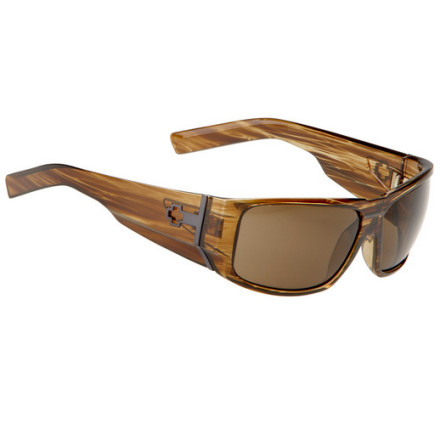 Detail Images
You like bold frames and thick temple pieces in your shades. Feast your eyeballs on the Spy Hailwood Sunglasses. A burley 8mm hinge makes sure you don't lose an arm (a temple arm, that is) during a high-speed chase or a stroll downtown. An 8-base curve means these shades wrap around your face more than a flat style and a bit less than a totally athletic wrap, and the ARC lenses thin out toward the sides so things don't look distorted.
The picture that is shown is displaying a...
The picture that is shown is displaying a matte finish on the sunglasses, however the color lists that the sunglasses are Shiny Black/Gray. Which is correct?
Ben,

It looks like we don't have the Spy Hailwood Sunglasses currently in stock, but they are available in both a matte black frame with grey lens and a shiny black frame with grey lens.
I have a pair of the Spy Hailwood Sunglasses and these shades are sick! The ARC Lenses provide optical clarity while still giving you 100% UV Protection. I have a small/medium face and the fit is just right. Hope this helps!
Biggest pair of shades i've ever owned but feel small and tight. great for the beach and the mountain. Sometimes i forget i have them on. definitely for people with a larger melon. go buy a pair!
Bought theses glasses a couple of months ago and totally loved wearing them, but one afternoon i go put them on and they are warped as hell. Now they won't even stay on my head they are so bent. If you do get these glasses keep them out of hot areas!
I got the matte black Hailwoods and i love em. They arent for a person with a small face though. They fit big but they're really comfortable and sexy as hell. I had Oakley Gascans before but they tended to slip off easy if i bent over and stuff because they had no curve behind the ears but the Hailwoods stay on really well. Overall, sick shades.
great pair of glasses. I got these after looking at a few pair of Oakleys, but the O wanted to charge an extra $50 for tortoise shell colorway. I have a larger head (about size 7 3/4 fitted hat) so a lot of glasses don't fit my face very well, but these fit perfectly - they're big without being bug-eye, and comfortable like you forget you're even wearing them.
Got these baby's for my boyfriend. He loves 'em. They are light weight, but stay on your head. His first pair were Von Zipper Kickstands, which were nice until he wanted some glasses that were a little bit bigger. The only thing is that the plastic arm is really thin, and at first were a bit uncomfortable when they rested on top of his ears. He swears they don't hurt anymore though.