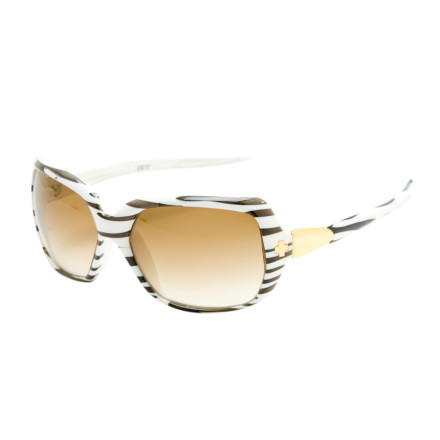 Detail Images
Spy's Dynasty Sunglasses ooze the natural grace of Hollywood and give you an air of elegance and mystery. Whether you're gunning for soap opera stardom or concealing your high-profile identity, the Dynasty's oversized frame and stunning metal detail will keep you in the spotlight. And when you head out into the glaring sunshine, the 8-base ARC polycarbonate lenses protect your peepers from harmful UV rays. Turn heads, but remain incognito when you wear the Spy Dynasty Sunglasses.
This is my first time choosing this glass
Adequate for the job.marvelous I want to look my best.Thank you very much.
, ☃bcs_badge_alumni_label☃
Nice title in Dogfunk
Nice comment in Dogfunk
I had these in brown! I loved these sunglasses and got so many compliments on them. Too bad they broke twice on me. But the waranty provided me with a new one when the hinges broke.
I love these glasses, they fit my face great and completely block out the sun. However, I hadn't had them long before one of the lenses fell out. So if you do buy some, save the box and the receipt or you'll be SOL...
Unanswered Question
I bought some Spy Dynasty glasses from you...
I bought some Spy Dynasty glasses from you guys, and one of the lenses popped out... where can I find a new one?
These shades are obviously more for looks than function, but are super cute and would look good on almost any shape face. I have prominent cheekbones, so the rim of the shades leave a little line if I've been wearing them for a while, but I still like them.
These are definitely not for big faces. Sweet shades for sure. Very glamorous.
I read all of the other reviews before buying these sunglasses and I was hoping they were right..They were!!These sunglasses are awsome and it is rare that I have a pair of sunglasses that I feel fit my face perfectly!They are great for an oval or small face, they also don't look too big or oversized..I feel like Goldilocks because these sunglasses are just right!I am planning to buy a second pair in another color!!
These sunglasses are so hawt but they didn't fit my face. They tilted forward at the top so it looked weird. Like if the arms of the glasses were positioned higher on the specs it would've fit... or if my ears were lower, but I like them where they are. So I returned em.
The quality and style of these sunglasses is amazing. They are very comfortable. They are big and beautiful ! I have searched high and low for a nice pair of white framed sunglasses and i have found them ...
I love these sunnies! This is the second time I'm buying them. I broke the first pair and had to have them again.
Love these glasses. They look great because they're big but not too big. The colors are great, I love the white.
I ordered the caramel ones which were on sale. I figured I would go out on a limb and try something different. These are super sweet and very HOT! These are not for the wallflower types, but if you have some attitude, these are simply the best!
you cannot go wrong with Spy!
I own several pairs of Spy sunglasses and get the best remarks on them - even from the upper crusty women who pay three times as much for their Guccis and Pradas. Go ahead, feel rock star fabulous!
I bought these in 2 colors and love them both. They seem to fit a smaller face best. Their shape is fun and they are very light weight and comfortable. Great style.
The honeymoon for these shades is over....
I loved these shades when I got them, but after a month the arms had become so loose and warped they kept falling off my face. I took them in to be tightened, which helped for a while, but they just loosened up again. Eventually, they fell off my face while I was riding my cruiser and they got smashed.
These are so fun to wear. I have a small nose and big glasses usually take over my face, but these are just the right shape.
These are the first Large sunglasses that did not look out of control on my face. I feel all glam and hollywood when I wear them, they are a bit of $ but well worth it!
I have a small face and wanted to get some big sunglasses that wouldn't make me look like a mosquito. These make me look fabulous.