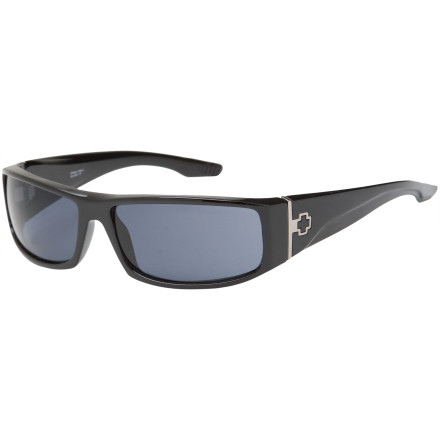 Detail Images
Description
The Spy Cooper Sunglasses are a smoother, mellower shade of shades.
Have a thing for the Spy Clints but wish they weren't so rough around the edges? Then you're gonna love the toned-down, chilled-out Cooper Sunglasses. The 8-base ARC polycarbonate lenses make precision vision a reality, and the smooth, classy propionate frame gives you the suave style you're after. The Cooper's full UV protection protects your eyes from that giant fusion reactor in the sky, and durable metal hinges make for smooth operatin'.
Had a pair in white and lost them so picked up a replacement. Well made, good lenses and great style. I would say I have a medium to smaller face and the still fit well
Love my new shades! The description is on the money...and so was the service from DFUNK. The clean lines and and low pro is what I'm about. These glasses nail it shut!
Im liking these glasses alot. Great lenses and they keep me lookin fresh
Sick glasses. Had a pair of the dark green ones going strong for 2 years until they got ripped apart by my dog. Bought the black fade to replace em, just as sick. Not too big, not too small, ladies love em. Fit perfect, never had em slip.
Straight Sick Nasty Shades
Def. some of the most comfortable sunglasses I have ever worn. There mad stylish and get the ladies all hot and bothered when you're rocking them. Not to mention, when you're out performing some extreme sports action, they will stay on your face no matter what, unless you smash your face into something. (NOT ADVISED). There durable shades that can last a very long time!
is the white pair glittery or is it flat...
is the white pair glittery or is it flat white?
I got a pair for my birthday and i never leave the house without them. Not only are they a perfect fit but they get so many complements from the girls. They seem to fit everyone i've met really well. Great buy.
these are one of the best sunglasses i have ever bought. they are nice and are perfect for people looking for a large type of sunglass.
The best shades I've owned. I loved them!! Apparently, so did the dude that swiped them off the bar as I was shooting pool. As a replacement, I tried the Spy Logans. I'm happy with the Logans, but if I were to do it again, I would get another pair of the Coopers.
where can i order replacement lenses for...
where can i order replacement lenses for the spy cooper sunglasses?
to be honest, it's unlikely that you'll be able to buy just replacement lenses...regardless, i'd call up spy's customer service hotline (1 800 779 3937) and talk to them
http://www.thesunglassfix.com
http://www.thesunglassfix.com
Unanswered Question
looking to purchase replacement lenses for...
looking to purchase replacement lenses for Spy Cooper. One got scratched....ooops ???? Anyone got any info...SteamfitterP@aol.com........THNX
I bought these for my boyfriend, he previously had the tortoise colored pair, and after much falling on the ground and a pretty good beating I decided he needed new ones. I am glad I found them on here because they are one of his favorites of the Spy Sunglasses. Very high quality, worth the cost for someone who likes expensive sunglasses, and a good quality gift. :) THANKS!!!
These are the best glasses for look, function, and durability. Ive had mine for 4 years now. They've been to many different beaches, mountains, nations. These glasses will hold up and you can were them for years to come and still look good.
Good shades with above average optics.
Could use a little rubber on the end tips to hold to your head better, but these glasses are for show not for active use. But all in all I think they are EFFEN SWEET!
I have a pretty big head (7 1/2" 22.5 cm) and round face. I purchased a pair of black Oakley Half Jackets one year ago, and realized that was too small for me, so I decided to get a new pair this year. The sunglasses fit well and worth the price. Here are the measurement of Spy Cooper:
Lens height: 32mm
Lens width: 59mm
Bridge: 16mm
Temple: 125mm
Thee best sunglasses ever!!
I got these sunglasses for my husband on his birthday and he loves them I mean loves them!!!! We live in AZ so imagine the sun here (yeah very bright)they help him out so much. They are great and look great we would recommend these to anyone, really.
Love the look just kinda hurts on the ears but i got a misshaped head so its probably not the glasses
The optics are good, probably a little better with the polarized version. Very good style, more sporty frame. I would certainly recommend.
Thought the lens would have been bigger. I guess I was aiming for the big lens look. I'll settle for the sporty looks, feels good.
Nice glasses, they fit well and are stylish. I have gotten lots of complements.