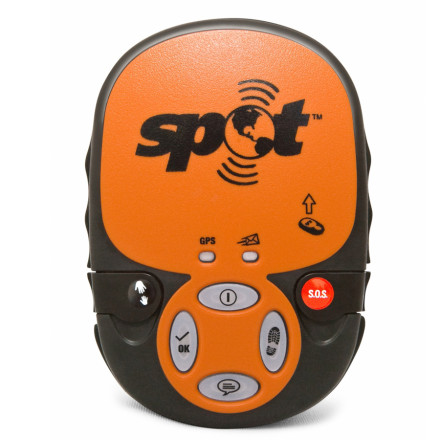 Detail Images

Community Images
From non-life-threatening emergencies close to home to critical scenarios at remote locations on land or water, use the Spot Satellite GPS Messenger to call for help simply and easily. With one-button distress notification and GPS location services, this compact, affordable device gives you a satellite-based lifeline where cell phones would fail. Custom OK messages and real-time online tracking also help you check in with friends ones quickly and easily.
SOS / 911 function notifies emergency services of your GPS location in the event of a critical or life-threatening emergency and works in the United States (9-1-1) or Europe (1-1-2)
Notify personal contacts that you're in need of help in non-life-threatening emergencies with the Help button After an adventure, send out an standard OK or custom message to up to 10 pre-determine contacts using the Check-in / OK button that shoots a message and GPS coordinates via an email or sms message
Real-time tracking on Google Maps or Spot Assist to notify professional rescue service providers sold separately through SPOT online account in addition to Basic SPOT service plans
Help button can also be programmed to include additional, separately purchased SPOT services
Receive $50 with SPOT's mail-in rebate; good from May 1, 2011 through July 31, 2011: get rebate form here: http://www.findmespot.com/rebate50/
Sweet device
Familiarity:

I've used it several times
Was able to communicate effectively with friends and family through the different message options. Worked fine even when there was cloud cover (most of the time we were away - 5 days)
Fantastic!
Familiarity:

I've put it through the wringer
This thing has been spot on accurate for me with over two years of use at least once a month (likely more) in the US and Mexico. I have used the tracking feature, but now just go with the standard subscription. Can send okay's to friends and family, and always have he SOS if I need it, though I haven't to date. If I were going to the big mountains somewhere I would make sure I or someone in my group also had a legit PLB, but for your average weekend warrior hitting the trails or climbing routes in the continental US - this thing is a great option with some more messaging options. MAKE SURE YOU USE LITHIUM BATTERIES, like it says all over the batter compartment as I can tell you from experience you get shotty performance with even the most expensive Alkaline batteries.
I have used this device for a week as a geocacher. It works great! Every 10 minutes it sends an email to my family and pinpoints my location on Google Maps. Now they feel that I am safe as I hike on the trails on my own. Best gift I have ever been given. I love it!
My biggest issues with the SPOT where the questionable reliability, even in wide open spaces with clear skies. On the times that it did transmit an OK signal, the location was miles off, or searched for the nearest road to use as the location. I will be upgrading to a Delorme InReach.
I have been fairly happy with my Spot 2. I have been using it for almost three years in case of emergencies. It lives in my ski pack with my multitool and sunscreen and occasionally comes along for bigger trail runs. The I'm OK message is good for letting loved ones know I am back at the car or good for the night. Most of the messages seem to go through, when the view is unobstructed then always. IF there was an emergency though I would be hitting the button over and over until the cavalry arrived. Brought it to Nepal and OK messages worked fine in the Himalayas. I've never felt the need to have the tracking component as it costs extra and would just run out the batteries. Oh yeah, batteries seem to last forever when just saying OK once and a while. I change them more often than necessary just to be sure.
hi there, i live in australia,, will...
hi there,

i live in australia,,

will this system work here?? (apart from the 911 call)

also i plan to go to new zealand as well,,will it work there

thanks jamie
Yes, it will work. The GPS system of satellites covers the entire globe, so it'll work anywhere. Don't be frustrated if some messages don't get through- that can happen anywhere on the globe- it just depends on satellites being visible and aligned to receive your message.
I borrowed a SPOT from a friend who has owned it for a year, but he seemed to have "spotty" results with it. Figured I would give it a try on a 3-day safe trip in Glacier National Park. Plenty of open sky. I set up the email addresses and did a test message while still in town, and it appeared to be working. My wife and friends back home never got a successful message or tracking update while I was on the trail. Not one... Turned the unit off and on several times to "reboot". Still nothing. I left it on "tracking" for most of the trip with absolutely nothing between me and the sky. I also sent multiple "OK" messages. A safety device that has only one function should have a much higher rate of reliability and a way of verifying that it has successfully performed its function. The various combinations of blinking lights seemed confusing. (Admittedly, I should have carried a copy of the instructions with me into the backcountry.) I'm going to have to have a much better proof of reliability before I take this unit with me again.
This could save your bacon.
I used this while floating 600 miles on the Yukon River in Canada/Alaska. With a touch of a button I could let my family know via email where I was and if I was OK. I never used the emergency button, but it was a huge comfort to myself and my family that I could have help if I needed it. Bottom line: If you spend time in the back country, this is something that can save your life.
Poor connectivity and poor customer support
I bought the SPOT for my backwoods adventures based on the glowing reviews the unit has received.

In practice however, that is hardly the case.

First of all, the unit does not provide any confirmation that the signal gets out, and just leaves me guessing if the device works or not.

Secondly, I preloaded 5 email addresses so my friends would get check ins. The last time I tried to send a checkin message, I had a good line of sight to the sky, let it sit face up on a rock for 10 min, and later aksed if anyone got the message. No-one did.

I have heard about the SPOT connect. Maybe it is more reliable? But just 1 way as I understand it, so I guess there is no guarantee of ever knowing if it works.

Its been hit and miss for me, and I just cant recommend this device. What if I had the same lack of reliability in a SOS situation?
Need some updated info. Does this $149.95...
Need some updated info. Does this $149.95 include any subscription plans? Did anybody ever use this in Asia "yellow" zone where it says "96% TO 99% PROBABILITY OF SUCCESSFULLY SENDING A SINGLE MESSAGE WITHIN 20 MINUTES." Does that claim match the reality?
The price of the unit does not include a subscription of service. The packages range from $90-$160 a year. You can find these on sale for $99 and then get a basic service package and it keeps your cost under $200 for the first year and $90 a year thereafter. I've been happy with mine. I havent had any issues with the unit and the 8x batteries last about 1 year. In the summer the tracking is almost dead on, in the winter with the satilites lower on the horizon the track can sometimes be up to 100yrds off, which is to be expected. When comparing the spot to a satalite phone or avy beacon, I feel the spot is a better value and just as reliable. As with all electronics, I would never put my life 100% in its hands.
can't wait to use the Spot Connect this next year on all my adventures and know that I'll actually be able to be found using this lightweight and small device. Adventure #1 coming up1
0-2. I have both SPOT2 & Connect
GPS is slow and sometimes inaccurate on SPOT2 - loses power a little fast, and has been missing more transmissions than promised.

For Connect, I have worked with customer care reloading the app and trouble shooting with them on multiple occasions. The customer service was friendly and nice, but they are not up to speed on the device. They couldn't answer many questions, and after spending countless time on the phone, without resolving the issues, they said someone would call me back.

I didn't get the call back twice. When I recently followed-up I actually, got a call back the next day. The guy admitted to some of the faults and said they are working to fix them. They sent me a new unit, but I still have all the same problems. They then gave me the number of the SPOT sales rep for my area, Rocky Mountain, and he seemed very rushed on the phone, and really didn't have any more to offer than care did. What is a customer to do?

And SPOT has already collected a full year of service up front!
I live in Alaska and drive from Southeast...
I live in Alaska and drive from Southeast Alaska to Interior Alaska on a regular basis. Is there a similar device which will work in Northwest Canada?
According to their coverage map (http://www.findmespot.com/en/index.php?cid=109) you can get this device for coverage where you are looking for it. If you are looking for something less expensive you can get one of their less expensive models. I have the SPOT Personal tracker and it tracks and send OKs just fine. I think it is around $100 plus services.
I used this device in Northern Canada while floating 600 miles on the Yukon River from Johnson's Crossing to Dawson City. It worked flawlessly.
This is a great little device with some great features... and it has proven to be a life saver for some. Learn more in my video review:

http://backpackersreview.com/gear-review/tents/52-a-mountainsmith-morrison-tent
Works well and haven't had too many problems with it. The yearly subscription seems to be a little high for the few things that it is able to do.
I am in South Africa and looking at doing...
I am in South Africa and looking at doing an extended hike from source to delta of one of our rivers here. I am looking for a device that will allow interested parties to track our progress online (on google maps) and also be able to communicate out the co-ordinates if need be. The hike will not be on roads. I need to know if this product will work for this? And is there coverage in South Africa - specifically Kwa-Zulu Natal from the Drakensburg through to Port Shepstone.
check out the spot coverage map from Spot. Sending a single also depends on how unobstructed the sky is. In deep narrow canyons, dense forest with canopy sending a single is harder.
http://www.findmespot.com/en/index.php?cid=109