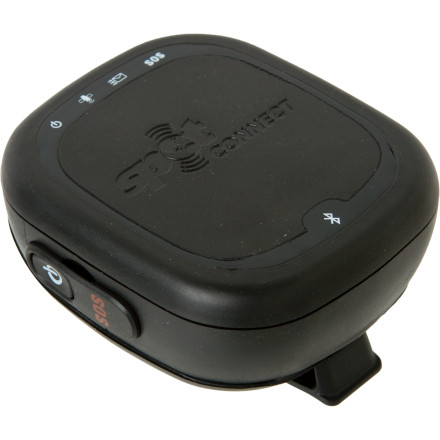 Detail Images

Community Images
You like to rough it in the backcountry, but appreciate the added safety of technology. Be sure to bring your SPOT Connect Satellite Communicator on your next adventure. The SPOT Connect pairs with your smartphone to allow transmission of e-mails, SMS messages, Twitter updates, and Facebook postings from anywhere, even remote locations where standard cell service is not available. More importantly, its SOS function allows you to send of emergency requests and exact coordinates to family as well as the GEOS International Emergency Response Center should things to awry on your expedition. Operation requires purchase of the Basic service for an annual subscription of $99.99, which lets you send unlimited check-in, OK, help, and SOS messages as well as update social networking sites.
Track Progress function allows you to record where you've been, uploading in real time to Google Maps
Check-in/OK function regularly reassures anxious loved ones that you haven't been eaten by a bear yet
SOS signal transmits automatically at five-minute intervals for the life of the batteries
Capable of operating in such extreme temperatures ranging from -13°F to 140°F
Waterproof to a depth of one meter for up to 30 minutes
Basic service can be purchased for annual subscription of $99.99 to let you send unlimited check-in, OK, help, and SOS messages as well as update social networking sites
Returned it to get the SPOT II
I was under the impression that the SPOT Connect was the same as the SPOT II + some additional features like custom messages & fbk/twitter integration. Such is not the case ? Connect is heavily reliant on the phone to the point that the only interaction you can do without the phone is contact emergency services. I wrote a full in depth review of the differences and my decision here:

http://bit.ly/11MrUxH
The activation system is a little weird and confused, but after to path that, the device works really well and it's really exactly about the postion ...the text and mails are good, unfortunatelly the coverage isn't good enough if you like and live in patagonia, but works well and is easy to use it.

Good luck in yours adventures and don't forget your Spot!
I had a lot of trouble getting this to work. First the small screw on the back wouldnt hold the batteries in, and second the enrollment process was a nightmare. I thought it was registered and then it didn't send a signal. So I tried to re-enroll it and it said it was already enrolled. I may try again because I like the idea of what it can do when I am way out of touch, but I'm not sure it will be another spot attempt.
Works just like it should.
So, I looked at all the good and bad reviews of this spot, and pulled the trigger on it for a recent sail I did to Bermuda, despite some really bad reviews on Backcountry and Amazon.
Let me just say that this unit works just as I expected. Bluetooth syncs up, the program on my iPhone worked no problem, sending messages was easy. Now sure, Bluetooth disconnects itself and you have to go into the settings on the iPhone and pair it up again once in a while, but come on, every Bluetooth device I have ever used has the same issues. That's an issue with Bluetooth, not the spot itself.
As far as satellite reception, it works great on the ocean. I took it for a bike ride in Vermont and turned the tracker on, and tossed it on the back pocket of my cycling jersey. Only the positions where the unit was facing the southern sky transmitted through, but that makes sense. It didn't transmit through an obstruction. I have recently bought a ram mount which keeps it level, and gets more southern sky time, and improved transmission. I could see how in dense forest, it may have issues transmitting, but that is the same with most satellite technologies. I had the same expectations for this device. And so far, it is exactly what I thought it would be.
Sure, the InReach has some cool features, and message confirmation, but it costs twice as much for the unit, and the yearly subscription is almost twice as much.
The txt messages are really nice, 41 characters is short, but it gets a message through.
In summary, if you have realistic expectations to begin with, you will enjoy using this tracker. There are more high tech ones out there, just be prepared to shell out more dough.
Does this device have to be connected to...
Does this device have to be connected to a smart phone for all the features to work? It sounds as though the "track progress" feature does not work without being connected to the phone. I have an iPhone and while I am ok with not being able to send messages, I do want the "track progress" feature to work. I can wait until they fix the iPhone app... Any help?? Thanks
Best Answer
You only need an iPhone or Andriod phone to send custom messages. Tracking works fine, as does SOS, OK, and HELP, without any smartphone involved.
Jef's answer is not correct ? the Emergency (and possibly tracking) works, but you cannot send regular OK messages without the phone.



I wrote more about it here: http://bit.ly/11MrUxH
You need the smartphone to send OK & custom messages or to initiate/stop tracking. Once tracking is started you can turn-off the smartphone and it will keep tracking.
bought this thing, $150. then signed up for the subscription, $130/year.

I wasn't able to get it to work. waited until the new version of the app, upgraded the firmware, etc etc etc.
sry SPOT but this is a terrible product. the app is poorly built and the product itself has a long way to go.

don't take my word for it, look at every other review site online that talks about this thing:

apple store:
http://itunes.apple.com/us/app/spot-connect/id423066534?mt=8

rei:
http://www.rei.com/product/816133/spot-connect-satellite-communicator

or try it yourself!
Please SPOT - I need quicker support from your sales staff!
Customer Care couldnt help - SPOT rep. was elusive at best!
SPOT Connect - doesn't stay connected
I had an original spot, it was a little bulky and single purposed but it provided an invaluable safety link. The only positive attribute about the connect is its size.

It does not work well with my iPad(which is what I bought it for) or my iPhone.

As a Bluetooth device I have to forget it every time I want to use it.

It takes 5+ minutes to get a satellite lock.

I found that if I don't authorize it with the spot app it doesn't talk to any other apps.

The signal is lost very easily.

So, when I asked for help, the Backcountry rep. gave me the number at SPOT directly (regional office I believe in Minneapolis).

After first 2 attemps I did not get response from sales rep, then when I did, he did not seem to have full grasp of problems, then lead me to SPOT Customer Care - epitomozing the concept of the run-around.


Also, Pricing and setup:
They are not forthcoming on the pricing and cost of the unit.

The add-ons to get what is advertised is ridiculous. The setup is lengthly and the documentation is very limited.

They have a "full manual" online that is not included with the packaging.


I will be returning this to backcountry.com I am very disappointed the product has great potential.

Bottom Line No, I would not recommend this to a friend
What's the USB cable for?
What's the USB cable for?
You can plug in a smartphone and use it as a sat phone for data. Cool stuff!
The USB cable is to connect to a PC for firmware upgrades. You cannot use it as a Sat Phone.
Write your question here...how do you type...
Write your question here...how do you type on this thing?
Best Answer
You don't actually use this device to type. You can create predefined messages on the website with your computer or the app with your smartphone, which can then be sent with this device when in the backcountry. You need a Wi-Fi or data connection when using your smartphone to do this as the predefined messages aren't actually sent or stored by the SPOT. It simply sends a message to the server telling it which predefined message to send and to whom. There is also the option to type custom messages on your smartphone (iPhone, iPod Touch or Android 2.0 or later) while in the backcountry and have the SPOT send these messages through the satellite network. However, there are additional charges to type and send a custom message.
ADDitional YEARLY service subscription UPGRADE.... for custom texting.... you originally program 3 CANNED MESSAGES online...

and it is only ONE WAY "communication?"
Can I use this in remote western Australua?...
Can I use this in remote western Australua? How do I use it with iPhone?
Hi Maura-

Yes this will work anywhere you have a clear view of the sky. To use it with your Iphone, first download the app from the www.findmespot.com website and install to your phone. Then you use your phones Bluetooth technology to communicate with the SPOT device. Remember that a service subscription is required....