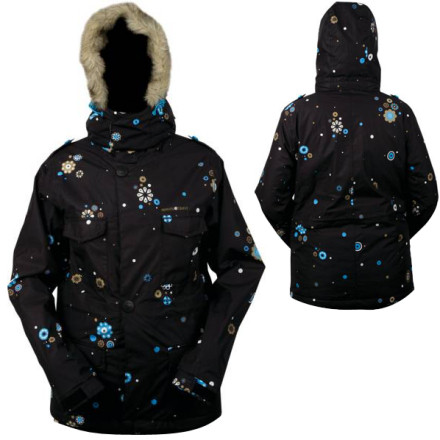 Absolutely love this jacket! Its really light and comfortable, yet surprisingly warm - 32 degrees out and I was totally fine wearing just a t-shirt and this jacket. It's lined with this really soft fuzzy material that adds warmth and comfort. It has tons of pockets (in my opinion) - 4 on the front plus two more hand warmer pockets, then 2 more on the inside, so I was never running out of places to put all my shit. The cut is very flattering, and it is the perfect length hitting just at the upper thigh, long enough to cover your bum. I'm 5'4 and about 120lbs and I got the small, which still left me with plenty of room for layers without looking bulky. The range of motion is fantastic, so it won't hold you back whether you're in the park or blazing down a run. The only thing I really dont like about it, is the hood, which is too small to fit over your head if your're wearing even the thinnest beanie, its seriously kid size. Otherwise I'm completely satisfied with it, it was exactly what I was looking for.
does this jacket have wrist guarders?
does this jacket have wrist guarders?
No it does not, sorry about that. It is a really warm jacket though, you will be stoked on the look and feel of the jacket.
Pretty warm, the jacket is 15K and filled with synthetic insulation. It is wind proof/ waterproof and warm
This jacket doesn't quite have the Special Blend swag I was expecting. It's not super long so the bottom of the jacket lines up with my wrists. It's somewhere between an insulated jacket and a shell. Has some fuzz on the inside, but doesn't do a whole lot. It fits pretty snugly around the butt (coming from someone who doesn't have hips). It has a nice ipod pocket inside and some outside safari pockets, but that's it. I'm so used to having mad pockets all over the place that I'm constantly wondering where to put the rest of my crap. All in all not a bad jacket but could be more tech and steezy.