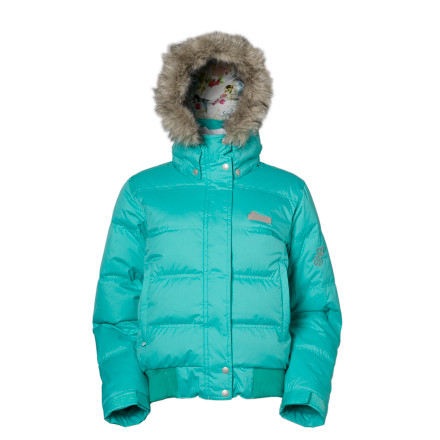 Special Blend Limited Edition Luxirie Fluff Snowboard Jacket - Women's
View Larger Image
Detail Images
I haven't snowboarded in it, yet. So, my review is basically just aesthetics right now. I got the XL. I am 5'7" and wear 31 jeans. I have broad shoulders from swimming. It fits great on me. I usually have problems with jackets and coats being tight around my upper body. This seems roomy enough to allow movement while riding and pack more layers if needed. But I doubt I would need more layers... this coat is warm. I was a bit bummed to find out that the powder skirt doesn't have loops to hook to belt loops on pants. Rather, it has button snaps that go specifically with Special Blend pants that have the matching snaps. I was hoping SB had a belt that they sold that had the matching snaps that I could wear with any pants. (bonfire has a system like that.)
I really like the color and style of the jacket. It looks like it'll be warm. I can't wait to wear it this winter.
Short= lots of snow up your butt
So.... I've been seeking the 'perfect' jacket for quite some time now, and after buying this coat- the quest continues. Don't get me wrong.. I get compliments every day on this coat- it's bright, fun, puffy and hotter than Brad Pitts butt cheeks. But if you're in the market for a good snowboarding jacket look elsewhere... I'm a fairly small girl, and I ordered a large thinking I'd be all thugged out on the hill, but it's way too effing short. After only one fall I had scraped my entire stomach on ice because it road up so high- I was livid. In conclusion- buy this coat if you want to be a trendy hipster puffed out turquoise marshmallow, but riders beware.
I love Special Blend, but how much more perfect can it get when the collaborate with Luxirie? Not much! This jacket is bomb; it's super warm, has an awesome color, and the lining is really cute. I love it, bottom line. I just wished there were more secret pockets.
Love this jacket. I live in South Dakota, and the weather and wind chill get in the negative degrees... I haven't snowboarded in this jacket but wear it for cold days around town. The hood is incredible and stays over my head even in high winds... Basically, even when it is -14 degrees F outside, I'm toasty warm :) Only, thing that could be improved, is the length of the torso... I would like it a little longer, but it's good enough...