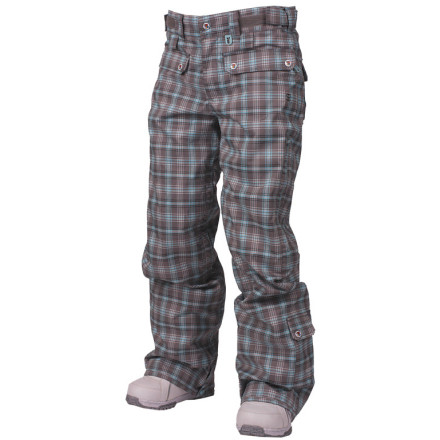 I bought these in Cross Hatch. These are the cutest pair of pants. Have yet to try them but they def seem warm!
Has anyone bought the cross hatch color...
Has anyone bought the cross hatch color in these? Is it pretty much accurate. The only reason why I ask is I have a jacket that looks like it will match if the pants are the color they seem online? Also does the inseam seem long because I am tall.
Yeah the pic up top is pretty accurate. The sizing for these pants are Medium=31.5" (80cm) inseam 27"–29" (69–74cm) waits width Large=32.5" (83cm)inseam 30"–32" (77–81cm)
Yes they are very accurate
I'm tall 5'10 and these snowboard pants are long enough for me, and fit over fitted sweats they have a lot of great features! Worth every penny!
They were true to size (I'm 5'2" and 115 lbs; XS was perfect in the waist and in the length). Love the material, snow didn't stick to them at all, and they were warm and toasty. They're slim around the knees, but there's plenty of room to move around in. Pockets are a little annoying because they're straight on (not slanted like regular pockets) and the pockets aren't very wide, but other than that, I like them a lot. I got them at a great price too!
Unanswered Question
Is the cross hatch denim charcoal in color...
Is the cross hatch denim charcoal in color or navy? I can't tell..
They fit more like ski pants than snowboarding pants. I'm not sure how you can layer up or have a bit of space to flex your muscles... Order 2 sizes up if you like them baggy!
i like these pants. the colors are a bit lighter in reality than in the picture, but they are still super cute. my favorite feature of the pants is the drawstring in the pocket that pulls up the bottom of the pants. that way, when you are walking around with your shoes on, your pants don't get dirty. i also like that the boot gaiter has a snap so you aren't forced to stretch out your pants when putting them over your boots. the fit is great, and they are very comfortable. get these pants!
SUPER cute! sizes are right too. i havent snowboarded in them yet but i have used them in the snow and they are super waterproof too.
love the way these look...got the black metallica plaid/eggshell & all i can say is SWEEEEET! has metallic thread that's not too bling-bling. fit is true - not too baggy, not too tight. totally comfy. luv the drawstring inside the front pockets that pull up the back of the pant legs so it doesn't drag all over the place for those of us who are shortys. inside is warm & soft too. highly recommended if you don't want fashion to suffer for form. who says you can't look hot on the slopes! ;)
the pants fit true. i ordered size med. in the black/grey and they fit below my belly button and on my crotch. very cool! they fit nice in the bum and length too. a bit loose in hips (i'm not very hippy), but still looks good and are very comfortable. warm and soft insides too!
recommend.